You know that fighter that is clearly talented but hasn't quite broken off the cusp of the division's very best? Those who still have their doubters but are flying under the radar steadily making waves?
These are commonly referred to as the dark horses of a division. The ones that may sneak up on everyone else ranked above them when they least expect it and leave their lasting impression. These are the UFC's top dark horse candidates for each division.
Heavyweight: Tai Tuivasa (8-0)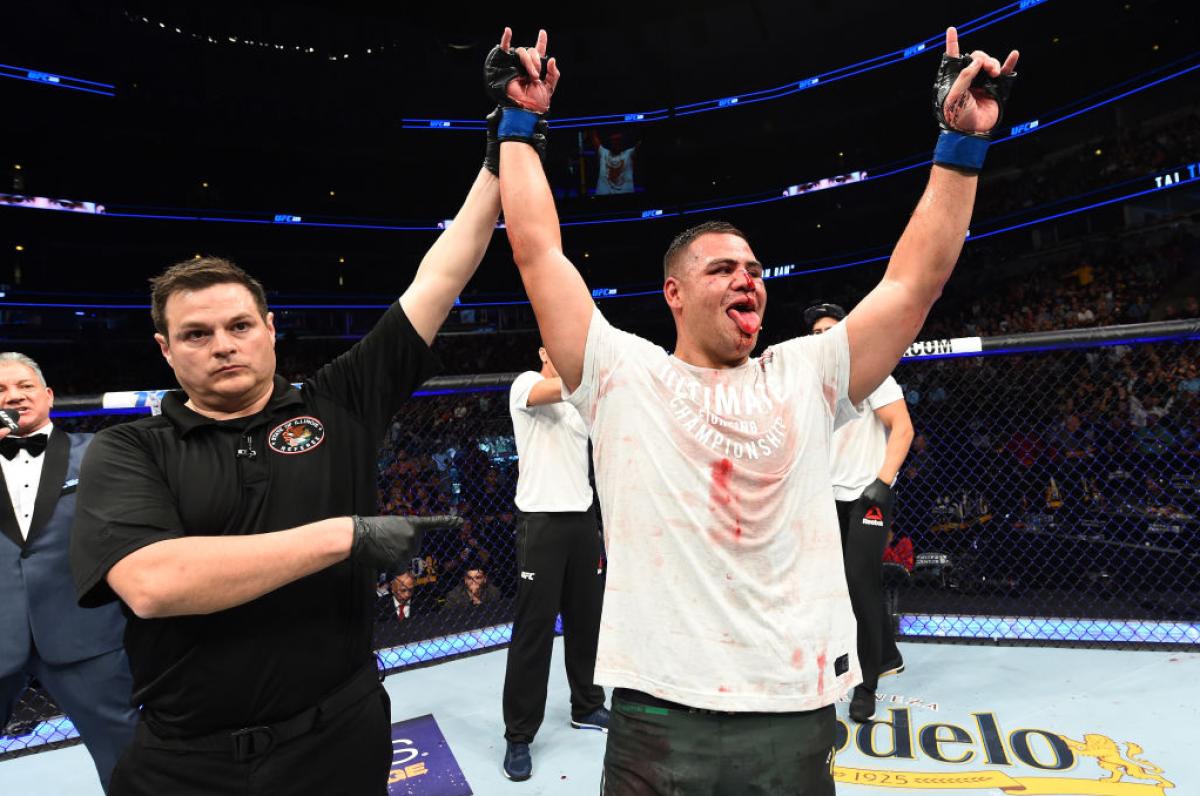 The man known as 'Bam Bam' has gotten off to quite the good start since entering the UFC.
advertisement - continue reading below
The 25-year old Australian, Tai Tuivasa has gone 3-0 so far inside the organization and his biggest win came in his last time out when he defeated a former world champion in Andrei Arlovski.
The win for Tuivasa was the first time in his eight-fight career that he had gone the distance and he was able to pick up the decision unanimously. Every fight prior had seen Tuivasa winning via first-round knockout.
Now being ranked in the top 10 and having a victory over a former champion under his belt, the sky appears to be the limit for one of the heavyweight division's youngest fighters.
advertisement - continue reading below
Light heavyweight: Dominick Reyes (9-0)
In a division that is in desperate need of a shot in the arm, Dominick 'The Devastator' Reyes is just what the doctor ordered.
A clear top prospect about to break into the top 10, Reyes has already racked up three straight UFC victories all by way of finish in the first-round(two knockouts, one submission).
At UFC Chile this past month, Reyes became the first light heavyweight to knockout equally imposing striker, Jared Cannonier. That's a feat that not even Glover Teixeira or Jan Blachowicz could pull off.
With his American football background proving his athletic capabilities, there's little to no doubt that Reyes will soon be a mainstay atop the UFC's currently thinnest division.
advertisement - continue reading below
Middleweight: Antonio Carlos Junior (10-2)
Ronaldo 'Jacare' Souza, Demian Maia, Anderson Silva, Murilo Bustamante…
The UFC's 185-pound weight class has been historically full of fantastic BJJ practitioners. The latest to start making some noise? 'Shoeface' Antonio Carlos Junior.
Carlos Junior entered the UFC in 2014 by winning The Ultimate Fighter: Brazil 3 at heavyweight. If that didn't show how skilled of a fighter he could be, his run at middleweight certainly has.
advertisement - continue reading below
Going 7-2 (1 NC) in his eight-fight UFC career, Carlos Junior has been most impressive in his last five which he's won all of. Four of them were won by rear naked chokes.
After his big win over Tim Boetsch in April, Carlos Junior is now poised for a potentially big jump up the ladder if he can defeat perennial top 10er, Derek Brunson at UFC 227 in August.
Welterweight: Leon Edwards (15-3)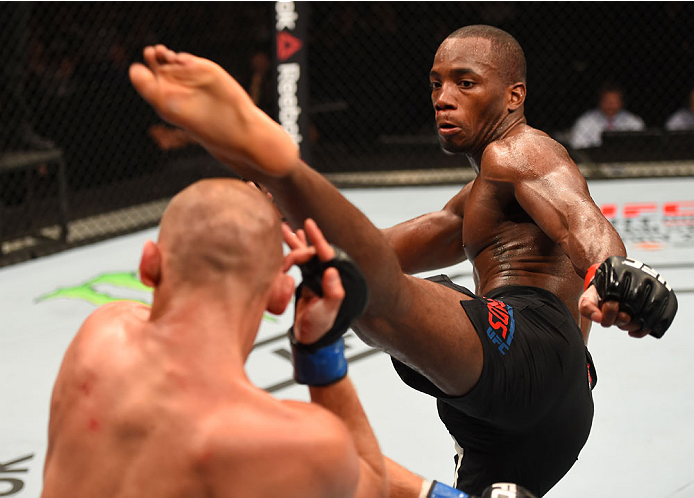 With all the talent at welterweight…and lightweight…and featherweight…and bantamweight…you get the idea.
advertisement - continue reading below
The picks just get harder to choose from here on out but in the very talented mix at 170 pounds, only one of the rising contenders has amassed as quietly impressive of a run as Leon 'Rocky' Edwards.
With his last loss coming to a rising star in their own right, Kamaru Usman, Edwards has since rattled off five straight wins including spoilers over the likes of Albert Tumenov, Vicente Luque, and Peter Sobotta.
Edwards is a strong wrestler with underrated striking abilities. Lined up next is a favorable matchup in the biggest fight of his career as he takes on Donald 'Cowboy' Cerrone this Saturday in the main event of UFC Singapore.
advertisement - continue reading below
Lightweight: Olivier Aubin-Mercier (11-2)
'The Quebec Kid'! Olivier Aubin-Mercier continues to show why he's one to watch at 155.
With a quick 53 second starching of Evan Dunham in April, OAM extended his current winning streak to four with three of those coming by finish(two submissions, one knockout).
The 29-year old Canadian keeps showing his evolution as evidenced by his last win over Dunham. It's been made no secret that OAM's specialty is his smothering grappling offense. Which is why it was so impressive to see him shut down a veteran like Dunham the way he did.
In a stacked 155 pound division, it's hard to break through and get proper recognition. But if Aubin-Mercier keeps to his winning ways he'll be there in no time.
advertisement - continue reading below
Featherweight: Alexander Volkanovski (17-1)
Make that two Aussies on the list as here we welcome Alexander 'The Great' Volkanovski.
Now a four-fight UFC veteran, Volkanovski hasn't lost since his fourth professional bout which puts him on a lengthy 14-fight win streak.
Showing complete dominance during his UFC run so far, Volkanovski has been unmatched in the wrestling department and has crisp boxing to boot.
advertisement - continue reading below
Having yet to earn a win over a top name, Volkanovski is very fitting of the dark horse label and very well could further prove his legitimacy if he can beat top-ranked featherweight, Darren Elkins next month at UFC Boise.
Bantamweight: Cody Stamann (17-1)
Similarly to Volkanovski, Cody Stamann too rides a winning streak of 10 or more fights.
An accomplished wrestler out of Grand Valley State University, Stamann has quickly risen through the 135-pound ranks after three UFC wins with the most recent coming over the seasoned vet, Bryan Caraway.
advertisement - continue reading below
Prior to that win, Stamann halted the hype surrounding top French striking prospect, Tom Duquesnoy as he outstruck him on the feet on route to a split decision victory.
The 28-year old, Stamann has shown his well-roundedness in each fight and in a deep bantamweight division has all the skills to be one of its future staples.
Flyweight: Deiveson Figueiredo (14-0)
It's hard to have hope for any flyweights trying to rise to prominence when someone like Demetrious Johnson sits atop the heap. But that doesn't mean there aren't some gems waiting to get noticed.
advertisement - continue reading below
One of which being Brazil's Deiveson Figueiredo who has yet to suffer defeat in his 14 fight career.
A common critique against the 125ers is that they are boring and don't finish fights…well don't tell that to Figueiredo who only has won two of his fights by decision(seven knockouts and five submissions).
3-0 in the UFC and a top 15 ranked contender, it's likely that Figueiredo's next bout could be one of higher profile thus giving him a chance to continue shining and make his case for a future title shot.
advertisement - continue reading below
Women's featherweight: Leah Letson (4-1)
Although Leah Letson is literally the only possible option for the choice here at featherweight…that doesn't mean she isn't deserving of it.
The 25-year old Milwaukee, Wisconsin native is one of the 145 and 135-pound division's best prospects.
She's fought all of her pro fights at bantamweight with the exception of her last which was her highlight reel head kick knockout over UFC vet, Elizabeth Phillips.
Letson has yet to make her UFC debut but was supposed to against Yana Kunitskaya in February.
advertisement - continue reading below
Despite having not fought since January 2017 and unsure of which division she will compete in for the UFC, Letson's quickest route to the top is obviously through the desolate 145-pound division.
Women's bantamweight: Irene Aldana (8-4)
The second thinnest division of the four belonging to the ladies has quickly become the 135-pound weight class.
Mexico's Irene Aldana was a bright prospect who hit a rough patch during her way into the promotion but after a solid win over Talita Bernardo is ready to pick up where she left off in Invicta.
advertisement - continue reading below
Aldana's skills are evident. She has some of the best pure boxing in the division and the killer instinct to match.
Already expected to do big things, Aldana's spotlight has shrunken due to her initial losses but with a favorable upcoming matchup against a name in Bethe Correia, she could boost herself onward and shake off the dark horse label.
Women's flyweight: Jessica-Rose Clark (9-4)
Three seems to be the magic number! Three Aussies, three-fight winning streaks…this wasn't planned, I promise.
advertisement - continue reading below
The heartbreaker, the dark horse, the woman of many names, 'Jessy Jess' Jessica-Rose Clark is one of MMA's ultimate sleepers.
The winner that isn't supposed to be, the Las Vegas resident became the first UFC flyweight to earn two victories in the organization with her defeats of Bec Rawlings and Paige VanZant.
Clark's underrated movement and distance game accompanied by her tight clinch work make her a threat to any UFC 125er. Something she wants to show to each of them along her way to the top.
Having found her home at flyweight after starting her career as high as featherweight, Clark's rise through the ranks can continue with a win over Jessica Eye this Saturday at UFC Singapore.
advertisement - continue reading below
Strawweight: Cynthia Calvillo (6-1)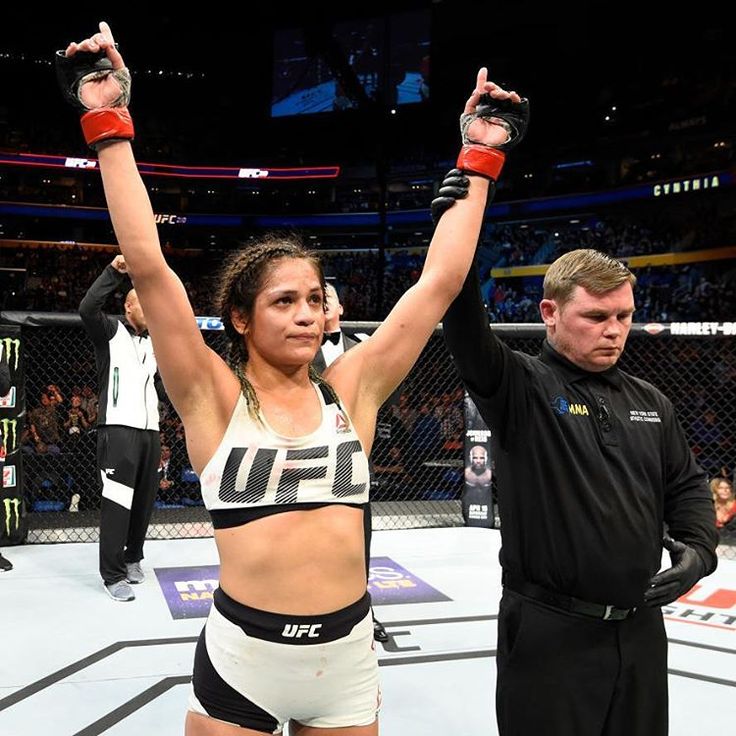 The UFC wasted no time what so ever trying to advance Cynthia Calvillo through the ranks. And for the most part, they were right to.
After losing for the first time in her professional career to former UFC and Invicta champion, Carla Esparza in a close contest, Calvillo failed a USADA test for marijuana and is now serving a suspension.
Because of this, she has fallen off of most people's radars as she isn't in any fight conversation at the moment. But once she's back, we'll be reminded that she's one to keep an eye on.
advertisement - continue reading below
The talented Team Alpha Male product entered the UFC and got right into the spotlight with back to back main card spots in the span of just a month. Calvillo won both via rear naked choke and then got a co-main event slot opposite Joanne Calderwood on UFC Glasgow.
Calvillo spoiled Calderwood's homecoming with a unanimous decision win that moved her into the top 10.
Having shown fantastic killer instinct with her wrestle-boxer skillset, Calvillo will surely pick right up where she left off upon her return.
advertisement - continue reading below
That's our list! Did we leave anyone out? Let us know in the comments below.
This article first appeared on BJPenn.com on 6/18/2018.
This article appeared first on
BJPENN.COM