Fighters are responsible for a lot more things than perhaps meets the eye. On the surface level, they're responsible for providing for themselves as anyone is in their profession. Others may argue that they're also responsible for the entertainment of their audiences as performers and public figures. But it can go much deeper than that whether it be from representing one's family, country, or gym.
When you're fighting, you're fighting for a purpose. A select few may have spotlights magnified upon them from the starts of their careers whereas others really have to grind and work their ways into it. Everything is situational and for Gold Coast, Queensland, Australia's finest in Megan Anderson, it's almost like a never-ending battle in and outside of the cage.
Having begun her career somewhat later than most in the modern era of MMA in November 2013 at age 23, she did so instantly in a unique position as a 145-pound featherweight competitor.
Since August 15, 2009, the weight class has been essentially viewed as 'Cris Cyborg and everybody else' due to the Brazilian's incredible dominance throughout her career. Only recently has she fallen from her perch thus giving the division a new chance to breathe and develop as it's slowly been doing over her reign.
As Anderson was coming up, she had all the makings to be the next, or perhaps the first, big threat to Cyborg.
With that ever magnetic spotlight firmly fixated on the big fish in a small pond, Anderson was able to find herself noticed quickly and has really risen to fame over her still young and expanding six-year career. She's become as versatile outside of the Octagon as she is inside of it, growing up as a person and a martial artist.
"I guess," Anderson told BJPenn.com in regards to it being not surprising how fast she's grown as a figure in the sport. "But a lot of people don't do that, so I can see kind of like the 'why' it could be surprising with me cause a lot of fighters don't really do a lot of extra stuff outside of fighting.
"A lot of people watch my life. That's that. A lot of people are critical of what I do. So there is that too. But, for the most part, I try not to notice it."
Putting yourself out there is a tough thing to do and everyone handles it differently when the camera is in their face as we've seen time and time again in any publicly accessible formats.
The now 29-year old has embraced it to the best of her abilities by taking on a weekly analyst role that sees her break down fights with her good friend, UFC and Invicta FC correspondent, Laura Sanko on their web series, Aussie and Fancy Breakdown. On top of that, Anderson occasionally appears on the ESPN network for 'Megan's Corner,' has been on a reality competition show, has done correspondent work for Invicta as well, and just recently announced she'll be doing a variety of broadcast roles for Warfare Sports.
However, as the old adage goes… everybody's a critic. And with expanding your brand as far and wide as possible comes the exposure to more and more people thus providing additional responsibilities to be great. 
"I'm honestly at a point where whatever I say, someone is going to take offense to it and someone is going to twist it into some way or another, so like I'm just to a point where I don't give a sh*t anymore," she explained. "If you have never stepped foot in a cage, like shut the f*ck up. You have no idea what you're talking about.
"To put it bluntly, every time I say something or do something, everything is so critiqued about my life and about what I'm doing or about what I'm saying. Sometimes I just post sh*t just to post sh*t cause I'm building my brand. People take things to seriously and so literally these days. I'm like, 'just relax bro.' *laughs* It's just social media. I'm just kind of over it all, I guess."
Unfortunately, dealing with rather absurd levels of unnecessary flack will end up being a part of Anderson's story as it has been so far and surely will continue to be in the future. Which is what made what was supposed to be the biggest win of her career the most bittersweet instead.
In June 2018, the 6-foot-tall former Invicta champion would make her highly anticipated UFC debut when she took on former UFC bantamweight champion and boxing legend, Holly Holm. Things wouldn't end up going according to plan for Anderson as she suffered defeat only to rebound on arguably the biggest card of the year.
At UFC 232 six months later, she went on to make her sophomore Octagon appearance against yet another bantamweight staple in Cat Zingano. It would be here that the Glory MMA product made her mark and got her first win on the grandest stage… but not without an unconventional ending.
"It was good to get that first win but like a lot of the media and fans and stuff like that kind of took it away from me so that has been pretty hard because there is… because of the weird circumstances surrounding it, there wasn't really like a clear cut win," Anderson said. "Just because a lot of people consider it very controversial. So I never really got to celebrate essentially. It doesn't feel like I've won even though I did.
"I just think people just want to hate on me for whatever reason. I get an unnecessarily large amount of hate from a lot of people and you know, that's fine, but these are coming from people who will never and have never stepped foot in a cage before. This is from people who aren't educated and who have no idea what they're talking about.
"And this sport, it is very cliquey," she continued. "Like obviously Cat's going to get a lot of support because people know who Cat is. A lot of, 'Oh there should be an immediate rematch. Oh, shouldn't have done this, shouldn't have done that.' Okay, well we asked. We asked for months for a rematch and every time I kept asking, every time [UFC Matchmaker] Mick [Maynard] would come back to us he was saying, 'Look, she's not ready. She says she will let us know when she wants to come back.' And I'm not gonna sit around forever if she's not ready. So it's not on me, it's on her."
Anderson would pick up the win over Zingano just 61 seconds into the opening round via TKO. Utilizing a common combination of her's, an overhand followed by a kick, Anderson would go high with the kick and this time it would make contact directly with her opponent's eye as Zingano was on the backfoot. In turn, rendering her unable to continue.
Despite Zingano's appealing of the loss to the California State Athletic Commission, Anderson's strike was completely legal as only eye pokes from fingers count as fouls due to the extremities being controllable in striking exchanges.
To get to this point hasn't been an easy road for the Aussie who now lives on the opposite side of the world from her home. And with everything that has transpired, she still has plenty to prove.
If the end result of her first UFC win wasn't enough, the preceding events directly to it were completely out of the ordinary too as the entire UFC 232 card was relocated on just a one week notice. That, of course, thanks to the headling Jon Jones and his inability to obtain a license in Nevada on time.
Effecting more than just Jones, all fighters fighting at the event had to adjust appropriately and the top featherweight did so relatively easy for the most part. But it could have been better.
"It was fine. The location change in preparation for the fight, it wasn't a big deal," Anderson shared. "Weight cut wise it was. Having that extra flight, getting up super early on the Thursday morning, having the extra flight did make my weight cut a lot more difficult. If most people have seen me… I'm not a small girl so my body was holding the water from the plane and it didn't wanna go but we made it safely. That was the only thing that it affected. But everything else, it wasn't really a big deal. We were fine with the location changed. We were ready regardless.
"And the baths in the hotel in Las Vegas were amazing. So it would have been nice to not feel like I'm a pretzel [in the California hotel baths]," she said with a laugh.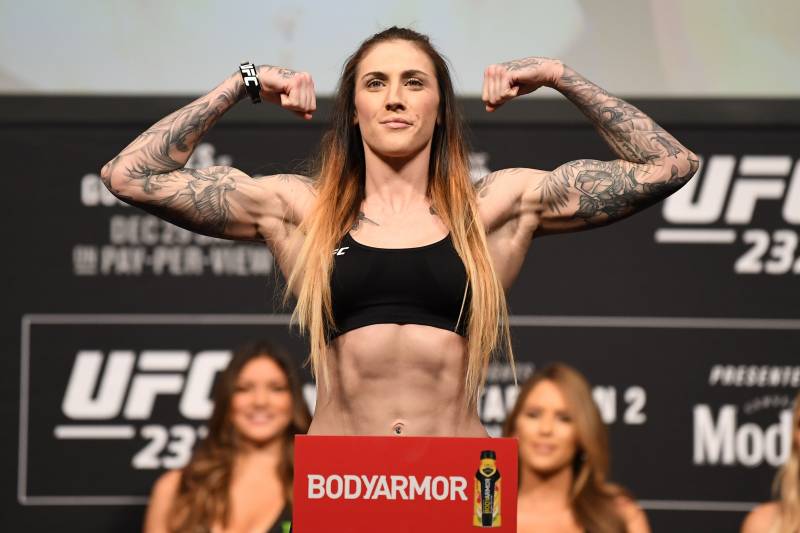 For Megan Anderson, the featherweight division is her fighting home and there's no debate about it.
Upon arriving in Invicta in 2015 and then working her way to the UFC, it was clear that Anderson would be a bright spot for the division that was in need of stars and talent in general. Both qualities of which she has been able to provide.
The problem is… no one else has really been able to replicate her noticeability the way that she and the aforementioned Cyborg have along the way. So when the UFC finally looked to be getting serious with building the division by doing a featherweight season of The Ultimate Fighter… and then all the fighters, including the winner, either dropped down in divisions or didn't get signed, it created a deep feeling of desperation and added pressure to the fighters with no other options but 145-pounds.
"Oh, 100 percent. Not only was I fighting for myself [against Zingano], I felt like I needed to win for my division," Anderson said. "So that definitely crossed my mind, even though it wasn't under the circumstances that I wanted, we did get the win so I feel like that was a good step forward for the division. Hopefully, it starts building now that they're starting to sign more women.
"People just don't understand. Me making 145 pounds, it's the same thing as Cris making 140 pounds. Cris knows, she understands and we've spoken about it. But people don't understand. Like you've seen that video of Cris making 140 pounds; that's me trying to make 145. There are not a lot of options for me, so there's not a lot of options in a weight division, so I have no choice but to make it, but it is not easy, I'm lucky that I have a good team around me that makes it extremely healthy and as easy as possible."
With Cyborg's reign coming to an end that very same night that Anderson picked up her most recent win, all eyes were now on featherweight and the UFC has since begun to actually make those long-awaited efforts and additions that have been stalled on for the past 26 months. One of those newcomers happening to be the next opponent of the Aussie's opposed to another bantamweight.
One way or another, it felt inevitable that we would get to see a clash between Anderson and her fellow now former Invicta titleholder, the undefeated 6-0 newcomer, Felicia Spencer… And it will be done as the encounter goes down this Saturday night at UFC Rochester.
When Anderson and Spencer meet inside the cage, it will be the 10th UFC bout contested at 145-pounds and the first between two natural featherweights that have never fought below their division's limit.
The weight class will be on full display in this match-up as both fighters are two of its best and it will be all on them to put on a great show and represent what they themselves, as well as the fighters that they know are out there, are made of. But as you'd imagine, they're fully aware of that and have been for quite some time now.
"She's got some good skills that she brings to the table," Anderson said of her next opponent. "She's got a really good skill set that she brings and I've been in her position before, debuting in the UFC, wanting to show everyone what she's capable of. I've been in her position. I know she's going to come hard. She's going to come with pressure and I'm glad because she's not going to be hard to find.
"It doesn't really bother me about familiarity or anything like that. We just wanted a fight and this is a great fight for us.
"It's been nice," she said of the quietness surrounding this fight compared to the last. "It's been good to be able to just focus on training and focusing on the game plan and that kind of stuff. I listen and I watch a lot of what people say and interviews and stuff like that. Like I listen to interviews that she's done with people, I look at all that kind of stuff and like I watch and now I'm just biding my time. I'm biding my time for May 18 and a lot of people are going to see."
Fighting in what will be a showcase for a division, Anderson also fights on a card that will be a showcase for her perpetually underrated gym in Lee's Summit, Missouri's Glory MMA & Fitness. Lead by UFC welterweight veteran, James Krause, along with Anderson will be three other teammates making the walk to compete.
There are many different ways to find motivation in this world. But more often than not, driving factors could be boiled down to what you're responsible for. When feeling like something has to be done at all costs and any means necessary, then the only option is to achieve and succeed.
On May 18, Megan Anderson looks to continue fueling the flame of the featherweight torch that she carries en route to supremacy.
This article first appeared on BJPenn.com on 5/13/2019