When it comes to the UFC's vastly expanding 155-pound lightweight division, there are arguably too many exciting fighters to count. But standing tall among the very top of them all is currently the "violence king," Dustin "The Diamond" Poirier.
The MMA community came to the agreement ahead of the thrilling December 2017 clash between Justin Gaethje and Eddie Alvarez at UFC 218 that the fight was to determine the MMA champion of violence. And if that fight was anything to show for it, that was quite a reasonable choice of a match-up to be labeled as such.
Alvarez would end up being the first man to slay the relentless former World Series of Fighting champion before looking to defend his blood-soaked crown of thorns and barbed wire against none other than his old foe in Poirier.
Directly prior to Alvarez' encounter with Gaethje, he took on Poirier in a fun bout while it lasted. Unfortunately, it concluded with controversy as Philadelphia's Alvarez would land knee strikes to the head of his downed opponent thus resulting in a no contest.
Fast forward a year and some change later and it was time to run things back. This time, it would be Poirier who left no doubt as he put away Alvarez late in the second round after some back and forth action.
For Louisiana's finest in Poirier, his first 'violenceweight' title defense officially took place this past Saturday night in a rematch with current featherweight champ, Max Holloway. Putting on a show as everyone expected them to, Poirier would end up walking away with his second career victory over the pride of Waianae. The loss snapped Holloway's stunning 13-fight winning streak.
In the process, Poirier would also claim the interim lightweight title, therefore, setting him up for a massive unification bout with Khabib Nurmagomedov. However, to continue on with his thrill-seeking path of chaos, to become the ultimate MMA violence icon, Poirier has to take out the man that's embodied that status for the entirety of his 18-year career.
Dear MMA Gods, please allow us to one day see Dustin Poirier vs Robbie Lawler.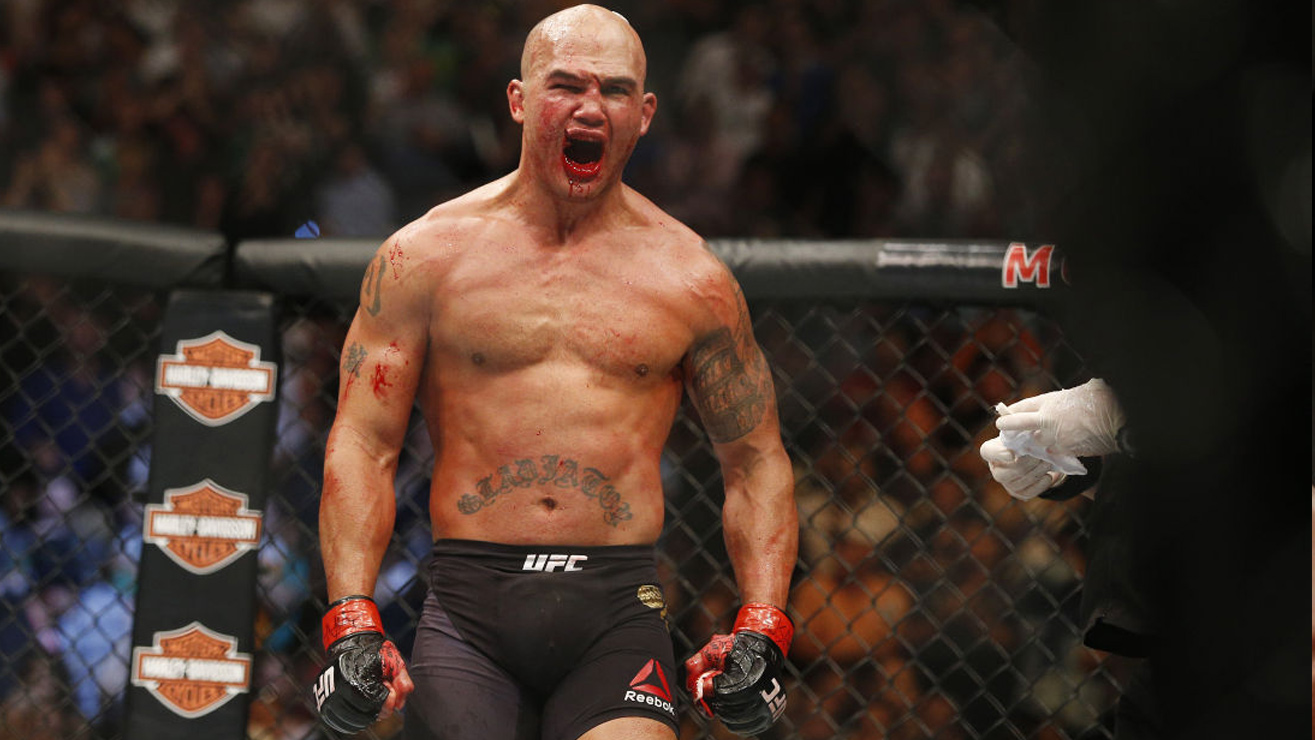 "Ruthless" is about as fitting of any nickname there has ever been in MMA and Lawler lives up to it every chance that he gets.
Since 2001, the former UFC welterweight champion has been delivering entertainment better than most could dream too. Out of his 28 victories, 20 of them have come by knockout and more often than not… There's nothing "technical" about them.
Despite some recent setbacks, Lawler has still shown to be a devastating competitor at the age of 37. Ben Askren can vouch for that first hand…
If there was ever a violenceweight super fight that could be made, this is the one. Yes, Poirier is a former featherweight. But since moving to lightweight, he's never looked better and even alluded to the possibility of one day moving up to 170-pounds in the lead-up to his last fight. Although he was facing a fighter coming up from featherweight, Poirier's size was still notable against Holloway.
Both Lawler and Poirier have only gotten sharper and more refined with their striking over time. All while maintaining that same viciousness and killer instinct that we've come to know and love. Their great gas tanks and willingness to engage would make it hard to see this fight having a lackadaisical pace at any point.
Obviously, this isn't a match-up that we could see all too soon. But they aren't afraid to fight anyone and therefore the possibility is there with all things considered. So please, MMA Gods… One way or another, give us Poirier vs Lawler sometime in the near future.
Poirier vs Lawler chance of happening: 20%
Check out the previous articles in the Dear MMA Gods series below:
This article first appeared on BJPenn.com on 4/15/2019
This article appeared first on
BJPENN.COM