The UFC announced today that UFC 222 in Las Vegas will get a matchup between some UFC Heavyweight veterans. Former UFC Heavyweight champion, Andrei Arlovski will be taking on the Dutchman, Stefan "Skyscraper" Struve.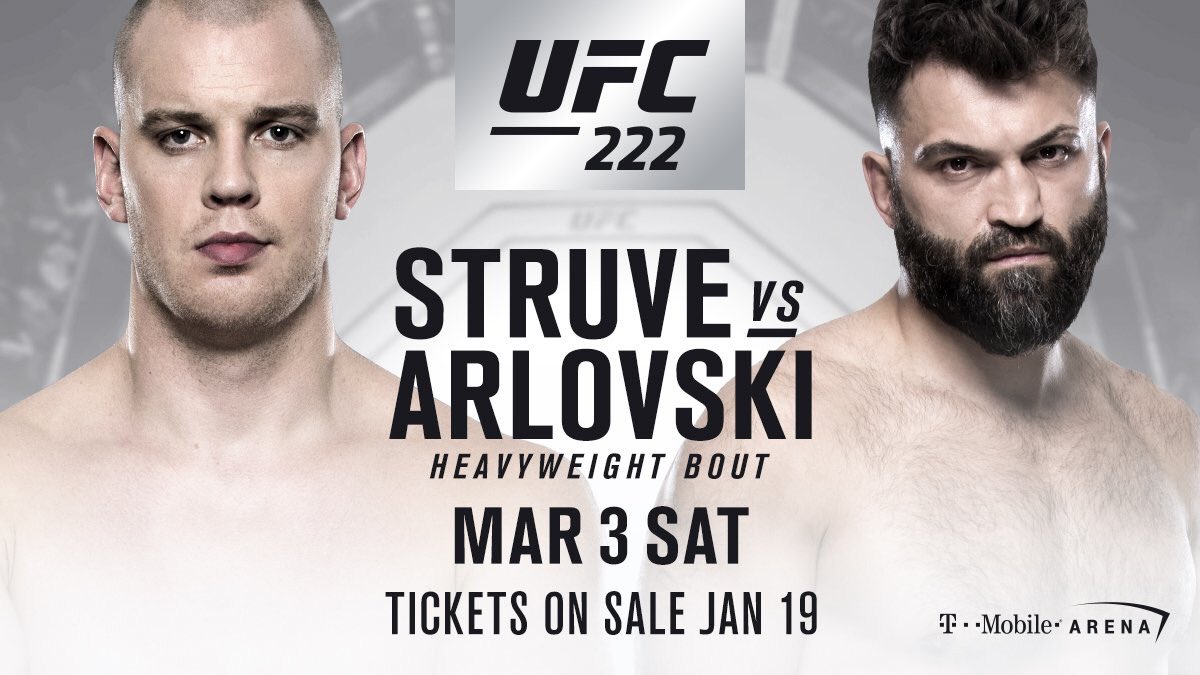 The last time each fighter fought there were opposite results. For the 7'0″ Struve, he was last seen in his homeland for the main event of UFC Fight Night 115 where he took on Alexander Volkov. It was a very fun, back and forth fight while it lasted but it was Volkov who wound up getting the better of Struve when he finished him by round three TKO. This loss snapped Struve's impressive two-fight win streak. Throughout his career, we've seen him have troubles with staying consistent in terms of getting on a good, long winning streak. But Struve has never had trouble hanging around the division's best and delivering in entertaining fights. Despite his recent loss, he's still showing improvements and is only twenty-nine years old.
While Struve had his winning streak snapped, Arlovski snapped his own after being on a brutal five-fight losing streak that consisted of three knockout losses and one submission loss. He last fought at UFC Fight Night 120 in Norfolk, Virginia when he defeated Junior Albini by unanimous decision. Some say Arlovski looked better than ever in this outing. Which is crazy considering his age and how he was once a champion.
It's kind of surprising that this fight hasn't happened already. Both men have been mainstays in the UFC's Heavyweight division for the better half of the past decade. Arlovski's UFC career record stands at 15-9 while Struve is 12-7 under the banner.
UFC 222 is still in the early stage of it's fight adding. Aside from the Heavyweight clash, it currently has a Middleweight showdown between Hector Lombard and CB Dolloway, a Bantamweight battle between rising contender Ketlen Vieira and the returning Cat Zingano and another Bantamweight fight that pits prospects, Sean O'Malley and Andre Soukhamthath against one an other.
This article first appeared on BJPenn.com on 12/28/2017
This article appeared first on
BJPENN.COM