Thanks to the deliverer of fights of the year, Justin "the Highlight" Gaethje provided us with yet another likely end of the year candidate when he and Dustin Poirier blew the roof off of the Gila River Arena in Glendale, Arizona last month. April also gave us a legendary heavyweight showdown that may have very easily been the most exciting forty-eight seconds you will ever see.
And of course, what is a month of fighting without a heartbreaking fight cancellation? Last month's top 5 saw two of them thus making it two months in a row with top 5 fight cancellations…hopefully, the MMA gods are merciful with the upcoming MMA May-hem.
Honorable Mentions: (C) – Sarah Kaufman vs Katherine Lehner, Pearl Gonzalez vs Bar Acioly, (C)Fabio Maldonado vs Nikita Krylov, (C)Marat Balaev vs Yusup Raisov, (C)Askar Askarov vs Rasul Albaskhanov, (C)Batraz Agnaev vs Dovletdzhan Yagshimuradov, Ryan Bader vs King Mo, Jon Fitch vs Paul Daley, Cheick Kongo vs Javy Ayala, (C)Amanda Nunes vs Raquel Pennington, Mackenzie Dern vs Amanda Cooper, Davi Ramos vs Nick Hein, (C)Angela Lee vs Mei Yamaguchi 2, (C)Martin Nguyen vs Christian Lee, Demian Maia vs Kamaru Usman, Brandon Moreno vs Alexandre Pantoja, Vicente Luque vs Chad Laprise, Humberto Bandenay vs Gabriel Benitez, Alexa Grasso vs Tatiana Suarez, Andrea Lee vs Veronica Macedo, Jared Cannonier vs Dominick Reyes, Zak Cummings vs Michel Prazeres, Mirko Cro Cop vs Roy Nelson 2, Michael Page vs David Rickels, Phil Davis vs Linton Vassel, Anastasia Yankova vs Kate Jackson, Stephen, Molly McCann vs Gillian Robertson, Makwan Amirkhani vs Jason Knight, Ton Breese vs Daniel Kelly
5. (C)Rafael Carvalho vs Gegard Mousasi – Bellator 200, May 25
The second of the two most recent big name UFC crossovers, Gegard Mousasi is now set to challenge for a Bellator title.
Mousasi established himself as a legitimate top 5 185-pounder with his current winning streak which includes TKO victories over the likes of Vitor Belort, Thiago Santos, Thales Leites and former UFC middleweight champion, Chris Weidman.
Since departing from the UFC, he has gone on to debut in Bellator where he narrowly picked up the W against a former Bellator champion in Alexander Shlemenko.
The man he'll be looking to take the belt from, Rafael Carvalho has quietly but effectively earned his status atop Bellator's middleweights. With a record of 15-1 and his only loss coming in his first pro fight, Carvalho has finished all but three of his opponents, most notably: Melvin Manhoef, Brandon Halsey, Joe Schilling and in his most recent outing, a forty-four-second dispatching of UFC veteran, Alessio Sakara.
Of Carvalho's twelve finishes, all twelve have come via KO/TKO so if you haven't seen him fight…then you'll have an idea about how he likes to just from knowing that. Carvalho is a patient striker but is like a shark when he has his opponents hurt. He'll find the finish at whatever cost and it's ceased to fail him yet.
Mousasi, however, is just about as tactical as they come. Few others in MMA possess the lightning precise jab that he does. That accompanied with an overall crisp boxing game and underrated grappling prowess, he presents a very tough matchup for the champion. On top of this, despite only being one year older than Carvalho, Mousasi almost triples him in fight experience.
Although it isn't the Bellator 200 main event…it's definitely the best fight on the card and one of the best this month.
4. John Lineker vs Brian Kelleher – UFC 224, May 12
If you're an MMA fan and you often sit around and think about the many wonders of MMA and the question, "do the little guys have power…?" crosses your mind then you very likely haven't seen John Lineker go to work.
"Hands of Stone" has lived up to that moniker each and every time out. His patented body-head hook combo is thrown at least five times a fight it seems. That might even be a little low.
Not only are his hands made of stone, but so is the man's chin. It's a bit bewildering to see the shots Lineker can absorb as if he was hit with a balloon rather than a pro fighter's fist. His next opponent, Brian Kelleher will be more than happy to continue testing Lineker's adamantium skull.
Fresh off the biggest win of his career and a spectacular performance overall against former UFC bantamweight champion, Renan Barao, Kelleher has proven to be a game challenge to any man that stands across from him. He mixes up his striking and wrestling nicely and can really threaten the top bantamweight in Lineker if he decides not to just stand and bang as Lineker so easily goads his opponents into doing.
Matchups like these are always really fun due to the styles meshing in such a way that we can easily see an unranked fighter be catapulted into the top 10 by the night's end.
3. Kyoji Horiguchi vs Ian McCall – Rizin FF 10, May 6
A fight that very well could have taken place years ago in the UFC has now found it's way to the opposite side of the world. The Japanese star and former UFC flyweight title challenger, Kyoji Horiguchi has truly come into his own since suffering his most recent setback to Demetrious Johnson.
Since his only UFC loss, Horiguchi has rattled off eight straight dominant victories. Three of which being with the aforementioned organization and the rest being under his new home of Rizin. Four of his last five Rizin bouts came at bantamweight which Horiguchi finished all four of(three KO/TKO, one submission), proving he's one of the best lighter weight fighters in all of the world regardless of weight class.
For the once #1 ranked worldwide flyweight, Ian "Uncle Creepy" McCall, his story has been much different than Horiguchi's the last couple of years.
Horiguchi's fight with Demetrious Johnson came in August of 2015. Since then, McCall has only made it to the ring once with an unprecedented six fight cancellations that preceded his only MMA appearance in three years. (McCall holds the UFC record for most fight cancellations with ten)
His bad luck wouldn't end once he finally returned to action though. McCall fought on New Year's Eve 2017 against Manel Kape and only did so for a minute and forty-six seconds before the referee stopped the fight due to a cut that McCall suffered after cutting his forehead on the ring ropes while attempting a takedown.
If that minuscule amount of time will have been enough to fully shake off McCall's ring rust remains to be determined. Which is what makes this such a fun fight at this point in time…especially with it being at bantamweight and against an evolved monster in Horiguchi.
If Uncle Creepy can return to any bit of his former elite self that he was at flyweight, we should see a classic. And it's quite possible considering the fact that it is a bantamweight fight and McCall's weight cuts clearly began to take their toll as result in some of his fight cancellations due to sicknesses during or around weigh in day.
Both are incredibly well rounded, smart and talented fighters. They really can do it all and at their best can beat anyone in their division(s).
2. Ronaldo "Jacare" Souza vs Kelvin Gastelum – UFC 224, May 12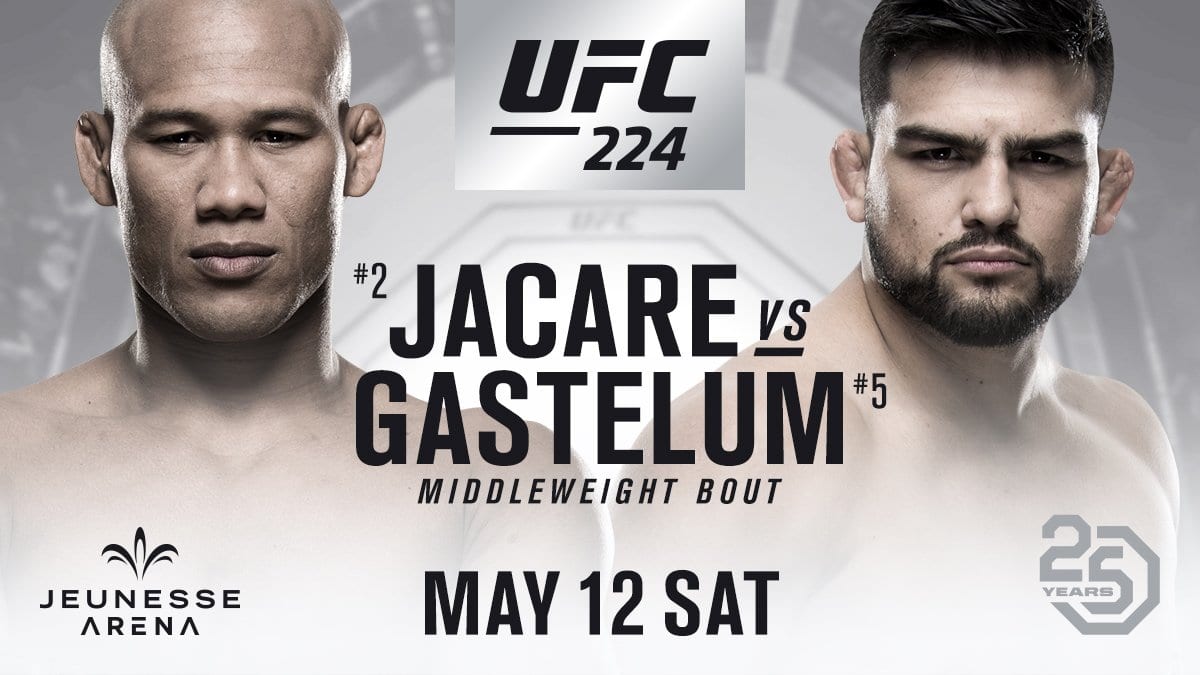 Who would have imagined that Kelvin Gastelum would be just a mere fight or two away from a middleweight title shot and a chance to potentially fight either Robert Whittaker or Yoel Romero? And to do so he would have to get through Jacare Souza…
This isn't to say that The Ultimate Fighter season 17 winner, Gastelum isn't immensely talented. Because he definitely is. It's just that as he was on the early rise of his career, going through and winning TUF 17 at only age 21, he would then go on to become a top prospect among the welterweights.
Not all fighters are meant for cutting boatloads of weight though and perhaps Gastelum has fallen under that category. Especially when considering how he's looked at his new/old home of 185-pounds.
Gastelum is known for being a fantastic wrestler but lately, his striking has improved leaps and bounds from what it once was. His movement and boxing technique is some of the best in his division and combining it with his ground skills makes him incredibly dangerous. The only question mark is whether or not he's actually big enough to hang with the true middleweight elite like Jacare.
At 185-pounds, few are as experienced as the Brazilian, Souza who was a staple in Strikeforce and has now become one for the UFC's 185 ever since the organization was absorbed.
Jacare has been touted as arguably the greatest BJJ practitioner in all of MMA along with Demian Maia and Fabricio Werdum. So it's never a secret as to where his opponents will want to avoid. Because of this, Jacare has refined his striking similarly to that of Werdum and has become lethal everywhere. In fact, he only has one more submission victory than KO/TKO)four submissions, three KO/TKO) in his eight total under the UFC banner.
This will be a massive test for the still young Gastelum as he hopes to ascend to the top of the division while Jacare looks to make one last push for UFC gold.
1. Stephen Thompson vs Darren Till – UFC Liverpool, May 27
It's the new kid on the block vs the original gangster.
Very few fighters have burst onto the scene quite like Darren Till has. And he did it all in one night.
When the news broke that Donald Cerrone would be headlining a fight night in Poland against the Liverpool native, Till, most shrugged it off and assumed, "looks like they're just trying to give Cerrone a rebound". Oh how wrong we were(yeah. we. Don't pretend).
Till entered the fight with supreme confidence and fought that way. To say the least, it paid off. He absolutely outclassed the seasoned vet, Cerrone for a full four minutes before finally putting him away with an accumulation of strikes.
This victory instantly put Till on the map and will go down as a breakthrough fight for the ages. But now that he has officially arrived, the undefeated Brit must prove he truly belongs.
In the UFC's first visit to Liverpool, England(Till's hometown) he will be tasked with the karate wizard known as "Wonderboy", Stephen Thompson.
Both fighters are very similar and their skillsets make this fight a true strikers delight. In what will essentially play out as a kickboxing match, the atmosphere should be ridiculous for this one and if Till can pull off this upset…the building may literally just explode.
There has been an influx of new talent flooding into the welterweight division the past year and Till could be argued to be leading that charge. He has all the tools to do so and it will be wildly fun to see if he can fully utilize them.
This article first appeared on BJPenn.com on 5/1/2018.
This article appeared first on
BJPENN.COM