It's going to pretty hard for another month this year to top April's lineup of fights because it is absolutely loaded with stellar showdowns. And that's no foolin'…
Last month the organizations outside stole the spotlight but the UFC dominates heavily with the fights this month. What April lacks in title fights, it makes up for in a multitude of beautiful stylistic clashes, almost to a surprising extent. But as a fan of any sport, can you ever really get enough?
Honorable Mentions: Benson Henderson vs Roger Huerta, Calvin Kattar vs Renato Moicano, Karolina Kowalkiewicz vs Felice Herrig, Ray Borg vs Brandon Moreno, Joe Lauzon vs Chris Gruetzmacher, Luis Palomino vs Lom-Ali Eskijew, Michael Chandler vs Brandon Girtz, AJ McKee vs Justin Lawrence, Frankie Edgar vs Cub Swanson 2, Michelle Waterson vs Cortney Casey, Antonio Carlos Jr vs Tim Boetsch, Wilson Reis vs John Moraga, Brad Tavares vs Krzysztof Jotko, Matt Lopez vs Alejandro Perez, Luke Sanders vs Patrick Williams, Aljamain Sterling vs Brett Johns, David Branch vs Thiago Santos, Ricky Simon vs Merab Dvalishivili, Dan Hooker vs Jim Miller, Siyar Bahadurzada vs Luan Chagas, Aspen Ladd vs Leslie Smith, Tony Martin vs Keita Nakamura, Edson Barboza vs Kevin Lee, Al Iaquinta vs Paul Felder
5. Fedor Emelianenko vs Frank Mir – Bellator 198, Apr 28
It has been just over two years now since we last saw the former UFC heavyweight champion, Frank Mir in action. That last appearance also marked his final as a UFC fighter after a staggering sixteen-year stint.
Roughly a month after his loss to Mark Hunt in March of 2016, Mir tested positive for PEDs and fell into the ol' USADA limbo. But in July of last year, Mir announced that he had been granted his release from the UFC and was no free to do as he pleased elsewhere. So he joined forces with Bellator.
Want to talk about a crazy debut opponent to have? Then look no further than consensus greatest heavyweight of all time, Fedor Emelianenko.
This matchup has been a dream for many, many fans around the world since the mid-2000s when both fighters reigned supreme in their respective organizations of Pride FC and UFC. Better late than never, right?
Of course, the conditions could be better(specifically in reference to the timing) but the fact that this fight is a part of a tournament just gives it that perfect throwback feel as Fedor made his name competing in this style of fight.
Matchup-wise, the age doesn't really matter. Both men are submission and grappling gurus with the ability to knock the other out from anywhere. Mir hasn't ever been a fighter to show that ring rust effects him either so the chances of us getting a classic between legends is pretty good. When has Fedor ever been involved in a bad fight anyway?
4. (C)Rose Namajunas vs Joanna Jedrzejczyk 2 – UFC 223, Apr 7
It's the instant rematch that we never expected to be getting.
This past November we witnessed one of the most shocking fight results perhaps in MMA history.
The lead up to Joanna Jedrzejczyk's attempted record-tying title defense against Rose Namajunas was getting more and more interesting as it closed in. But it still didn't seem to affect many's opinions on how the affair would play out.
The common expectation was that Joanna would just earn another easy win on route to continued cementing of her spot in history as one of the best ever. Rose had very different plans…
Known as the phenomenal striker that she was, Joanna came out and ended up being the one on the receiving end of striking brilliance. Rose controlled the distance better than anyway else ever has against Joanna as she picked her shots and avoided everything Joanna had to offer before she put the finishing touches on things by knocking Joanna out at the three-minute mark of the very first round.
Heading into the rematch, it's hard to imagine what exactly we'll see this time around. Will Joanna underestimate her again? Will her weight be in order after her claims of a terrible cut last time? All of these things make this an incredibly interesting rematch with a new champion who's confidence could not be higher and an all-time great looking to prove that she just had a bad night.
3. Carlos Condit vs Matt Brown – UFC on Fox 29, Apr 14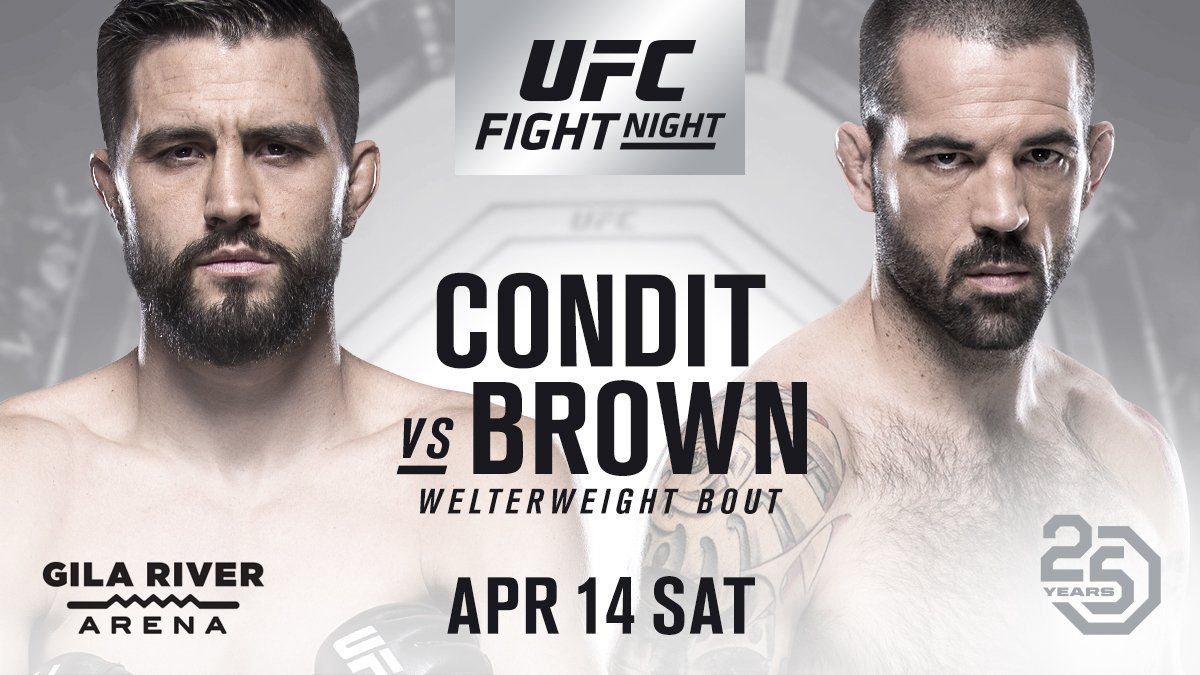 Violent veterans. Is there a better way to describe "The Natural Born Killer" Carlos Condit and Matt "The Immortal" Brown?
These two have been destined to collide for about as long as we could imagine and it's finally set to happen.
After a retirement that lasted less than one of the seven that Brett Favre had, Matt Brown is returning and feels hungrier and more motivated than ever…which can be an incredibly scary thing for the welterweight division. In particular, his next opponent, Carlos Condit.
The JacksonWink staple, Condit has never been one to back down from a war which is what makes this matchup so amazing. Both fighters are as nasty and gritty as it gets and knows how to apply punishment with all eight points of attack.
With a combined forty-seven victories by finishes and only four decisions(28 KO/TKOs, 19 submissions) between the two, there really isn't much that needs to be said about how great this fight can be. If you've ever seen these two fight before then you should be all in for this clash of catalysts for mayhem.
2. (C) – (IC)Tony Ferguson vs Khabib Nurmagomedov – UFC 223, Apr 7
Fourth time's the charm? But who's counting!
Some have called it the greatest matchup in the lightweight division's history. Hell, some have gone as far to say that it's one of the greatest matchups in history overall, regardless of division.
These claims aren't insane, both Tony Ferguson and Khabib Nurmagomedov are truly two of the greatest lightweight fighters to ever live and the two best in the world as it stands right now. And on the line will be the undisputed title currently held by Conor McGregor.
It has been a long time since either fighter has succumbed to defeat. For Khabib, he never has in his entire twenty-five fight professional career. But if there is anyone who will truly test him, it's "El Cucuy" Tony Ferguson.
This fight is a presentation of the very best displays of predictable, unstoppable dominance vs magician-like surprise and unpredictability. Everyone knows what Khabib wants to do…they just can't stop it. That's take his opponents down and suffocate them with a barrage of smashing hammer like punches. Ferguson, on the other hand, keeps his opponents constantly guessing which direction he will take the fight. One second he'll be picking you apart with beautiful combos and the next he'll be diving into a roll for the ankle.
The level of talent possessed by both competitors is just unlike anything we've seen before in MMA. And they're in the same division. It's almost as if there has been two champions competing for the last so many years since they begun their rises to greatness.
No matter how it plays out, it will have been a treat to have witnessed.
1. Dustin Poirier vs Justin Gaethje – UFC on Fox 29, Apr 14
There isn't really any other fighter that personifies entertainment more than "The Highlight" Justin Gaethje. Every single time the man makes the walk to perform, the audience leaves more than satisfied.
His next opponent, Dustin "The Diamond" Poirier is no stranger to putting on a fighting classic as well. A fan favorite going all the way back to his WEC days, Poirier has evolved into a truly elite competitor in the 155-pound division and his versatility continues to show each time out.
Gaethje is coming off the heels of his first career loss to former UFC champion, Eddie Alvarez in a fight of the year candidate. Poirier is continuing to string together victories in hopes of an eventual title shot. A win for either man will be absolutely huge and five rounds practically guarantee we won't be heading to the judge's scorecards.
This fight really is just too perfect stylistically. Neither man has ever been in a boring fight and each is a kill or be killed type of striker. You know exactly what to expect and that is pure fireworks.
Gaethje is only two fights into his UFC career and both have been fight of the nights(as well as fight of the year candidates). Poirier to his credit holds four to his name with three performances of the night.
There really is no hidden evidence to be dug up on why this fight should be amazing(as is the case with most fights this month). So just sit back, relax and enjoy the show… That is until these stud athletes bring you to the edge of your seat with their high octane violence.
This article first appeared on BJPenn.com on 4/1/2018