Another great year in MMA has come and gone. 2018 left us with plenty of great moments. But which were the best? These are the BJPenn.com staff's picks for the 2018 MMA awards.
Fighter of the Year (As picked by everyone, except for Chris Taylor. Excerpt by Tom Taylor):
UFC heavyweight champion Daniel Cormier
Not only is Cormier an incredible ambassador for our beloved blood sport, but he's also one of the best fighters in the world, as evidenced by the incredible year he's had.
First, he defended his light heavyweight title with a destruction of the streaking Volkan Oezdemir. Then he moved up to heavyweight and leveled reigning champion Stipe Miocic — a man regarded by some as the best heavyweight ever. Then, in November, he capped off the year by saving the UFC's ass, stepping in to battle Derrick Lewis in the last-minute main event of UFC 230, and winning with a dominant, second-round submission.
It was a banner year for the former Olympian.
Fight: Aung La N Sang vs. Ken Hasegawa at ONE: Spirit of a Warrior
There were some really incredible fights this year, but my pick for Fight of the Year went down in Yangon, Myanmar in June, when ONE light heavyweight and middleweight champ Aung La N Sang defended that latter strap in an incredible slugfest with Japan's Ken Hasegawa.
For four and a half rounds, these two middleweights pummeled each other plum-purple. Then, in the fifth round, the champion dug deep and sent his foe careening to the canvas with a rocket-fuelled uppercut for a win that is also a definite Knockout of the Year contender.
And here's the good news. Aung La N Sang and Ken Hasegawa are set to fight again in the New Year when ONE Championship debuts in Japan with ONE: A New Era.
Knockout: Li Kai Wen first-round punch vs Rodian Menchavez at ONE: Pinnacle of Power
I love a good flying knee or spinning elbow as much as the next fight fan, but I'm a sucker for a good, old-fashioned one punch KO. That's why, after deep consideration, my pick for KO of the Year is Li Kai Wen's 10-second annihilation of Rodian Menchavez at ONE: Pinnacle of Power in June.
Even seven months after the fact, I'm still not sure that I can articulate why I was so dazzled by this knockout. I just loved it. It was beautiful. The Chinese fighter performed with all the efficiency and mercilessness of a contract killer, walking his foe down the moment the bout began and turning the lights out on him with one of the first punches he threw. It was a perfect, one-hitter quitter.
Submission: Alexey Oleynik's first-round Ezekiel choke on Junior Albini at UFC 224
There were a lot of contenders for Submission of the Year in 2018. In the end, however, my pick is Alexey Oleynik's submission of Junior Albini at UFC 224.
Oleynik put Albini away with an Ezekiel choke — a choke that is absurdly difficult to pull off if you're not wearing a gi. Even more impressive, however, is the fact that this was the 12th Ezekiel choke win on the Russian veteran's record.
People know this is his specialty, and yet he keeps catching people with it. And it will never fail to leave my jaw on the floor when he does.
Event: UFC 229
After hours of painstaking deliberation, I decided not to give my Event of the Year pick to CamSoda Legends. Instead, I'm giving the nod to UFC 229.
UFC 229 is one of the rare cards in recent memory that really had that huge fight feel. When you ordered the pay-per-view on your living room TV or scooted into a booth to watch it at a sports bar, you felt like you were a part of something sweeping and international; like you were watching something people would be talking about for years after the fact.
The post-fight brawl between Khabib Nurmagomedov and Conor McGregor's teams was definitely unfortunate, but somehow that only added to the sensation that we were watching something big — perhaps even too big for its own good, almost like a supernova.
Whatever the case, when I look back at the year 2018 a decade from now, UFC 229 is the card I will remember. That's why it's my pick for Event of the Year.
Breakthrough fighter/Up and Comer: UFC middleweight Israel Adesanya
I'll admit that, when Israel Adesanya signed with the UFC, I had my doubts about how far he'd get. There was no doubt that he'd probably style on any middleweight on the roster in a pure striking match, but I just wasn't sure how he'd fair when the takedowns started coming his way.
In 2018, he erased all my doubts, transforming from UFC newbie to bona fide middle contender in the span of about 10 months. His last win of the year, a lopsided TKO victory over Derek Brunson, was particularly impressive. Even against a wrestler of Brunson's caliber, Adesanya seemed to be operating on a completely different plane.
Really, it's easy to picture him with a UFC belt wrapped around his waist by the third quarter of 2019. Considering it hasn't even been a year since he joined the promotion, that's pretty amazing.
Upset: Amanda Nunes' first-round knockout of Cris Cyborg at UFC 232
As far as the odds are concerned this wasn't the biggest upset of the year, but to me, it was the most significant. Cris Cyborg had not lost an MMA fight in more than a decade, and then-bantamweight champion Amanda Nunes waltzes up to the featherweight division and hammers her into unconsciousness in less than a minute.
It's not just that Nunes beat Cyborg, it's that she beat the long-time featherweight champion at her own game. It'd been years since we'd seen Cyborg so much as challenged in an MMA fight, and suddenly, she was face down on the canvas while Amanda Nunes was celebrating atop the side of the cage.
As far as I'm concerned, there was no bigger or more historically significant upset this year.
Comeback: Kyoji Horiguchi's third-round guillotine of Darrion Caldwell at RIZIN 14
I just couldn't picture Kyoji Horiguchi beating Bellator bantamweight champion Darrion Caldwell at RIZIN 14 on New Year's Eve — and I say that as a massive Horiguchi fan.
For all his skill, Horiguchi is a natural flyweight, while Caldwell has recently fought quite comfortably as a featherweight. Throw in Caldwell's world-class wrestling skill, and I really, truly believed Horiguchi was in for a rough night at the office.
In the early going, it looked like my suspicions were valid, as Caldwell landed several takedowns and mushed Horiguchi into the canvas like a bug under his shoe. It seemed that the Japanese fighter was doomed to spend the duration of the fight gasping for air underneath his much larger foe. But then, in the third round, Horiguchi locked up a guillotine choke and forced the Bellator champ to tap.
Objectively, there might have been more dramatic comebacks this year, but there was something so exciting about watching Horiguchi snatch this victory from the hands of his much larger opponent.
Fight: Robert Whittaker vs. Yoel Romero 2 at UFC 225
A rematch between current UFC middleweight champion Robert Whittaker and top division contender Yoel Romero served as the main event of UFC 225 earlier this year in Chicago. The fight was nothing short of an instant classic as "The Soldier of God" and "Bobby Knuckles" traded bombs for the better part of twenty-five minutes much to the delight of the Chi-Town crowd and viewers watching around the world.
After five-rounds of back and forth action, which saw the champion badly hurt and almost finished in the final five minutes, the fight went to the judge's scorecards for a decision. In the end, Robert Whittaker was awarded the split-decision victory, but Yoel Romero's stock did not drop in defeat.
Fighter: UFC featherweight and bantamweight champion Amanda Nunes
Amanda Nunes gets my vote for fighter of the year simply based on her recent accomplishment at UFC 232. "The Lioness" became the first "champ champ" in women's history by defeating Cris Cyborg via first-round knockout in Los Angeles. Making that win even more impressive was the fact that Cyborg had not tasted defeat in over thirteen years. In addition to her destruction of Cris Cyborg, Amanda Nunes also scored a lopsided TKO victory over Raquel Pennington in her bantamweight title defense at May's UFC 224 event in her home country of Brazil. That victory marked Nunes' fourth-straight successful title defense.
Knockout: Yair Rodriguez' duck under elbow vs Chan Sung Jung at UFC Denver
Yair Rodriquez produced arguably the greatest knockout of all time when he face-planted Chan Sung Jung with an elbow in the final second at UFC Denver. The win was nothing short of spectacular as had the fight gone just one more second, "The Korean Zombie" would have likely walked away with a unanimous decision win.
Submission: Ryan Hall's first-round heel hook of BJ Penn at UFC 232
Ryan Hall scored one of the slickest submission victories in recent memory at UFC 232 submitting UFC legend BJ Penn with a heel hook in the very first round. The setback served as the first submission loss of Penn's career, putting a large feather in the cap of Ryan Hall. It's not every day that you submit a Brazilian Jiu-Jitsu world champion, and for that reason, Hall gets my vote for submission of the year.
Event: UFC 225
Although eight of the thirteen bouts at UFC 225 went to the judge's scorecards for a decision, June's pay-per-view event in Chicago still gets my vote for the event of the year thus far in 2018.
The main event of the evening featured a "fight of the year" war between current UFC middleweight champion Robert Whittaker and Yoel Romero. The event also served as Colby Covington's coming out party, as the brash UFC welterweight proved that he was a lot more than just talk by scoring a dominant decision win over former lightweight titleholder Rafael dos Anjos. The event also featured big wins from former UFC women's bantamweight champion Holly Holm who defeated Megan Anderson, as well as a career-defining win for surging heavyweight contender Curtis Blaydes who TKO'd former division title challenger Alistair Overeem.
Breakthrough fighter/Up and Comer: UFC middleweight Israel Adesanya
Israel Adesanya kept his perfect professional record intact in 2018 this while scoring four octagon wins over Rob Wilkinson, Marvin Vettori, Brad Tavares, and most recently Derek Brunson. After a sensation 2018 year, "Stylebender" will now face his toughest task to date in former UFC middleweight kingpin Anderson Silva at UFC 234. If victorious against "The Spider", Adesanya will likely be awarded the next shot at UFC middleweight gold.
Upset: Alexander Hernandez defeating Beneil Dariush via first-round KO (punch) at UFC 222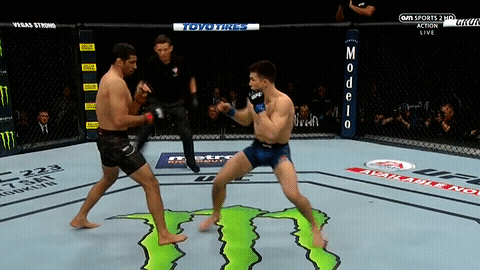 Alexander Hernandez stepped up on just one week's notice to make his octagon debut against lightweight staple Beneil Dariush at UFC 222. Despite being a massive underdog, Hernandez was able to make quick work of his ranked opponent, this after he landed a brutal left hand which resulted in a first-round stoppage victory. After defeating Oliver Aubin-Mercier at July's UFC on FOX event in Calgary, Hernandez will now face his stiffest challenge in the form of Donald Cerrone on January 19 in Brooklyn.
Comeback: Derrick Lewis' third-round knockout of Alexander Volkov at UFC 229
Derrick Lewis looked to be well on his way to suffering a unanimous decision loss to Alexander Volkov at UFC 229. However, in the final seconds "The Black Beast" was able to land a massive right hand that floored his Russian opponent. "The Black Beast" followed that up with some brutal ground and pound which forced the referee to step in and call the fight with just seconds left on the clock. Lewis was awarded a title shot against Daniel Cormier following his win over Volkov but went on to lose that fight via submission.
Fight: Dustin Poirier vs Justin Gaethje at UFC on Fox 29
Looking back on 2018 and all the incredible fights that took place, I still cannot think of a more exciting war than the Poirier and Gaethje scrap. Truly one to be remembered for years to come.
Knockout: Yair Rodriguez' duck under elbow vs Chan Sung Jung at UFC Denver
Five round war. Yair down on all three scorecards. With one second left, "El Pantera" lands a sensational "no-look" elbow and flatlines one of the toughest guys in the division. A legendary moment in MMA.
Submission: Michael Chiesa's second-round one-armed kimura vs Carlos Condit at UFC 232
There's a lot to choose from here. Zabit and Aljamain landing the Suloev stretch kneebar on the same card. Paul Craig and his incredible comeback win. But for me, Chiesa takes the cake. Perfect setup, perfect positioning, leading to a one-armed kimura that tapped out the legend that is Carlos Condit. It was brilliant.
Event: UFC 232
Stacked from top to bottom. Amazing technique displayed, legendary athletes, Nunes' incredible upset, the drama going into fight week, all beyond worthy for me. Plus, any card where the prelims are kicking off by featuring "The Prodigy" is a strong indicator that its overflowing with talent.
Breakthrough fighter/Up and Comer: UFC light heavyweight Anthony Smith
This has to be the hardest choice for me personally as several names come to mind. Alex Volkanovski, Aaron Pico, and Israel Adesanya are all worthy of this nomination in my humble opinion. But the man whom I truly believe took the sport by storm this year is Anthony Smith. "Lionheart" went from a middleweight journeyman to a light-heavyweight contender with three amazing finishes and is now the next likely challenger for Jon Jones. We are all looking forward to the 'return of the Mack' in 2019.
Upset: Ray Cooper III's second-round TKO of Jake Shields at PFL 3
This one is difficult purely based on criteria. Should we choose the biggest upset based on the odds going in? Or just the most shocking upset that comes to mind? You could easily choose Nunes knocking out Cyborg to become the baddest woman on the planet, or Cejudo dethroning the P4P best in Demetrious Johnson.
However, I'm going to side with the oddsmakers here and pick Ray Cooper III. Jake Shields was a 14 to 1 favorite going into the first fight with "Braddah Boy," and we all know how that ended. Avenging his father and making boatloads of money for anyone who placed a bet in favor of the Hawaiian.
Comeback: Derrick Lewis' third-round knockout of Alexander Volkov at UFC 229
The man's balls were hot, folks. Lewis came back from adversity to land a bomb to finish Volkov, then proceeded to remove his shorts and give one of the funniest post-fight speeches ever. What more do you want?
Fight: Irene Aldana vs Lucie Pudilova at UFC 228
Both ladies were absolutely on point in the striking department in this one which is primarily where it was contested. There was no backing down from either as they landed almost at will in equal numbers per round. It felt like at any moment someone could be broken by the other, but they just refused.
Both landed early and often with some serious shots, there were several momentum shifts throughout with great technique on display and little to no slowing down in each round. It was just a back and forth war and one that surely not enough people have seen as it was on the Fight Pass portion of UFC 228.
Knockout: Yair Rodriguez' duck under elbow vs Chan Sung Jung at UFC Denver
Similar to Cormier as fighter of the year… Not much debate here. Yair Rodriguez pulled off a literally once in a lifetime knockout that has never been seen before and likely will never be seen again… If not for a very long time. Oh, it was also at the very last second of he and Jung's five-round war. No brainer here.
Submission: Kazuyuki Miyata's second-round hammerlock vs Erson Yamamoto at RIZIN 14
In his retirement fight, Kazuyuki Miyata submits Erson Yamamoto via hammerlock from guard. Dear god. #RIZIN14 pic.twitter.com/zhD3yttILJ

— caposa (@Grabaka_Hitman) December 31, 2018
Let me ask just one question. How many times have you seen someone pull off a hammerlock in MMA? Probably haven't. I hadn't either until RIZIN 14 and I was in complete shock. The move is essentially a schoolyard "chicken wing" and yet the 42-year old Miyata was able to pull it off from the bottom in guard.
The only other submission that comes close to SOTY for me is the other extremely rare one that happened at RIZIN 14 which was Yuki Motoya's teepee triangle on Justin Scoggins. I don't see how anything else beats those two.
Event: RIZIN 14
Originally, my pick here was going to be RIZIN 11. But after strong re-consideration, RIZIN 14 surpassed it closing out the year. Top to bottom, each and every bout at RIZIN 14 had some sort of great intrigue to it and the results showed why.
With only two decisions out of the 13 total bouts, seven of them ended by submission. And the whole bouts up until the finishes were all fantastic displays of action up until those points. We saw two incredible surprise comebacks from Damien Brown and Kyoji Horiguchi and Jiri Prochazka to an extent.
The only thing that RIZIN 14 really lacked was a big spectacular knockout, but everything else more than made up for it in incredible fashion.
Breakthrough fighter/Up and Comer: UFC light heavyweight Anthony Smith
If you would have told an MMA fan at the beginning of 2018 that Anthony Smith would be a top 5 light heavyweight by the year's end, you would have been laughed at… Unlike Israel Adesanya at middleweight. The man went from exciting mid-tier afterthought at 185-pounds to legit 205 title contender. Sounds like a breakthrough to me.
Upset: Henry Cejudo defeating Demetrious Johnson by split decision at UFC 227
Personally, I did think that this rematch would be fairly competitive. But Cejudo winning still felt like an impossibility. He overcame a nerve shutdown scare in the very first round and went on to dethrone the greatest champion in MMA history. Was one hell of a moment.
Comeback: Kay Hansen's third-round armbar of Sharon Jacobson at Invicta FC 33
Kay Hansen came into the fight with Sharon Jacobson on roughly one week's notice and was soundly dominated from pillar to post for about 14 minutes and 40 seconds. Then Jacobson went for a late horribly ill-advised belly-to-belly suplex that she couldn't fully execute.
Hansen capitalized by landing on top of Jacobson and snatching an arm in the process to pull off one of the most incredible comebacks you'll ever see in MMA. When all hope seems lost, you can never count someone out in this sport.
Fight: Dustin Poirier vs Justin Gaethje at UFC on Fox 29
Whenever Justin Gaethje and Dustin Poirier step into the Octagon it is bound to be a good fight. Put them together and fireworks were surely set to commence, and boy did that ever happen.
The entire fight was a bloodbath, where both fighters were landing heavy shots that wobbled their opponent several times. Gaethje looked like he was getting the better of Poirier until Poirier refused to give up and just kept on throwing shots at Gaethje until the ref stepped in to stop it. It was an amazing fight from the get-go. 
Knockout: Yair Rodriguez' duck under elbow vs Chan Sung Jung at UFC Denver
This one is rather obvious and was the first time I have ever seen this knockout — if my memory serves correctly.
Yair Rodriguez stepped in on short notice to take on the Korean Zombie in what was a great fight but Zombie was clearly winning the fight. Then somehow, someway, Rodriguez landed a beautiful elbow which knocked Zombie out clean with one second left to win the fight. It was an amazing knockout and may very well be the last time I ever see that again. 
Submission: Zabit Magomedsharipov/Aljamain Sterling's Suloev Stretches vs Brandon Davis and Cody Stamann at UFC 228
A knee bar is one of the hardest submission to pull off and has only been pulled off a handful of times inside the Octagon. Well, at UFC 228, the rare version of that, the Suloev Stretch, was pulled off twice by Zabit Magomedsharipov and Aljamain Sterling which gives them co-winners of submission of the year. It was a phenomenal submission from both men. 
Event: UFC 229
For better or for worse, UFC 229 is the event of the year for one specific reason; It was the biggest event in MMA in a long time.
Ask any causal MMA fan which event they will remember and they will say UFC 229 because of Conor McGregor making his long-awaited return to the Octagon to take on Khabib Nurmagomedov. It was the most anticipated fight in UFC history.
Then, after all that, you get the brawl after UFC 229 to make it that much more memorable. Plus, the famous quote of "my balls was hot" after Derrick Lewis' stunning knockout over Alexander Volkov, and the Tony Ferguson-Anthony Pettis fight was amazing. Overall, it was a good card, but it was a memorable one which makes it the event of the year. 
Breakthrough fighter/Up and Comer: UFC middleweight Israel Adesanya
This one is rather easy. No other fighter went from not in the UFC to being one fight away from a title shot like Israel Adesanya did this year. Adesanya took the world by storm and had phenomenal wins over Brad Tavares as a coming out party of sorts. Then, in the worlds most famous arena, Adesanya knocked out Derek Brunson in the first to set up a fight against a legend in Anderson Silva. It was an amazing year which saw him go 4-0 and become a title contender. 
Upset: Henry Cejudo defeating Demetrious Johnson by split decision at UFC 227
Demetrious Johnson had simply beat everyone in the flyweight division, and then beat some twice. He was dominating the entire division and at UFC 227 everyone expected him to get past Henry Cejudo for the second time. Except that wasn't the case. Cejudo used his wrestling and narrowly squeaked past Johnson to win the flyweight belt. It was an amazing fight, and hands down the biggest upset in all of MMA in 2018.
Comeback: Kay Hansen's third-round armbar of Sharon Jacobson at Invicta FC 33
Kay Hansen took a fight on short notice against a tough fighter in Sharon Jacobson. And, Jacobson was dominating the fight for over 14 minutes and then somehow, Hansen locked in an armbar and won the fight with just 17 seconds left. Hansen described the comeback as this to me: "I can't even put it into words, honestly," Hansen said of the fight. "I knew I was down two rounds going into the third, obviously. Everyone knew that. It was getting to a point where I'm like, 'you just gotta get up' so I got up and she tried to suplex me and I let my auto-pilot take-over from there."  
Fight: Chan Sung Jung vs Yair Rodriguez at UFC Denver
An amazing fight to top off an incredible card that evening. Aside from the fact this was an all-out war for five-rounds, the significance of this fight with Rodriguez nearly becoming a free agent and picking up a huge win like this was fantastic to watch. This is the perfect type of fight to show anyone who is looking to become a fan of MMA.
Knockout: Yair Rodriguez' duck under elbow vs Chan Sung Jung at UFC Denver
One of the greatest knockouts of all time….period. Just when you think this fight is about to go the distance, Rodriguez lands an upward elbow flush on Zombie's chin and hands him just the third TKO loss of his career. Even more impressive is the fact there was one second left on the clock and Rodriguez was able to pull this off.
Submission: Alexey Oleynik's first-round Ezekiel choke on Junior Albini at UFC 224
Doesn't get any better than this when it comes to submission finishes. Alexey Oleynik caught a very rare Ezekiel choke on Junior Albini, forcing him to tap at UFC 224. It was the first submission loss for Albini since Aug. 2012.
Event: UFC 228
So many notable highlights on this card. Jim Miller with that impressive rear-naked choke on Alex White, Diego Sanchez earning his first win since November 2016 over Craig White.
Then you had highlight reel wins from Darren Stewart, Geoff Neal, Abdul Razak Alhassan and Jessica Andrade. To top everything off, Tyron Woodley put on a vintage performance against Darren Till, handing the UK fighter his first career loss and doing so with an impressive d'arce choke.
Breakthrough fighter/Up and Comer: UFC middleweight Israel Adesanya
It's pretty incredible that Israel Adesanya only made his UFC debut in February. Since then, "Stylebender" has racked up four straight wins over Rob Wilkinson, Marvin Vettori, Brad Tavares, and Derek Brunson. The 29-year-old has a great personality and a fighting style that is very appealing to fans. The former GLORY standout will be facing former champion Anderson Silva at UFC 234, in a matchup that will likely earn him a title shot should he come out on top. If it weren't for Daniel Cormier, Adesanya would have made a strong case for fighter of the year.
Upset: Ray Cooper III's second-round TKO of Jake Shields at PFL 3
so i got #LFA52 tonight and #PFL10 tomorrow with Jake Shields vs. Ray Cooper III rematch. pic.twitter.com/qeHWFZXqBq

— mma 21+ ⚉ (@mma21plus) October 19, 2018
Even the most hardcore MMA fans didn't know much about Ray Cooper III when he entered this year's PFL welterweight tournament. The 25-year-old was 2-2 in his last four fights headlining into his PFL debut in July. The betting public didn't give Cooper much of a shot as he was a massive +600 underdog (bet $100 to win $600) against former UFC title challenger Jake Shields.
Cooper not only won the fight, but he dominated Shields and handed the former Strikeforce champion his first TKO loss since Aug. 2011. According to Tapology, it was the seventh biggest upset in MMA history from a betting perspective, just slightly behind Holly Holm defeating Ronda Rousey.
Comeback: Derrick Lewis' third-round knockout of Alexander Volkov at UFC 229
Derrick Lewis was on his way to losing a decision against Alexander Volkov at UFC 229 before he was able to stop the Russian fighter with one second left in the third round. The win earned Lewis a heavyweight title shot against Daniel Cormier at UFC 230 and was one of the best storylines of 2018.
Fight: Robert Whittaker vs Yoel Romero at UFC 225
I had the pleasure at being at my top two fights of the year. My runner up is Jung vs. Rodriguez. But back to Whittaker vs Romero 2… What an incredible fight, back and forth. I scored this fight for the challenger, but he lost a close split decision. I hope we get a third!
Knockout: Yair Rodriguez' duck under elbow vs Chan Sung Jung at UFC Denver
Again I was lucky enough to be covering this event in person. I was sitting on press row when this KO happened, and we were all legitimately stunned. We did not know what just transpired. After seeing the replay, OMG, how can you not vote knock out of the year?
Submission: Paul Craig's third-round triangle choke of Magomed Ankalaev at UFC London
Are you kidding me!? With one second left in the fight, Paul Craig locks in a triangle choke and his opponent panics and taps. This is one of the greatest comebacks in MMA not just submission of the year.
Event: UFC 225
Looking back there were a surprising amount of outstanding events this year. But for the money, I have to go UFC 225. Perhaps this is a bit of a home team pick, but Whittaker vs Romero 2 was truly special.
Breakthrough fighter/Up and Comer: UFC middleweight Isreal Adesanya
There were a handful of fighters I thought about for this honor but in the end, how can anyone argue with what the "Stylebender" has achieved in 2018?
Upset: Amanda Nunes' first-round knockout of Cris Cyborg at UFC 232
Many people thought Nunes was going to beat Cyborg. I, however, was not one of them. Most people are going to say DC over Stipe or Cejudo defeating "Mighty Mouse", but I picked those upsets correct. So to me, the Nunes destruction of Cyborg is my biggest upset of 2018.
Comeback: Derrick Lewis' third-round knockout of Alexander Volkov at UFC 229
Come on! How can this not be? Ok, perhaps Yair Rodriguez has a claim, but in all seriousness, I have to go Lewis here just because he was getting thoroughly dominated until he wasn't.
This article first appeared on BJPenn.com on 1/5/2019
This article appeared first on
BJPENN.COM