Invicta FC put on yet another good night of action as they touched down for the first time in Oklahoma for Invicta FC 32.
In a pivotal bantamweight matchup, the "Raging Panda" Julia Avila (6-1) made her return to the Invicta cage as she took on the always tough Alexa Conners (5-3).
After a very disappointing loss via 49-second injury (broken finger) in her last Invicta appearance in May, Avila more than made up for the lost time.
As soon as the fight started, Avila began to pour on her relentless pressure and didn't let up. She backed Conners up the cage where she would tee off with punches while clinching to reset. In the space that they had for the final minute of the opening round, Avila would work nice front kicks to the body along with coupling in counter combinations when Conners tried to retaliate.
The second starts, and it's more of the same from Avila as she imposes her will until she eventually breaks Conners with the accumulation of punch flurries and knees in the clinch. Avila now looks to have set herself up for a title shot against the champion, Sarah Kaufman.
Result: Avila def Conners via TKO (punches) at 4:43 of round two
What a win in front of her home crowd for @RagingPandaMMA! #InvictaFC32 pic.twitter.com/BdoDYKjd1S

— UFC FIGHT PASS (@UFCFightPass) November 17, 2018
Former Invicta matchmaker and women's pioneer, Kaitlin Young (9-9-1) made her return to action after four years off in August at RIZIN 12 with a big upset over Reina Miura. At Invicta 32, she made her first appearance inside the Invicta cage since November 2014 and wasted no time doing so.
Standing across from her was her short notice replacement opponent, Sarah Patterson (5-5) in a 150-pound catchweight.
After a couple of hard leg kicks, Patterson was visibly hurting and it led to an early finish as a leg kick followed by a flurry of punches forced the stoppage in favor of the former matchmaker.
Result: Young def Patterson via TKO (leg kick and punches) at 1:45 of round one
Welcome back to Invicta @kaitlin_young! #InvictaFC32 pic.twitter.com/Er499l04VO

— UFC FIGHT PASS (@UFCFightPass) November 17, 2018
In the night's strawweight co-main event, we saw the newest addition of the Serra-Longo fight team, Mizuki Inoue (13-5) as she made her return after suffering defeat her last time out against the champion Virna Jandiroba. Standing across from her this time was the four-fight UFC vet, Viviane Pereira (13-3) who made her promotional debut.
In the opening frame, Pereira did well early on as she controlled with her grappling and got a takedown that saw her hold Inoue in her guard. Over time, Inoue would work her way out and reverse thus winding up mounting Pereira and dropping some ground and pound to close out the round.
Inoue's very crisp boxing skills were the story of the second round as she utilized her footwork and head movement to comfortably outpoint her Brazilian opposition.
It was more of the same from Inoue in the third as she mixed in a takedown along with her boxing. After controlling for a short period of time before Pereira found an opportunity to kick her off, Inoue continued to bob and weave as she attacks from her range and dictated the striking exchanges on route to a clear victory.
Result: Inoue def Pereira via unanimous decision (30-27 all)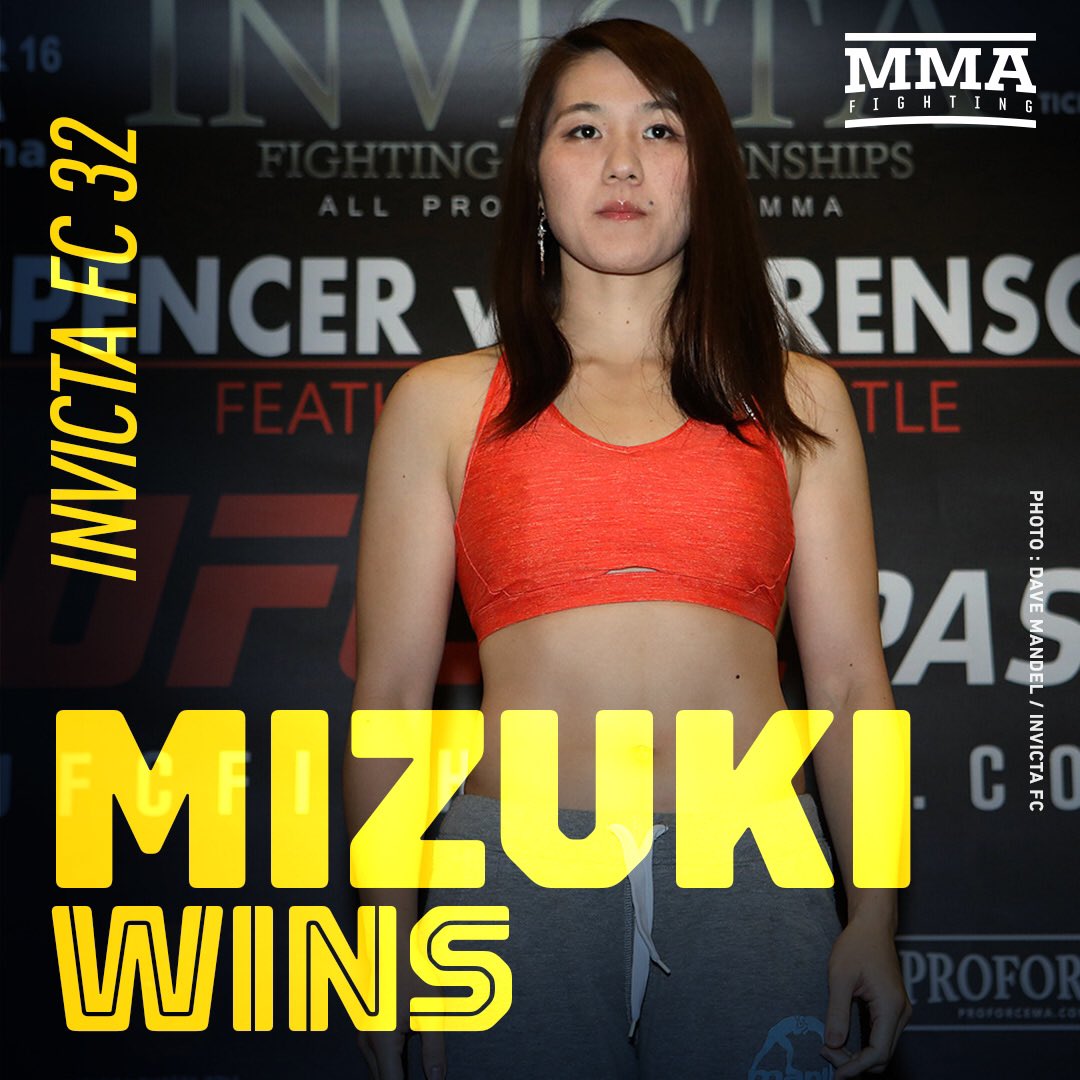 The vacant featherweight title was up for grabs in the main event as we saw the "Feenom" Felicia Spencer (6-0) take on Pam "Bam" Sorenson (7-3).
The first round was all Spencer's as the two clinched up almost immediately which led to a takedown for the Feenom. From there, she would dominate the rest of the round from Sorenson's back as she searched for rear-naked-chokes and delivered ground and pound strikes.
As the second starts, it looks to begin almost identically but after getting Sorenson down, the two scramble and Sorenson powers Spencer on to her back where gets some control time. It wouldn't last, however, as Spencer got back up and into the clinch where each jockeyed for position.
A guillotine from Sorenson gives Spencer a brief scare but is able to fight out of it. Sorenson lands a bit with some punches as Spencer walks forward looking for elbows. Round ends with Spencer getting a bit wild before getting countered to the ground on a takedown attempt.
The third round opens with some front and side kick attempts to the face from Spencer thus leading to her using more kicks in this round, to the leg in particular. Sorenson continues to head hunt with punches before Spencer attempts another takedown that gets countered as the two spring back up leading to Spencer controlling in the clinch on the cage.
Each fighter mixes it up nicely with their attacks from distance before a front kick from Sorenson leads to a takedown as the round comes to a close.
As the fourth starts, Sorenson really starts to find her rhythm from a distance as she lands several punches and kicks to the body that Spencer doesn't really have an answer for. A front kick to the face boosts Spencer's confidence as she charges in looking to finish. Sorenson survives and counters another takedown attempt as Spencer controls on the cage.
After another takedown defended, Spencer finds an opportunity to get Sorenson's back to get the rear-naked-choke and become the new featherweight champion.
Result: Spencer def Sorenson via submission (rear-naked-choke) at 4:23 of round four
Big take down early in this one for @FeeNom479. #InvictaFC32 pic.twitter.com/MuFZN0ewcZ

— UFC FIGHT PASS (@UFCFightPass) November 17, 2018
Incredible main event! @PamBam_Sorenson was game, but @FeeNom479 gets the tap! Congrats to the new featherweight champ! #InvictaFC32 pic.twitter.com/4AWv7Lc6sz

— UFC FIGHT PASS (@UFCFightPass) November 17, 2018
Check out the rest of the night's results below:
Atomweight – 105lbs: Ashley Cummins def Jessica Delboni via unanimous decision (29-28 all)

Flyweight – 125lbs: Erin Blanchfield def Kay Hansen via majority decision (28-28, 29-28, 29-28)

Flyweight: Stephanie Geltmacher def Liz Tracy via unanimous decision (30-27, 30-27, 29-28)

Strawweight – 115lbs: Kathryn Paprocki def Isis Verbeek via unanimous decision (29-27, 29-26, 29-27)

Bantamweight: Chelsea Chandler def Mitzi Merry via unanimous decision (30-27, 30-27, 30-26)
This article first appeared on BJPenn.com on 11/16/2018
This article appeared first on
BJPENN.COM