There are a handful of things that can be considered wrong with the UFC. Especially since the organization was purchased by WME-IMG.
Something that doesn't seem to get talked about enough is that the UFC could be casting a mythical shadow of equality over the fans and more importantly, the fighters themselves.
Perhaps the veil has continually thinned over time but lets see if we can break it down further as there are multiple examples of why this may be. What are they? Let's take a look under the MMA microscope and find out.
advertisement - continue reading below
advertisement - continue reading below
No one likes it when you pick sides
In today's state of the UFC…all that matters is the money and what will attract the most eyeballs. That has become painfully obvious. Therefore resulting in blatant favoritism or special treatment towards certain fighters over others.
The sellers, the big names, the ones who put butts in seats. The clearest case of this is of course with the former two-division UFC champion, Conor McGregor. Because of his incredible popularity, McGregor gets pretty much whatever he wants and gets away with whatever he wants in the UFC world.
For example, there's his UFC lightweight title shot. McGregor had zero UFC fights at lightweight prior as well as zero title defenses as a champion at featherweight yet was still allowed to jump right up and skip over the clearly deserving contender, Khabib Nurmagomedov.
Aside from that, we could even look before that with his rematch against Nate Diaz. The first fight was originally supposed to be the exact same situation with McGregor jumping up to get a crack at 155-pound gold but the champion at the time, Rafael Dos Anjos was injured out of it, therefore, making it a replacement fight with the Irishman taking on Stockton's finest.
advertisement - continue reading below
advertisement - continue reading below
Regardless of the outcome, the fight was a replacement bout. In a logical world, there should be no rematch because nothing was really on the line and the champion should be defending. But this was not the case with the UFC cash cow. Any other champion likely would have been forced to get back to doing what champions do whether they liked it or not.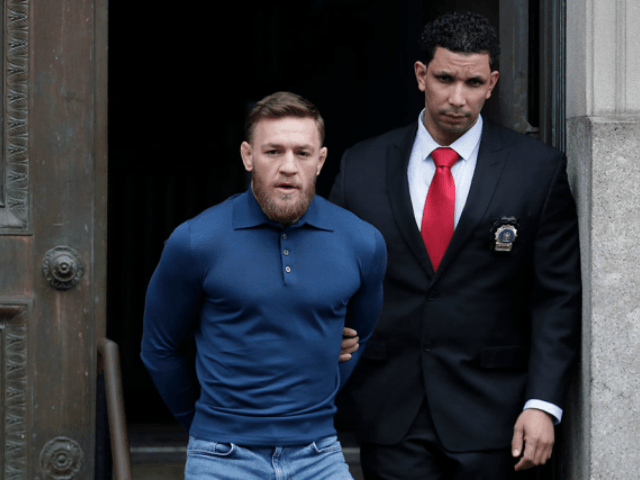 Then we look at the most recent of incidents. Forget the holding onto the belt for over a year with no injury…that speaks for itself, but the attack on the fighter bus during UFC 223's fight week would result in instant termination from the company for anyone other than the untouchable, McGregor. Not even Jon Jones could avoid punishment after his hit-and-run incident.
Further proof is that McGregor's involved teammate, Artem Lobov (2-4 in the UFC, 14-14-1 overall) was removed from his bout with Alex Caceres on that card because of this…yet he will still be remaining on the roster. This is the ultimate guilt by association and something that may come as even more of a surprise that he will not let go by the organization than a possible punishment for McGregor.
At the most ridiculous height of special treatments, we have former WWE star, Phil "CM Punk" Brooks. The most ridiculous part of it possibly being because that it's all by UFC's choice. At least McGregor made himself a star for several reasons, CM Punk is essentially a celebrity that was allowed to be given a position for amounts of money that he didn't need…definitely not the case for many others.
advertisement - continue reading below
advertisement - continue reading below
All the meanwhile having ranked and former champions put in lower regard to him. Did I say "ranked"? Let's get to those next…
A literally mythical numbers system
A system implemented that means nothing aka the UFC rankings (well not according to the NYSAC anyway…*cough* Paul Felder..).
Some quick evidence of this? No. 13 ranked Dan Henderson was given a middleweight title shot in 2016. Brock Lesnar, who has not (technically) won a fight since 2010 and only has fought once since 2011, could get a title shot upon his likely return in the near future as alluded to by Dana White.
advertisement - continue reading below
advertisement - continue reading below
We all know why those two things happened and might happen. But it's the fact that the rankings are still around and supposed to be taken seriously while these things are going on. And if they were so important, wouldn't it make sense to put the highest ranked fighters highest on fight cards? One would think so as the higher the number, the higher the value. That's just usually how it works with numbers anyway.
Instead, it's seen time and time again where top 5ers are placed on the prelims below unranked or lower ranked fighters. The most recent example being UFC 225 where eight ranked fighters were placed below four unranked fighters. Funny enough, the two highest ranked fighters were put lowest out of that group.
Now, this is actually as equivalent to equality as you can get with a rankings system. Spreading the love and treating everyone all the same regardless of the number next to there name. But it just still feels a little contradictory with the fact that there's a rankings system in the first place.
advertisement - continue reading below
advertisement - continue reading below
Looks over skills?
When it comes to the female fighters there is a bit of a tie-in with the rankings. At times anyway. But the worst case on mythical UFC equality overall may be with the women, and it's not by a comparison to the men.
There have been several instances since the UFC's additions of female weight classes where top 5-3 ranked fighters have been put on the prelims and given limited exposure (which is rather rare for the men). And this isn't even just in regards to pay-per-view events but all types of events.
A most recent example being that of the UFC's No. 2 and 3 ranked flyweights, Sijara Eubanks and Lauren Murphy who just fought on the prelims of UFC Utica, a fight night card. The unranked newcomer, Mackenzie Dern just recently fought on a pay-per-view main card and was slotted right before the co-main event.
This one is a double tie-in really, as ranking pointlessness and favoritism is often shown at it's worst in regards to the women. And sometimes the favoritism has rewarded higher rankings as well creating even more of an unequal feel.
advertisement - continue reading below
advertisement - continue reading below
Paige VanZant quickly got placed in the top 10 at strawweight after only one top 15 ranked victory. She has now moved up to flyweight and lost her divisional debut yet is still somehow ranked in the top 15. Michelle Waterson returned to the strawweight division upon her debut in the UFC and defeated the unranked and recent loser of three straight, Angela Magana. She would then beat VanZant who had her own questionable spot and get herself a top 10 ranking too.
An even stranger move may be excluding top newcomers from the rankings and putting them low on the card despite their established careers outside the UFC. Take a look at consensus best flyweight in the world, Jennifer Maia who makes her UFC debut next month at UFC Boise. She's the former Invicta champion and unanimously considered one of the divisions best worldwide yet can't get on a UFC main card when she's been main eventing elsewhere? Sounds similar to Waterson…
This doesn't just boil down to card placement either like it may seem. It's an overall exposure factor. Ranging from getting to do media days to just having a little feature video about them on the UFC's YouTube channel. Did we ever see any Raquel Pennington, Carla Esparza or Sara McMann features from the UFC outside of the lead up to their few main events that all revolved around titles?
advertisement - continue reading below
advertisement - continue reading below
In conclusion, equality in the UFC isn't completely a myth at all. But there are definitely some things that happen or don't happen that prove it isn't as equal as we're wanted to believe. Then again, can you blame them? Why would they want us to think they aren't an equal opportunity employer?
This article first appeared on BJPenn.com on 6/22/2018
This article appeared first on
BJPENN.COM