UFC 240 has its headliner and it will be a featherweight title match-up that we've anticipated on two prior occasions.
Former UFC lightweight champion, Frankie "The Answer" Edgar will look to finally claim his second divisional title in what will be his third crack at featherweight gold (including interim) when he faces the champion in Max Holloway.
Each fighter shared the injury bug in their two fights as the first pairing saw Edgar pull out with Holloway departing the second.
At UFC 218 in December 2017, Holloway would instead make his first successful title defense by dispatching of the legendary Jose Aldo for the second time in a row.
In February 2018 for UFC 222, we would see Edgar drop to the co-main event opposed to the main event where he would be upset by the rising Brian Ortega who handed him his first career defeat via strikes.
Once again set to clash, a decent amount has happened since the last booking.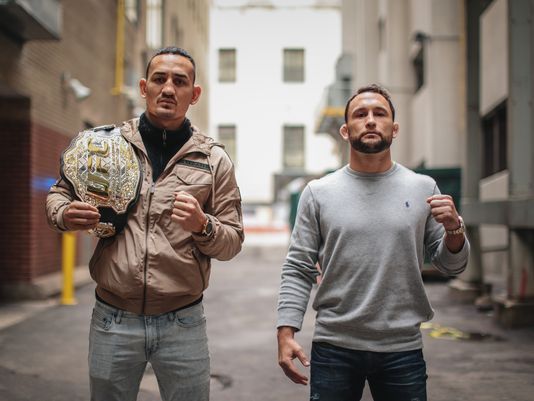 Edgar has since defeated Cub Swanson for a second time while being injured out of a highly anticipated match-up with "The Korean Zombie" Chan Sung Jung.
Holloway, on the other hand, has gone onto to pick apart the aforementioned Ortega in a featherweight classic before attempting to snatch up interim lightweight gold against Dustin Poirier just this past month. Unfortunately for the Hawaiian, Poirier would get the better of him once again.
On Monday, the opening betting odds were revealed via BestFightOdds and as has been the story of Frankie Edgar's career, he's once again the underdog sitting at a +278 to Holloway's -362.
Update: Holloway has since climbed to -530 with Edgar now at +350.
As the UFC 240 event continues to be built, there are some fun match-ups already on tap for the July 27 fight night in Edmonton, Alberta. Check it out below.
Featherweight – 145lbs: (C)Max Holloway vs Frankie Edgar
Welterweight – 170lbs: Erik Koch vs. Kyle Stewart
Flyweight – 125lbs: Gillian Robertson vs. Sarah Frota
Flyweight: Lauren Murphy vs. Mara Romero Borella
Flyweight: Viviane Araújo vs. Alexis Davis
This article first appeared on BJPenn.com on 5/20/2019
This article appeared first on
BJPENN.COM