If you love something, let it go…or wait for its contract to expire.
The seemingly never-ending civil war between UFC featherweight champion Cris "Cyborg" Justino and the UFC rages on.
Whenever things finally seem resolved and good between Cyborg and her MMA playground, something else comes up for one reason or another. Which leads us to now and her claims that a potential super fight with UFC bantamweight champion Amanda Nunes could be her last with the organization that she fought so hard to get to.
A great and interesting matchup in its own right, Nunes is still a 135-pound fighter which has been the biggest detractor in all of Cyborg's career: her predominantly outsized opposition.
For that reason, if looked at with more than just a glance, Nunes isn't Cyborg's toughest test. So today we call upon the MMA Gods to request that Cyborg gets her truest challenge to date.
Last Friday night, Bellator featherweight queen Julia Budd continued to cement herself as the clear second-best featherweight in the world as well as possibly of all time.
To continue that sentiment, you could maybe even argue that she has already or is on her way to having better exclusive wins over featherweights than Cyborg has. For this among many other reasons we'll get into, this fight needs to happen before both leave the sport that they've been dominating.
Although Budd is now 35 years of age while Cyborg is 33, the two don't seem too close to calling it a career. The more likely of the two to do that is Cyborg though if it were to be one as she's been competing for longer.
And with Cyborg looking to depart from the UFC, things could line up perfectly for Bellator and Cyborg's former employer at Strikeforce, Scott Coker to snatch her up and add her to an actual featherweight division. Something that the UFC has failed miserably at creating in the past year and a half since they "introduced" it.
There have even been opportunities for the two to meet in the past as both fought under Strikeforce and Invicta FC together at the same times. But with the mass amounts of experience accumulated since then, the best time for this fight really is later rather than sooner.
With impressive early career wins over the likes of Germain De Randamie, Charmaine Tweet and Gina Carano (in Muay Thai), Budd's potential was always evident. Starting out as a kickboxer turned mixed martial artist, Budd has truly evolved into just that.
Her skill set has become very well rounded with her strengths being in her powerful grappling accompanied by her kickboxing.
Having not lost since 2011, Budd has all the tools to give Cyborg fits like we've never seen before. It just comes down to whether or not she can mentally utilize them and as displayed in full champion-like fashion with her title defense over the previously unbeaten Talita Nogueira last Friday, she is fully capable.
Size and physicality is always a big factor when facing Cyborg. And Budd matches that about as evenly as any featherweight can as both have no chance of ever being able to make 135. They also each stand at 5'8″ with Cyborg holding just a one-inch reach advantage (68″ to 67″).
On top of matching Cyborg as a real legitimate featherweight unlike her last five opponents, Budd would be the most skilled natural 145er that she has ever faced.
As sad as it is to say, it really might be the first time we would see two peak, in their prime 145ers squaring off. I suppose that that argument could be made for Cyborg vs Carano at the time but the skill level in this potential fight is at a much higher caliber than that one that took place over ten years ago.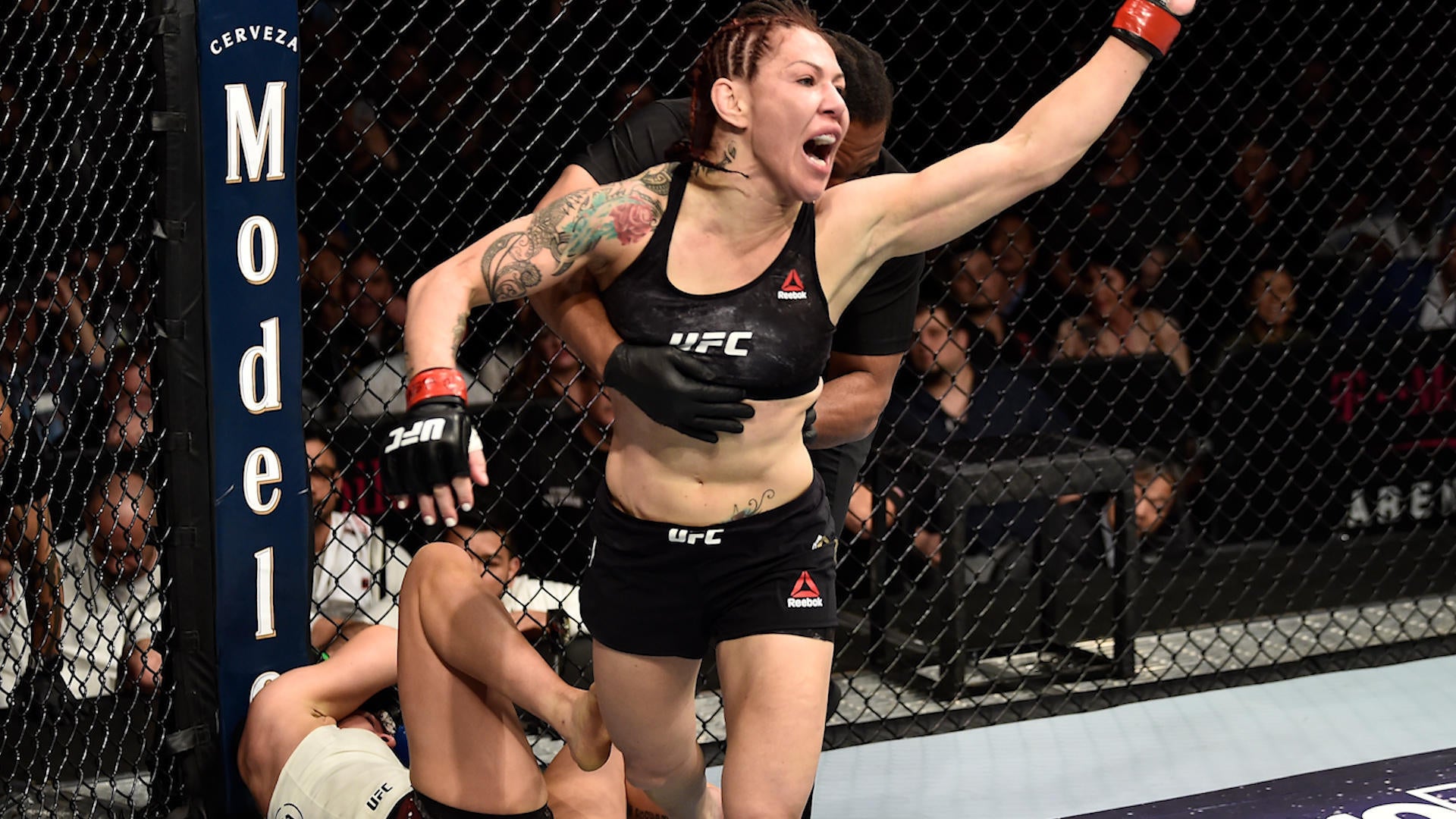 Despite being continually dominant in her short UFC career, Cyborg has actually shown some weak points that we really hadn't been exposed to prior. Obviously, they haven't mattered much as she has still won impressively…but they could matter in a fight like this one.
Budd excels in the clinch and just most grappling exchanges overall thanks to her strength and experience. In Cyborg's fight with Holly Holm at UFC 219, Cyborg was controlled rather surprisingly by the former bantamweight champion in clinch battles against the cage. Something that could be rather exploitable for the Bellator champion.
In the fights with former Invicta bantamweight champions Tonya Evinger and Yana Kunitskaya that sandwich that one with Holm on Cyborg's resumes, she was taken down.
Not that anything really happened with the takedowns, but it's the fact that they happened that is interesting. With someone like Budd in that position, it would be a different ball game. And a fun one at that considering Cyborg's BJJ black belt skills that we literally never get to see.
In the UFC so far, Cyborg has also seemed to show more poise and patience with her striking approaches which is actually worse for Budd at this time than the old primarily berserker style Cyborg.
But for that, it just makes this matchup all the more compelling and something that we have to see before Cyborg retires. And after Budd's recent performance at Bellator 202 and Cyborg seemingly at ends with the UFC, the time for hype is now. Hopefully, the MMA Gods will believe so too…
To cap things off in this installment of Dear MMA Gods we're going to add a new feature. That being a chance percentage rating as the theme of this series is sort of a fantasy/hopeful vibe.
So with all things considered, this one actually gets the second highest score behind the previous DMG.
Cyborg vs Budd chance of happening: 70%
Check out the previous Dear MMA Gods' here: 1. Can we get an Iron-Highlight one day?, 2. It's not too late for the WEC super fight, 3. The true time for Affliction is now…
This article first appeared on BJPenn.com on 7/16/2018