The secret is out. The UFC really is planning on disbanding their men's flyweight division which means a batch of fighters will need to find new fighting homes.
In the end, surely this is being looked at from a business standpoint by the organization. So rather than getting to the bottom of whether or not it was a right or wrong decision overall or more specifically, morally, how about business-wise?
Let's dig a little deeper to see if the UFC is getting rid of their lightest men's division at the wrong time. This is Under the MMA Microscope.
A kingless kingdom
With the former reigning champion Demetrious "Mighty Mouse" Johnson now out of the mix and on his way to ONE Championship over in Singapore, the division has been released from its dominant stranglehold.
Prior to current champion Henry Cejudo, Johnson was the one and only 125-pound male champion in the UFC's history. And he ended up being the most dominant in MMA history with a record-setting 11 consecutive title defenses.
A common misconception of the division has been that it's one of the very weakest divisions in MMA. However, the truth is that Johnson was just so much better than everyone else during his tenure that it made everyone look bad in comparison. But then we go and look at fights between the others and they're about as competitive as it gets. Which is what made the start of the division so fun.
Over time, seeing one dominant champion can get old in the eyes of viewers and even participants and it has almost always clouded the perceptions of reality.
Other prime examples of this would include the likes of the dominant champions at light heavyweight, Jon Jones, and bantamweight, Ronda Rousey.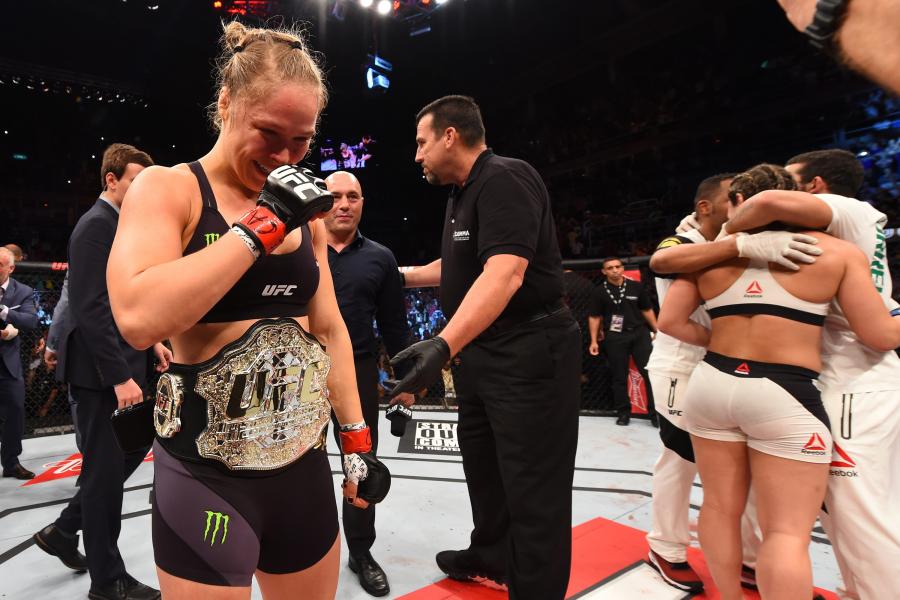 During Rousey's reign, she beat essentially everyone in the same exact fashion which was by first-round armbar. Obviously, this didn't make the division look all too great as she dispatched of them with ease.
That was until she met her match in Holly Holm and the title changed hands three times in a row before finding another defending title holder.
Along with that, the division's top 10 has filtered in and out with plenty of new faces since then that makes things feel much more interesting than they did during Rousey's reign.
However, Jones' case is a much better example.
Prior to the Jones' era, the light heavyweight title practically found itself positioned behind a revolving door for fighters and new champions as from 2007 to 2011, the title was held by five different men. To put that into perspective, from 2014 to 2018 both the middleweight and lightweight divisions have had five champions in that span (excluding interim).
Because of that, many considered it "the golden era" of MMA and one of if not the greatest division of all time.
With the flyweight kingdom now kingless after six years, despite Cejudo's brilliance in his own right, the division has a chance to now be competitive at the top as well as continuing to do so throughout it entirely as it has been.
Well, it would have if the UFC decided to wait and see how things played out over the next year at the very least. Which could end up leaving us wondering what could have been as the weight class is separated across the globe.
Keep on stacking the Jenga tower
If there is a plus side to the dissolving of the division which the UFC could be looking at, it's that this will just make their already spectacular 135-pound bantamweight division that much better. This is, of course, assuming that several top flyweights get the opportunity to move up.
Current divisional No. 2 ranked contender Sergio Pettis has already got a fight booked for his return to the division and the champion in Cejudo looks to be doing the same when he expectedly challenges for bantamweight champion TJ Dillashaw's title.
When it comes to timing, this feels a bit off as well as the bantamweight division has multiple options for the next title shot against Dillashaw such as Marlon Moraes and Raphael Assuncao.
However, this gives the 125ers moving up some time to get themselves into the mix while the title is fought over between the champions.
Some of those names presumably going up will include the likes of Jussier Formiga, Ray Borg, Deiveson Figueiredo, and Joseph Benavidez.
"It's been 84 years…"
Impatience is nothing new for the UFC. Especially as of late.
Them not being able to wait much longer for the division to take its new shape isn't much of a surprise. Let's just look at some other examples of knee-jerk decisions that the UFC has made recently.
Going back to the opposite of a division dissolving with a creation; when the UFC announced that they would be starting a women's featherweight division…it made literally all the sense in the world for the consensus greatest featherweight on the planet and of all time, Cris Cyborg to be a part of the inaugural title fight.
Instead, the UFC went and decided not to wait for Cyborg who needed more time to recover her body after being drained to 140-pounds for the catchweight fights that she had fought in prior (thanks to the UFC's lack of her 145 division). Thus leaving us with essentially a throwaway bout between bantamweights Germaine de Randamie and the previously mentioned Holm.
Other more recent instances also include female fighters as the UFC stripped their inaugural flyweight champion Nicco Montano after weight complications at UFC 228. The reasoning behind this came down to, "champions shouldn't be missing weight and pulling out of fights for reasons like this".
Interestingly enough, current bantamweight champion Amanda Nunes was in a similar situation the year prior yet had no such punishment handed to her and was even cleared to fight, unlike Montano.
And if you want your most blatant example of knee-jerk decisions from the UFC in recent years, then you can look at practically every interim title that has been handed out since WME-IMG took over.
Understandably, the flyweight division has not been "successful" when it comes to drawing in viewers over the years. But the UFC hasn't helped them out all too much as they generally find themselves getting buried on the undercards of events.
In fact, this year has only seen two of the 20 bouts at 125-pounds featured on the main card of an event and one of those was a title fight. And as mentioned earlier, when the only fights being showcased to the highest number of viewers are the one-sided beatdowns, that isn't helping get their interest.
So perhaps they had given up a long time ago and have just been waiting to pull the trigger regardless.
In conclusion: It definitely feels like this decision could be premature with all things considered. This has also gone without mentioning the surge of ONE Championship as well other organizations like PFL and Bellator who can very well capitalize on this and flourish from it.
Bellator president Scott Coker is always opening to bolstering his roster at any given chance and as of right now, Chatri Sityodtong is a man on a mission. This could end up being the biggest mistake for the UFC when it comes to letting the division go.
How does the old saying go? One man's trash is another man's treasure.
Check out the previous articles in the Under the MMA Microscope series here: 1. What warrants an immediate rematch?, 2. Is the UFC hyping the wrong fighters?, 3. How big of a deal is card fight placement?, 4. Is equality in the UFC a myth?, 5. Which fighters left the UFC on their terms and why?
This article first appeared on BJPenn.com on 11/8/2018
This article appeared first on
BJPENN.COM