The UFC returns to China this Saturday as they drop down in Beijing! Despite the very early start time that the card will have for those in North America, the card promises to be one that you absolutely will not want to miss.
Here are five reasons as to why.
1. A pair of pivotal heavyweight collisions
Starting out with the obvious reason to tune into UFC Beijing, there are two heavyweight fights atop the card that hold massive implications for the future of the division…no pun intended.
In the main event, we have a rematch between Curtis "Razor" Blaydes and Francis "The Predator" Ngannou. The two first met in April 2016 when Blaydes made his promotional debut. Blaydes would lose via doctor stoppage thanks to a cut. This remains the only loss on Blaydes' otherwise perfect 12-fight record.
As for Ngannou, he will be looking to rebound in a big way after two very dismal performances. The first being in his first career title opportunity against Stipe Miocic at the beginning of the year, followed by his snoozer with Derrick Lewis at UFC 226.
Many are expecting Blaydes to exact his revenge on Ngannou now that his weaknesses have been exposed in these two recent losses. Regardless, Ngannou still has fight ending power that can change the fight at any time, it's just a matter of being able to properly channel it.
A win for Blaydes could very well position him for the next title shot that many believe he already should have gotten.
Then there's the co-main event which features the perennial top 10 contenders of the division in Alistair Overeem who will be making his 15th UFC appearance against the newcomer, Sergey Pavlovich.
Like Ngannou, Overeem too will be looking to rebound after disappointing performances that both happened to come at the expense of the men in the main event.
For the undefeated 12-0 debutant in Russia's Pavlovich, this is very clearly the biggest fight of his career and one that could catapult him directly into the thick of things at heavyweight with a win.
2. Some seriously fantastic Chinese prospects
This card is loaded with excellent prospects that could very well end up being future contenders. But there are three of China's finest in particular that will be getting featured in some very fun matchups.
Starting things off with the strawweights, we have the returns of the ever impressive Weili Zhang (17-1) and Yan Xiaonan (9-1).
Zhang will be making her sophomore appearance in the Octagon after a beautiful dissection of Danielle Taylor at UFC 227. Zhang has been on the radars of many fight fanatics around the world as she's risen her way through the Asian MMA scene with relative ease. Now that she has finally arrived in the UFC, it's only a matter of time before her presence is felt by the entire division.
Along with Zhang is her fellow 29-year old prospect in Yan Xiaonan who has quietly earned two sneakily impressive wins in her UFC tenure so far. The first coming over Kailin Curran with her most recent against Viviane Pereira at UFC Singapore in June.
Showing off her methodical and precise distance striking game in those two bouts, Xiaonan looks to shine again as she takes on Japan's Syuri Kondo.
The youngest of these three prospects is 20-year old bantamweight competitor, Song Yadong (13-3).
Yadong has turned in two incredible showings in his first two UFC performances to this point. His last time out in particular which came at UFC Singapore when he took on Felipe Arantes and scored a wild TKO via elbow strikes thus extending his current winning streak to five.
https://www.youtube.com/watch?v=ipt5KbcVEEE
SONG YADONG!!

Only 19 – NINETEEN – and just put on a SHOW!! #UFCShanghai 📱 💻 🖥 https://t.co/v7Pyjv0z20 pic.twitter.com/v6gcXsWHVM

— UFC (@ufc) November 25, 2017
3. Debuts of Vince Morales and Martin Day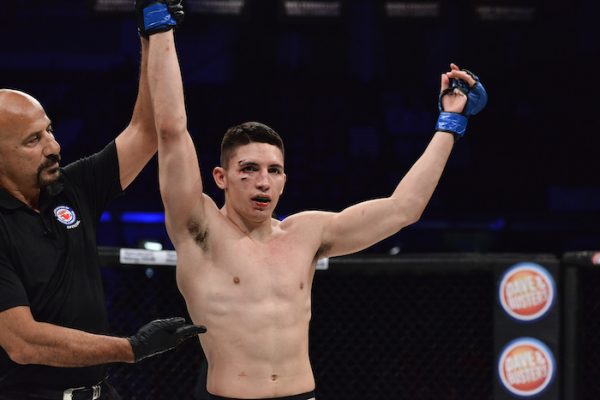 Standing in front of Yadong and coming in on short notice will be the cousin of UFC bantamweight, Ricky Simon, Vince Morales (8-2).
After a shot at getting into the UFC through Dana White's Tuesday Night Contender Series, Morales found himself on his way to Bellator where he picked up a win over Justin Hugo in September at Bellator 205.
That along with the valiant effort on the Contender Series was enough for the UFC to bring Morales in for no easy task in his debut. But the equally skilled prospect in Morales is up for the challenge which makes the fight one to watch overall.
Also in affiliation to Ricky Simon as one of his main training partners is Hawaii's Martin Day (9-2) who is also making his debut.
The highly touted prospect in Day is also a bantamweight and one that will surely make some noise in victory or defeat as he hopes to extend his current winning streak to four with a third finish in the lineup.
Assuming that the UFC bantamweight division absorbs most of its top flyweight talent, the division will surely be one of if not the deepest in the organization by this time next year.
4. Kevin Holland and Louis Smolka? They're back
When it comes to both Kevin Holland and Louis Smolka, surely you're more likely to know who Smolka is as Holland just recently made his UFC debut and Smolka was once a rising flyweight contender.
The funny part is, Holland lost his debut yet received plenty of praise and admiration. And rightfully so as he playfully survived a beatdown from the always dangerous Thiago Santos at UFC 227.
The loss snapped Holland's four-fight winning streak but showed that he's more than capable of hanging with some of the middleweight division's best. A showman through and through, as evidenced when winning or losing, Holland is always a fun fighter to watch and one that will hunt for the finish at any time necessary.
As for Smolka, this will be his first fight in the UFC since being cut after the rough four-fight skid that saw him lose to the likes of Brandon Moreno, Ray Borg, Tim Elliott, and Matheus Nicolau.
After being released, he's won three in a row with all three wins coming by way of finish (two TKOs, one submission). With flyweight seemingly no longer an option, Smolka will now test himself in the UFC's waters at 135-pounds.
5. Li Jingliang fighting at home
5-1 in his last six, Li "The Leech" Jingliang has established himself as China's most recognizable UFC star and one that is constantly putting on entertaining fights inside the Octagon.
In four of Jingliang's seven UFC wins, he's earned knockout victories and they have all come in devastating fashion. One of those happened to come in the UFC's last visit to China when Jingliang took on Zak Ottow.
The bout was all Jingliang while it lasted, and the Chinese fighter wasn't going to let it go any other way, especially in front of his fellow countrymen.
By the 2:57 mark of the first round, Jingliang had put away his opponent with punches and the crowd erupted. It's safe to say that the Leech will suck in the energy from the crowd again as well as he looks to put on another great performance against David Zawada.
https://www.youtube.com/watch?v=w32dn0iL0UA
UFC Beijing begins at 3:15 AM EST / 12:15 AM PST on UFC Fight Pass.
This article first appeared on BJPenn.com on 11/20/2018