Top 5 Upcoming fights for September 2018
September is kicking off a fantastic stretch of MMA action to close out the year. With Summer about to leave us…winter is coming!
And with that comes just about too much action to keep track of. So let's see what's lined up.
Honorable mentions: Raufeon Stotts vs Ryan Lilley, Godofredo Pepey vs Alex Torres, (C)Jingnan Xiong vs Samara Santos, Honario Bonario vs Amir Khan, (C) – Brett Cooper vs Albert Tumenov, (C)Abdul-Aziz Abdulvakhabov vs Ali Bagov, (C)Albert Duraev vs Piotr Strus, Amir Aliakbari vs Daniel Omielanczuk, (C)Nicco Montano vs Valentina Shevchenko, Zabit Magomedsharipov vs Brandon Davis, Jessica Andrade vs Karolina Kowalkiewicz, Carla Esparza vs Tatiana Suarez, Abdul-Razak Alhassan vs Niko Price, Aljamain Sterling vs Cody Stamann, Jimmie Rivera vs John Dodson, Irene Aldana vs Lucie Pudilova, Mark Hunt vs Alexey Oleynik, Mairbek Taisumov vs Desmond Green, Petr Yan vs Jin Soo Son, CB Dollaway vs Omari Akhmedov, AJ McKee vs John Teixeira, Rafael Lovato Jr. vs John Salter, Veta Artaega vs Denise Kielholtz, Jimi Manuwa vs Thiago Santos, Franscisco Trinaldo vs Evan Dunham, Ryan Spann vs Luis Henrique, Sergio Moraes vs Ben Saunders, Thales Leites vs Hector Lombard, Randa Markos vs Marina Rodriguez, Livia Renata Souza vs Alex Chambers, Elizeu Zaleski dos Santos vs Belal Muhammad, Renan Barao vs Andre Ewell, (C)Sabina Mazo vs Jamie Nievara, Aaron Pico vs Leandro Higo, Arlene Blencowe vs Amber Leibrock, Ayaka Hamasaki vs Mina Kurobe, Jiri Prochazka vs Jake Heun, Andy Nguyen vs Miyuu Yamamoto, Yusaku Nakamura vs Manel Kape, Mirko Cro Cop vs Roque Martinez
5. (C)Tyron Woodley vs Darren Till – UFC 228, Sep 8
It was likely that we would end up seeing this matchup at some point in the future but no one expected that we would be seeing it next. And the reason for that is, of course, because Colby Covington had fairly recently won the interim crown…
However, injury and impatience led to the UFC throwing Liverpool's finest in to challenge for his very first world title against the reigning champion Tyron Woodley.
The biggest concern heading into the fight is that the undefeated 17-0-1, 25-year old Darren Till has had some weight issues in the past. Literally leading directly back to his most recent win over Stephen "Wonderboy" Thompson where he came into the 170-pound welterweight bout at 174-pounds.
As for Woodley, he hasn't fought since UFC 214 in July 2017 when he defended his title against Demian Maia via unanimous decision.
Being one of the most underrated fighters in MMA when it comes to their high fight IQ, Woodley has an interesting challenge ahead of him. Especially when looking back at his two bouts with Wonderboy.
Till is somewhat of a more aggressive version of the Karate striker as he showed us in his last time out. And seeing how Thompson approached Woodley in both fights, which was with less aggression than we can expect from Till, it makes this matchup quite compelling.
Woodley often is content being the hesitant and patient striker who waits for his opponents to come to him where he can explode with his devastating counters that very rarely don't hurt his opponents. This creates a very interesting dynamic with the more aggressive tactical kickboxing style that Till possesses.
That along with Woodley's fantastic wrestling abilities and Till's questionable cardio just makes this a great welterweight chess match.
4. Douglas Lima vs Andrey Koreshkov – Bellator 206, Sep 29
Not once, not twice but three times! The former Bellator welterweight champions are set to collide for the third and presumably final time. But you never know with Bellator… And this time, they'll be kicking off the welterweight Grand Prix tournament.
When discussing the best 170-pound fighters in the world, Douglas Lima and Andrey Koreshkov must be mentioned. Both are very experienced and still have much left in their MMA careers. Especially the 21-2 Koreshkov who's only career losses have come to Lima and the great Ben Askren.
And for Koreshkov, it's his turn to try and get some redemption.
The two first met in 2015 when Koreshkov was the challenger and to the surprise of many, he went in and used his superior wrestling to capitalize on an injured Lima on route to a clear-cut unanimous decision dethroning.
The rematch told a bit of a different story.
Playing out primarily on the feet in the first round, each man played it smart and struck only at opportune times. Lima working his patented leg kicks early and often. Despite that, Koreshkov's ability to control the exchanges and slightly outland edged him the round in the eyes of many.
In the following round, it was more of the same until Koreshkov got a takedown and held Lima to the ground to drop some ground and pound before the third rolled around.
Koreshkov seemingly began to start taking over more comfortably by this point but Lima's leg kicks were still doing damage. And then the Russian got a bit too comfortable as he continued to push forward where he would back Lima up to the cage and the two would begin to trade bombs. As Koreshkov looked for the homerun shot, he forgot to defend himself and Lima cracked him with a big left hook for the knockout win to get his redemption.
They'll now run it back once more and how things will unfold this time around is anyone's guess. Which is what makes it so exciting.
3. Nikita Krylov vs Jan Blachowicz – UFC Moscow, Sep 15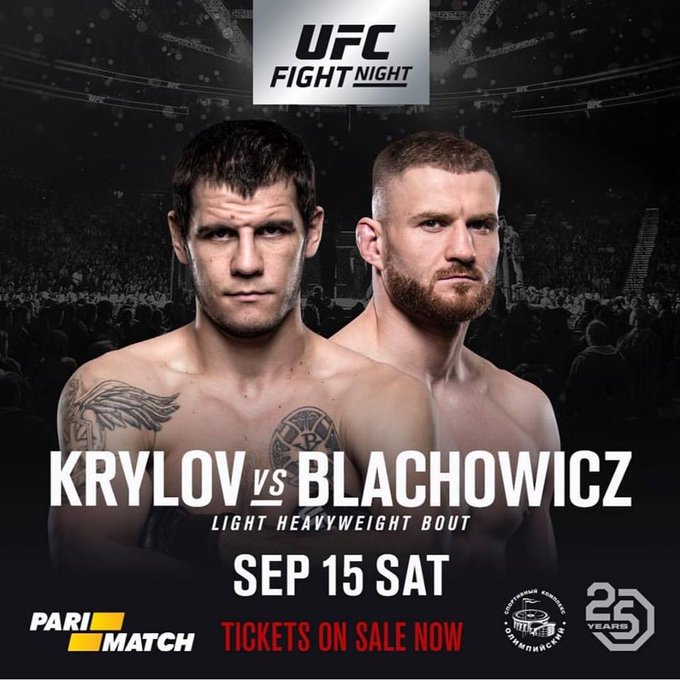 He never should have left in the first place but that's okay because he's back.
Dating back to July 2014 Nikita Krylov has gone 9-1 with all of his wins coming by way of finish (five KO/TKOs, four submissions). Since departing the UFC after that one loss to Misha Cirkunov, "The Miner" has won four straight and picked up the Fight Nights Global light heavyweight crown.
It was a rather rough start for the hot prospect Jan Blachowicz as he entered the UFC as he went 2-4 in his first six bouts. But since then he's found his groove as he now rides a three-fight winning streak with his most recent win coming in the unexpected classic against Jimi Manuwa for their rematch.
Both men are dangerous, both are great and powerful strikers. Light heavyweight is in desperate need of contenders and this fight could very well see the winner get pushed very close to a title shot.
It's also the UFC's first trip to Russia so that's just a fun extra element.
2. Daron Cruickshank vs Diego Brandao – RIZIN 13, Sep 30
The Rizin Fighting Federation has absolutely outdone themselves with their upcoming event. That event being Rizin 13 which is a hardcore fan's dream card and arguably the best event left in 2018.
Among the many action-packed matchups are two UFC veterans turned Rizin standouts as lightweights Diego Brandao and Daron Cruickshank will square off in the squared circle.
Funny enough, both men went through seasons of The Ultimate Fighter. Brandao won season 14 as a featherweight on Team Bisping whereas Cruickshank was on the season that followed.
A lot has happened since their TUF days and most of the good stuff has come outside of the UFC.
"The Detroit Superstar" Cruickshank has been just that over in Japan since leaving the UFC in 2016. The old school Pride rules haven't fit many fighters making the transition overseas quite as well as they have for 33-year old and he's become even more of must-see TV than he already was prior.
Cruickshank's already varied arsenal of attacks just further expanded with the new ways to strike downed opponents and although Brandao has yet to display how he can utilize the ruleset to it's fullest himself, we may very well see that in this encounter.
Having gone up to lightweight since fighting for the UFC, Brandao's already powerful striking has just become more so as evidenced by his Rizin debut against Satoru Kitaoka at Rizin 11 in July.
This will be one of those fights that will be absolutely insane for as long as it lasts.
1. (C)Gegard Mousasi vs (WW C)Rory MacDonald – Bellator 206, Sep 29
2018 has been and will close out as the year of the super fight. They won't all be coming under the UFC banner though.
Divisional staples throughout the years, Gegard Mousasi and Rory MacDonald have found their ways to Bellator and within their first two bouts, they became champions in their respective divisions of middleweight and welterweight.
The lighter of the two, MacDonald, has always been one to seek a challenge wherever it may be and Bellator is giving him the ultimate opportunities to do so.
And first thing's first…why not go for that second title?
A career welterweight for most of his 24 fight career, MacDonald's first fight at 185-pounds will possibly be the toughest he'll ever have.
The incredibly seasoned 52-fight veteran in Mousasi has fought in every weight class above middleweight dating back to 2003 so the size advantage should be on his side.
When it comes to technical strikers, it doesn't get much better than these two. Both are known for their phenomenal boxing and just overall well-roundedness. Wherever the fight ends up going, each will have an answer for it and that's just one of the many things that make the fight oh so good on paper.
Arguments have already been made that these two men are the best in their weight classes regardless of organization and this fight could further support those arguments.
This article first appeared on BJPenn.com on 9/3/2018
This article appeared first on BJPENN.COM
---
Topics:
MMA News