Nicco Montano is the UFC's newest champion. And aside from a shiny gold title belt, what is the first thing that a new champion earns? If you guessed a target on their back then you would be correct. The biggest question a champion faces when they first become crowned that title is, "can they defend it?". And for Nicco Montano, she has more than enough hungry challengers in the brand new UFC Flyweight division.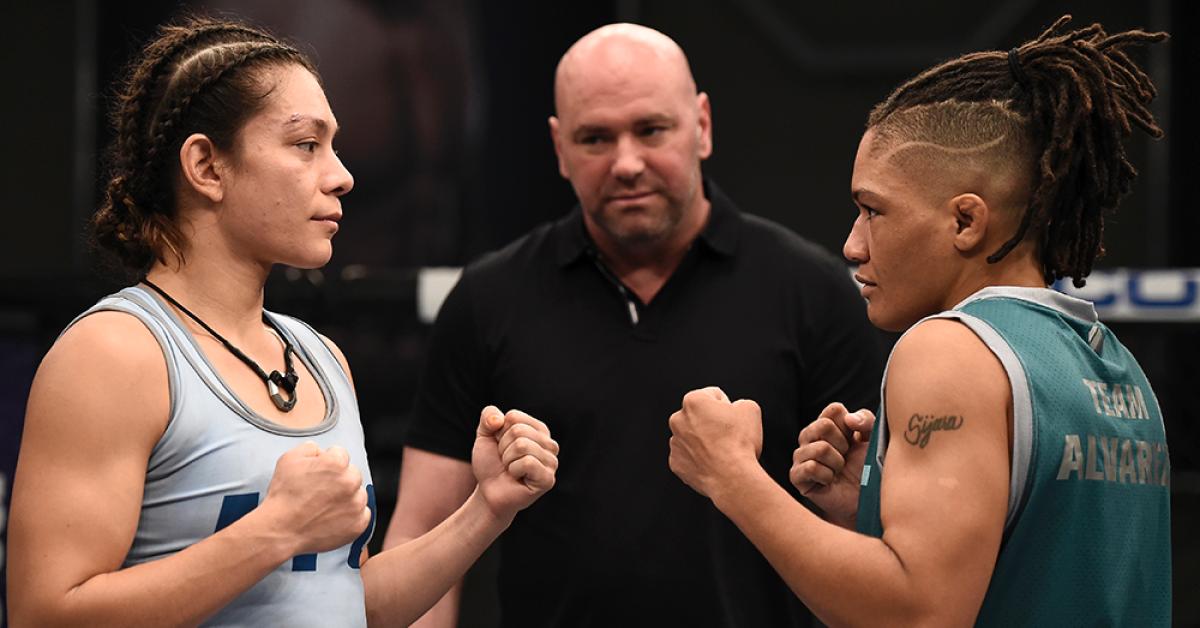 Montano defeated Roxanne Modafferi to become the winner of season 26 of The Ultimate Fighter as well as the inaugural UFC Flyweight champion. She was a guest on today's edition of the MMA Hour with Ariel Helwani and spoke a bit about the possible challengers she might have to face who are dropping down or coming up from other divisions and who she thinks should get the first crack at her brand new belt.
"I'm not scared, I'm absolutely not scared, but I definitely think that they should be able to show what they can do at '25 before getting a chance to fight for a title. I'm a pretty fair fighter and I do think that Sarj(Sijara Eubanks, pictured above on the right) can make it(the weight)," Montano said. "I would like it to be Sarj, I think she deserves another chance. She made it through six weeks of hell doing that. I was there watching, I was there partaking in that six-week period, so I know how much heart she has and how much she's wanting this. Sarj, even though she didn't make weight, we can't forget she made the weight three times in a six-week period (during the Ultimate Fighter 26 tournament). So she can make the weight. It was just a hard process right after the show, everyone went home, went back to their regular diet so their body wasn't used to it after that six-week period and then it was kind of hard to bounce back given the amount of time that we had."

"I'm definitely not scared because it's the name of the game. You want to fight the best so that you can prove to everybody else that you are the best, but right now the best is not Shevchenko at '25. She hasn't fought at that weight. It's not Paige VanZant, she hasn't fought at that weight either. So I think it's pretty silly and I'm a person who wants fair fights and so I just don't think they are deserving of it right now."
Sijara Eubanks was originally slated to face off against Montano fighting for the belt but she was hospitalized during her weight cut for the bout and forced out. Eubanks defeated the likes of Maia Stevenson, DeAnna Bennett and Roxanne Modaferri on route to the TUF 26 finals.
advertisement - continue reading below
advertisement - continue reading below
Do you agree with the champion? Who would you like to see Nicco Montano defend her title against first?
This article first appeared on BJPenn.com on 12/11/2017
This article appeared first on
BJPENN.COM