What October lacks in the notable event count, it more than makes up for with some major highlight points with massive and historic fights.
I mean, it's still mind-blowing that some of them are even happening at all let alone in the same month. These are the top 5 upcoming fights for October 2018.
Honorable mentions: Jack May vs Alex Nicholson, Steven Siler vs Nazareno Malegarie, Andre Harrison vs Alexandre Bezerra, Lance Palmer vs Max Coga, Caio Alencar vs Mike Kyle, Marcos Galvao vs Jumabieke Tuerxun, Shinya Aoki vs Ev Ting, Philip De Fries vs Karl Bedorf, Thiago Silva vs James McSweeney, Michal Materla vs Damian Janikowski, Tony Ferguson vs Anthony Pettis, Ovince Saint Preux vs Dominick Reyes, Alexander Volkov vs Derrick Lewis, Michelle Waterson vs Felice Herrig, Sergio Pettis vs Jussier Formiga, Tonya Evinger vs Aspen Ladd, Yana Kunitskaya vs Lina Lansberg, Roy Nelson vs Sergei Kharitonov, Lorenz Larkin vs Erick Silva, Vinny Magalhaes vs Rakim Cleveland, Bozigit Ataev vs Emiliano Sordi, Dan Spohn vs Sean O'Connell, Will Brooks vs Rashid Magomedov, Benson Henderson vs Saad Awad, Andre Soukhamthath vs Gavin Tucker, Nordine Taleb vs Sean Strickland, Chris Fishgold vs Calvin Kattar, Stevie Ray vs Jessin Ayari, Sarah Moras vs Talita Bernardo
5. (C)Aung La N Sang vs Mohammad Karaki – ONE: Pursuit of Greatness, Oct 26
Starting his career in 2005, the 33-year old "Burmese Python" Aung La N Sang (23-10) didn't really hit his prime until he joined the ranks of ONE Championship in 2014 where he has gone 8-1 since then and picked up the ONE middleweight and light heavyweight titles. And since doing so, he's been nothing but must-see TV.
For his second middleweight title defense, N Sang will be taking on the undefeated Mohammad Karaki (9-0) who has finished all but one of his fights via finish (five submissions, three KO/TKOs). N Sang isn't too fond of going the distance either as 21 of his 23 victories have ended before the judges were needed (12 submissions, 9 KO/TKOs).
Constantly racking up the highlight reel wins, after two back to back first round wins, N Sang went to war with Ken Hasegawa his last time out as the two traded bombs over the course of five rounds. Although N Sang can fight where ever the action goes, he loves to put on a show with his fists. Something that Karaki will want to avoid as N Sang has proven to be a very hard egg to crack. Which is just one of the many things that makes this another exciting title fight for the ONE double champ, N Sang.
4. Fedor Emelianenko vs Chael Sonnen – Bellator 208, Oct 13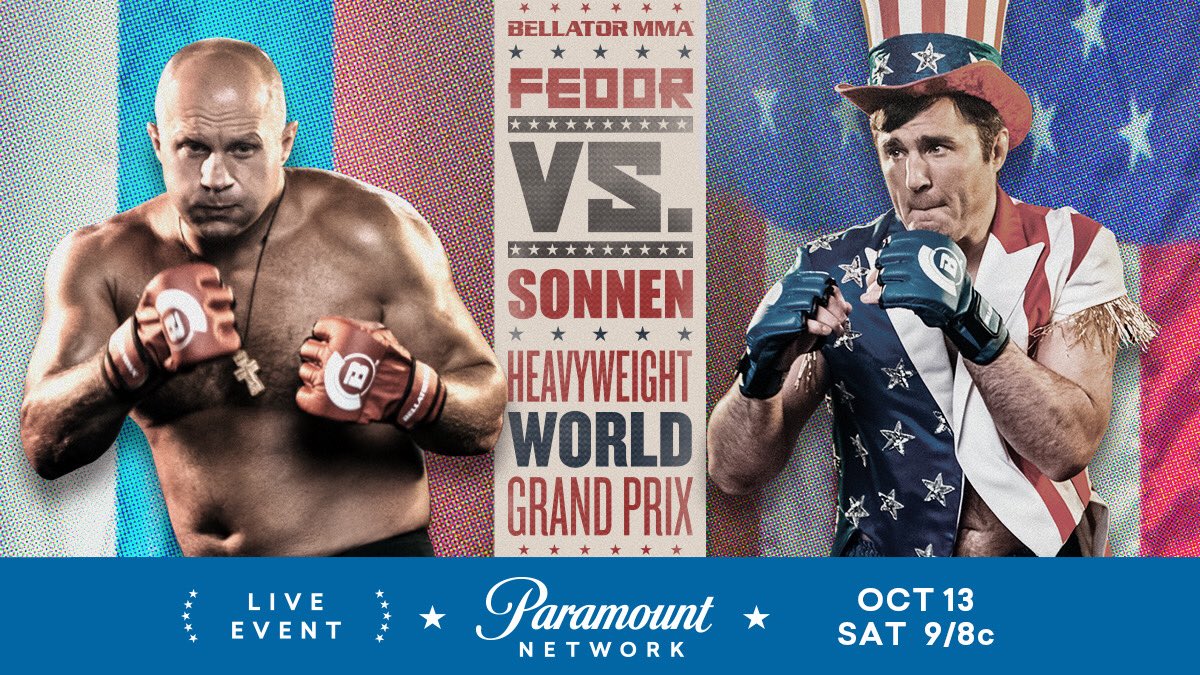 Well, it's actually going down, folks. This isn't some wild parallel universe (as far as we know). Three-time UFC title challenger Chael Sonnen (31-15-1) will take on the greatest heavyweight of all time, Fedor Emelianenko (37-5) in the semi-finals of the Bellator Heavyweight Grand Prix. The winner will advance to fight for the vacant heavyweight title. The MMA gods work in mysterious ways.
As insane of an idea that the fight is, it's quite an interesting matchup. Emelianenko has fought several incredible wrestlers throughout his career and when it comes to opponents for Sonnen, this will be physically his largest.
On the feet, power will be clearly on Emelianenko's side and the question will be whether or not Sonnen can take him down. Then it's just a matter of surviving Emelianenko's guaranteed submission threats that we were all too accustomed to seeing in Pride FC.
It's really just kind of a crazy fight in all senses of the word which is why it's so interesting and fun. And with each man being older now, it gives Sonnen his best chance to add an incredible name to his resume.
3. Matt Mitrione vs Ryan Bader – Bellator 207, Oct 12
After a surprisingly quick finish of former Strikeforce light heavyweight champion Muhammad "King Mo" Lawal, the current Bellator light heavyweight champion Ryan Bader (25-5) is now set to take on who many believe is the favorite to win the whole Heavyweight Grand Prix, Matt Mitrione (13-5).
To advance to the semi-finals, Mitrione avenged his 2012 loss to Roy Nelson by majority decision at Bellator 194 in February. The win extended Mitrione's current winning streak to four straight.
Similar to the case for Sonnen, Bader too will be taking on his largest opponent to date. Despite his fantastic wrestling base, he has come a very long way with his striking and should feel comfortable there in this matchup. However, Mitrione is known for his movement and speed as a heavyweight which may lead to Bader sticking to his roots. Or at least trying to.
One way or another, it's another fight we never expected to see and one that will surely provide us with some moments that leave us saying, "wow".
2. Volkan Oezdemir vs Anthony Smith – UFC Moncton, Oct 27
The surprise of the year has probably got to be Anthony "Lionheart" Smith's (30-13) very quick ascension to light heavyweight contendership. After two back to back devastating knockout wins over former UFC champions in Rashad Evans and Mauricio "Shogun" Rua, Smith has drawn the most recent title challenger at 205-pounds, Volkan Oezdemir (15-2) for his next time out.
As you can tell by the poster, each man's personas are surrounded by a metaphorical cloud of not wasting any time. Oezdemir's nickname is "No Time" after all.
Both are known predominantly for their fantastic finishing abilities, especially when it comes to landing knockout blows with their strikes. And because they don't beat around the bush to get the action going, the likelihood of this one going all five is incredibly slim.
A career middleweight until the Evans fight, Smith has often stated how he feels rejuvenated in his new weight class and we've seen the evidence to back that up so far. But to play devil's advocate, his light heavyweight opponents in Evans and Shogun have been older and smaller 205ers. Especially compared to the 29-year old 6'2″ Oezdemir.
This fight has that "don't blink" feel to it and a win for Smith would surely launch him directly towards a title shot in the shallow division he now calls home.
1. (C)Khabib Nurmagomedov vs Conor McGregor – UFC 229, Oct 6
Could it have been anything else at No. 1?
There isn't much that needs to be said for the "biggest fight in UFC history". It's the finest case of striker vs grappler that MMA has ever seen and it's between two men that do not like each other. If they were to put "striker vs grappler" in the dictionary, a picture of the dominant wrestler Khabib Nurmagomedov (26-0) and sensational striker Conor McGregor (21-3) it would be the most perfect of choices.
It's very likely that this will not be your regular definition of an all-time great fight as those are usually competitive. In this case, just about everyone is expecting for one fighter to dominate or win clearly with their style over the other. The intrigue is so strong because it's not easy to say who will be the one to reign supreme, which is why it gets the No. 1 spot.
For McGregor, he'll be coming in off of a 23-month layoff. Whether or not that will play a factor for the Irishman is hard to tell but again, it's just another thing that makes this fight such a great and interesting stylistic matchup.
We've seen McGregor lose, we've seen him hurt and out grappled. We've seen Nurmagomedov stunned from strikes but he's never lost or really come close to it. What the hell is going to happen in the Octagon when the cage door closes? There's only one way to find out and that's to sit back and watch it unfold.
This article first appeared on BJPenn.com on 10/1/2018
This article appeared first on
BJPENN.COM