May has come and gone. And with that brings us a whole new month chock full of MMA action.
If we're going to be completely honest, June is a very top heavy month of fights as the first two weeks provide a large portion of the should-be highlights. But that doesn't mean that what's in store won't be fun.
Fortunately, May was the month to break the two-month streak of one of the top 5 fights being canceled. Now let's do a quick prayer to the MMA gods to make sure that that streak doesn't kick back in and let's check out what's to come.
Honorable Mentions: Sijara Eubanks vs Lauren Murphy, Jose Torres vs Jared Brooks, Gregor Gillespie vs Vinc Pichel, Lance Palmer vs Bekbulat Magomedov, Mike Kyle vs Shawn Jordan, Alistair Overeem vs Curtis Blaydes, Claudia Gadelha vs Carla Esparza, Joseph Benavidez vs Sergio Pettis, Clay Guida vs Charles Oliveira, Alonzo Menifield vs Deshaun Boatwright, Thiago Silva vs Chris Camozzi, Marcin Held vs Callan Potter, Ryan Spann vs Emiliano Sordi, Donald Cerrone vs Leon Edwards, Tyson Pedro vs Ovince Saint Preux, Jessica-Rose Clark vs Jessica Eye, (C)Ilima-Lei MacFarlane vs Alejandra Lara, Valerie Letourneau vs Bruna Ellen, (C)Aung La NSang vs Ken Hasegawa
5. (IC) – Rafael Dos Anjos vs Colby Covington – UFC 225, June 9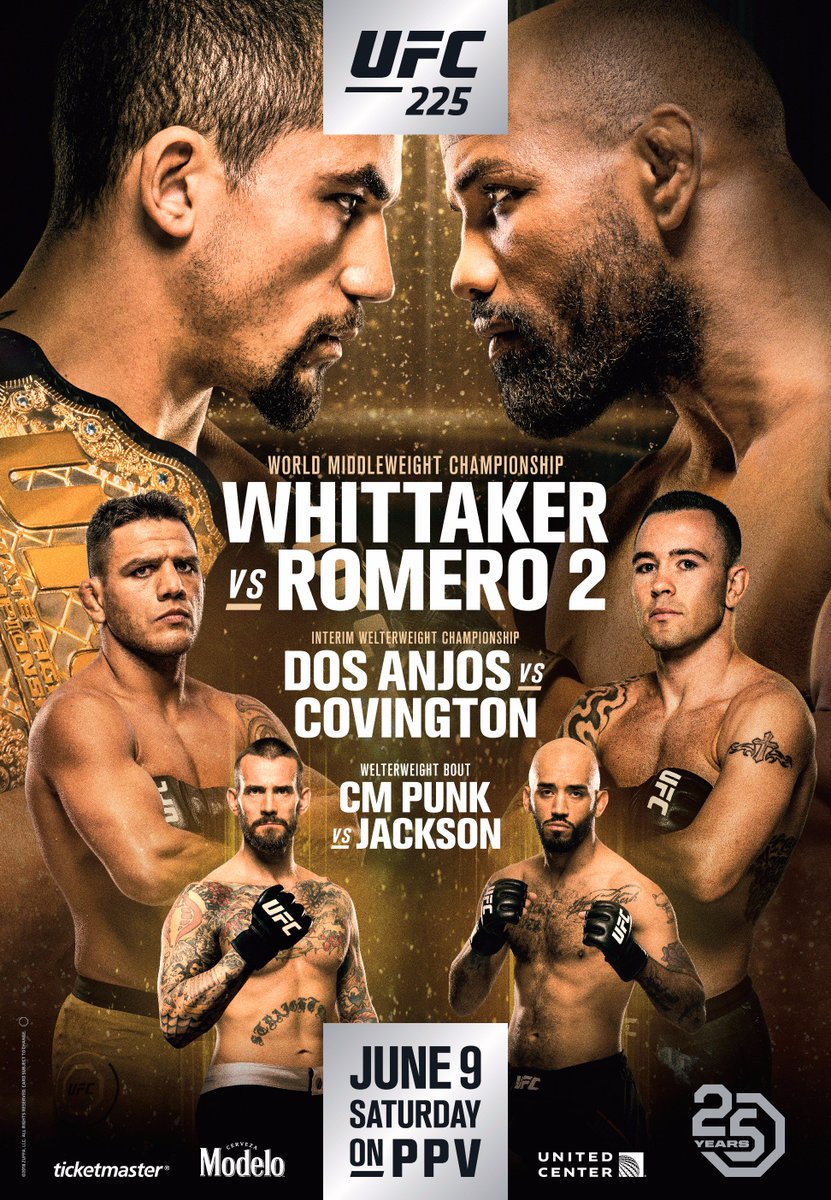 "The time for talk is over"
That quote is definitely true…that is unless Colby Covington wins.
Going from unknown to one of the most hated fighters in the sport might seem like an easy thing to accomplish if you were to just sit around and think about how you would make that happen. But for the Fort Lauderdale native, Covington, he has truly turned being a villain into a craft.
It only took one post-fight interview for the quiet wrestler to come out of his shell. Anyone and everyone including UFC commentator, Joe Rogan has been put on blast since. Now he finds himself heading into his first career title fight against a former champion.
After losing his lightweight title and then a fight with Tony Ferguson, Rafael Dos Anjos would find his way to the welterweight division. The move has turned out to have been a wise choice as Dos Anjos rides a three-fight winning streak that consists of a submission win over Neil Magny and dominant decisions over former Strikeforce champion, Tarec Saffiedine and former UFC champion, Robbie Lawler.
As most of Covington's future opponents will want to do, Dos Anjos plans on shutting him up in the cage. Stylistically each fighter possesses a similar ability to grind and suffocate their opponents with their grappling. Dos Anjos utilizes his overall pressure game to better effect that Covington as he is great at mixing his boxing with his takedowns. This isn't to mention his leg kicks too.
Covington is more of a "what you see is what you get" type of fighter. He's going to want to employ his strong wrestling game and try to pound you out over the course of the fight. If he will be able to do this to the former lightweight champion in Dos Anjos will be the story of this fight.
Oh yeah, and the winner should be fighting the undisputed champion, Tyron Woodley next. So that's always a fun factor.
4. Holly Holm vs Megan Anderson – UFC 225, June 9
UFC history will be made next Saturday night when Holly Holm and Megan Anderson square off in the Octagon. Their fight will mark the very first time a UFC fight has been contested at 145 pounds without a title on the line.
Due to the extreme thinness of the division, this fight very well can be expected to be for a title shot. That is at least the likely case for one of the consensus top 3 worldwide featherweights, Anderson who has yet to have fought the champion, Cris Cyborg like Holm did recently.
For Holm, this fight is a bit of a must win as she has lost four of her last five.
Regardless, she isn't deterred and treats every fight as a must win and her next opponent in Anderson gives her a whole new challenge.
After her recent fight against Cyborg, that could be called her biggest challenge to date(literally and figuratively). But now she will have an equally as big or perhaps even bigger fighter than Cyborg standing across from her this time out.
Anderson stands at 6'0″ tall to Holm's 5'8″ and outreaches her by 3″ (73″ to 70″). Holm's only opponent to outsize her in these categories was former bantamweight turned featherweight, Germaine de Randamie who is 5'9″ with a 71″ reach. Holm lost that fight via unanimous decision.
The big difference here is that Anderson physically cannot go any lower than 145 pounds and walks around at about 175 pounds. She's a true featherweight.
On paper, the fight will come down to Holm's timing and movement vs Anderson's power. Anderson has finished her last four opponents all by way of KO or TKO with several different striking combinations. Both fighters are capable of muscling opponents in the clinch but Anderson's has proven much more dangerous as Holm uses it more for controlling before getting back to her distance attacks.
But having not fought since January 2017, Anderson could surprise people with plenty of new improvements and wrinkles to her game.
Despite being on a slide, Holm shouldn't be the one under the most pressure here as Anderson will be making her UFC debut which just adds to this already interesting matchup.
3. Antonina Shevchenko vs Silvana Gomez Juarez – Dana White's Tuesday Night Contender Series: Season 2 Week 3, June 26
Both of these names may sound familiar for two reasons. One being if you follow the sport what so ever and the other if you've checked out the top 5 for March.
Making her second appearance on one of these lists is Silvana Gomez Juarez. The promising flyweight prospect from Argentina has found her way potentially one fight away from a UFC contract. Standing across from her will be no easy task though.
The championship-caliber Muay Thai terror, Antonina Shevchenko is the big sister of UFC star, Valentina. The two sisters are equally incredible strikers and that should be enough right there to get you interested.
With an undefeated 5-0 MMA record, Shevchenko regularly has competed at 135 pounds in the past but will be making her 125-pound debut for this fight. Juarez, on the other hand, is coming in off of a competitive loss to one of the division's very best fighters in the world, KSW champion, Ariane Lipski.
Although Juarez will be outsized and lacking the same level of striking accomplishments as Shevchenko, she is still a more than capable striker and very tough and durable. She likes to stand and bang but her best path to victory here would clearly be trying to take things to the mat where she can do her damage there.
This fight very well could and should be in the UFC rather than the Contender Series so prepare yourself for a very high-level skillset showcase.
2. Jimmie Rivera vs Marlon Moraes – UFC Fight Night 131, June 1
A fight that has been months in the making, Jimmie Rivera, and Marlon Moraes will finally get to settle the score.
After initially agreeing to fight each other on short notice at UFC 219 after Rivera lost not one but two opponents due to injury, the two couldn't come to an agreement on what weight that the fight would be fought at. So they didn't fight at all.
But now it will happen! And it will do so as the main event for the UFC's first trip to Utica, New York.
Riding a fantastic 20 fight win streak, Rivera is ready to finally earn his first career UFC title shot. His opponent, Moraes is also no stranger to lengthy patches of success as he won 13 in a row prior to his UFC debut in June 2017.
The former World Series of Fighting bantamweight king, Moraes defended his title five times under the promotion and finished his opponents in four of those five defenses.
There's no love lost between these two and the winner could very well find themselves positioned for the next crack at gold.
Both are incredibly talented in all areas. Speed and striking overall favor Moraes while Rivera has the power and wrestling. Each fighter is great at timing and countering their opposition and they each are two of the division's very best leg kickers. Though, it would be wrong not to say that Moraes is just one of the very best leg kickers in the world throughout all divisions.
Over five rounds it will be surprising if we see either get tired which just makes it all the more fun. This fight is between two of the most skilled fighters in the world today with a little bit of beef between them and a possible title shot on the line. What more can one ask for?
1. (C)Robert Whittaker vs Yoel Romero – UFC 225, June 9
Rematch alert!
The last time we saw the UFC middleweight champion, Robert Whittaker in action was when he overcame early adversity against Yoel Romero to become the champion.
Whittaker was supposed to make his first title defense against Luke Rockhold in his home country of Australia at UFC 221 in February but instead was replaced by Romero after suffering a nasty staph infection in his stomach.
That's not to mention that Whittaker had his knee injured in the waking moments of the first Romero encounter which forced him out for the remainder of that year.
But the champ is back and set to defend his title against the man he beat it for.
With Whittaker fully healthy and the two having already gone five rounds together once before, how much will change this time around? An exciting question that we'll get an answer to.
After dropping the first two rounds of their fight at UFC 213, Whittaker took over in the final three showing great heart and fight IQ. His ability to weather the Romero storm was something no one else has been able to do when fighting the Cuban Olympic medalist wrestler.
Whittaker's pace forced Romero to act early and often. Something that we don't usually see out of the often patiently explosive "Soldier of God".
These two are as good as it gets at 185 pounds and a trilogy at some point wouldn't be surprising depending on if Romero can adjust and improve on what he did last time to walk away with a victory and a UFC title.
This article first appeared on BJPenn.com on 5/31/2018
This article appeared first on
BJPENN.COM