After a multitude of awesome bouts to close out 2018, it's onto the new year.
December was loaded with a little bit of everything, January, on the other hand, will be on the lighter side as it acts as a transitional month for the world of MMA. The UFC will be beginning their new era with ESPN while Bellator's heavyweight Grand Prix comes to its conclusion.
With that in mind, let's see what cracked the first top 5 of 2019.
Honorable Mentions: John Lineker vs Cory Sandhagen, Glover Teixeira vs Ion Cutelaba, Paige VanZant vs Rachael Ostovich, Joseph Benavidez vs Dustin Ortiz, Gregor Gillespie vs Yancy Medeiros, (C)Geje Eustaquio vs Adriano Moraes, Juan Archuleta vs Ricky Bandejas, Aaron Pico vs Henry Corrales
5. Belal Muhammad vs Geoff Neal – UFC Brooklyn, Jan 19
Welterweight action will kick off the UFC-ESPN era. In the second fight in the deal's history, we'll see two always entertaining fighters in Belal Muhammad and Geoff Neal go at it.
Muhammad, a UFC vet since July 2016, has fought seven times since then and currently rides an overlooked four-fight winning streak that consists of names such as Tim Means, Jordan Mein, and Randy Brown.
Known for his toughness, sharp boxing accompanied by offensive wrestling, Muhammad has proven his well-roundedness which makes a fight with the recently stunning Neal all the more interesting.
Neal is also riding a four-fight winning streak yet his consists all of finishes (three KO/TKOs, one submission) with his most recent one coming in his very impressive sophomore UFC appearance where he landed a flawless head kick on Frank Camacho.
This will be a great clash of styles and momentum to start things off right for the UFC on ESPN.
4. Donald Cerrone vs Alexander Hernandez – UFC Brooklyn, Jan 19
After a successful first-round armbar win over "Platinum" Mike Perry at UFC Denver, Donald "Cowboy" Cerrone announced that it was going to be his last fight at 170-pounds. And he wasn't kidding as his next fight will be his return to his longtime home of the lightweight division when he faces the rising contender Alexander Hernandez.
Hernandez burst onto the scene in 2018 with a huge upset knockout win on short notice against veteran contender Beneil Dariush.
The 26-year old followed the win up in July with another surprisingly dominant effort when he soundly defeated the streaking Olivier Aubin-Mercier over the course of three-rounds for a unanimous decision.
With his great mix of striking and wrestling for his inexperience, it will be very intriguing to see how Hernandez deals with the biggest challenge of his career in the reinvigorated Cowboy.
Able to finish anyone in any way, Cerrone seems more motivated than ever since the birth of his son. With lightweight gold on his mind, this fight with Hernandez will be very telling as to how he fits back into the 155-pound landscape after being away from it for three years.
3. (C) – Fedor Emelianenko vs (LHW C)Ryan Bader – Bellator 214, Jan 26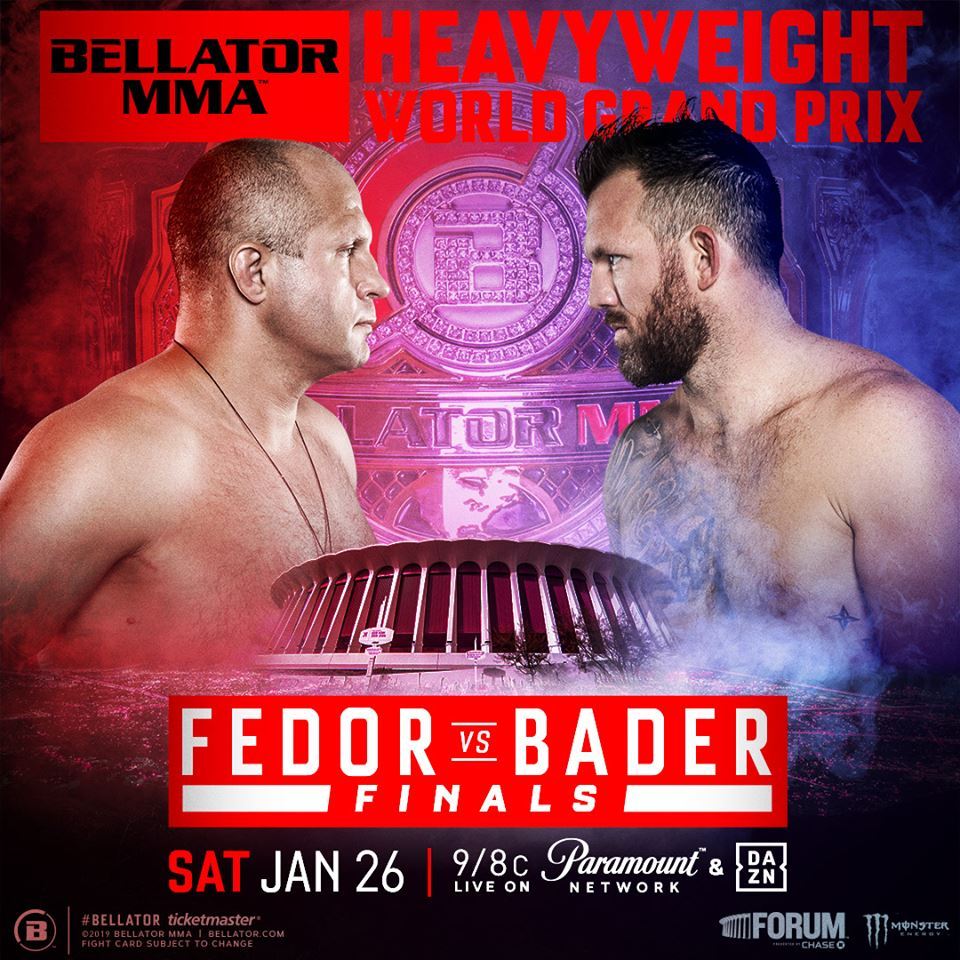 It's taken a while to get here, but we have. It's time for the winner of the Bellator heavyweight Grand Prix and the new Bellator heavyweight champion to be decided.
In the finals we have none other than the living legend himself, Fedor "The Last Emperor" Emelianenko as he looks to prevent the light heavyweight king, Ryan "Darth" Bader from becoming the first-ever Bellator double champ.
Bader has looked absolutely sensational in the recent portion of his career as he has gone 11-1 in his last 12 outings. Despite being a career light heavyweight, his lone two fights at heavyweight have been arguably his most impressive as he knocked out Muhammad "King Mo" Lawal in a mere 15 seconds and then went onto dominate Matt Mitrione in a 30-25, 30-24, 30-25 shutout.
As for Emelianenko, he has turned back the clock a bit as well as he advanced through the first round of the tournament with an exciting first-round knockout of his fellow heavyweight legend, Frank Mir.
After that, he fended off the always game Chael Sonnen with another opening round finish.
For Bader, despite Emelianenko's age, he should still provide him with his toughest test to date when it comes to the combination of size, power and submission ability.
It will be most interesting to see whether or not the light heavyweight champ can have the same type of success that he had against Mitrione.
2. Ariane Lipski vs Joanne Calderwood – UFC Brooklyn, Jan 19
If you aren't familiar with Ariane Lipski yet, you will be come January 19.
"The Violence Queen" is the recent KSW flyweight champion and one of the consensus best flyweight fighters in the world today regardless of organization. Her UFC debut was inevitable, and the opponent she's been matched with couldn't be more perfect.
"JoJo 2.0" as she has claimed, Joanne Calderwood has seemingly been reinvigorated since making the move to Syndicate MMA in Las Vegas under the tutelage of John Wood.
After losing two in a row for the first time in her career, Calderwood decided it was time to depart the 115-pound division for good as she returned to flyweight in August 2018 to earn her first submission victory by defeating Kalindra Faria in the opening frame.
Despite flashing off her new submission skills, Calderwood is still very much a thrilling Muay Thai striker at heart. Much like her opposition in Lipski.
With both happy to seek blood whether it be obtained through knees, elbows or kicks, there should be plenty of violence in this matchup as both look to continue making statements.
1. (C)Henry Cejudo vs (BW C)TJ Dillashaw – UFC Brooklyn, Jan 19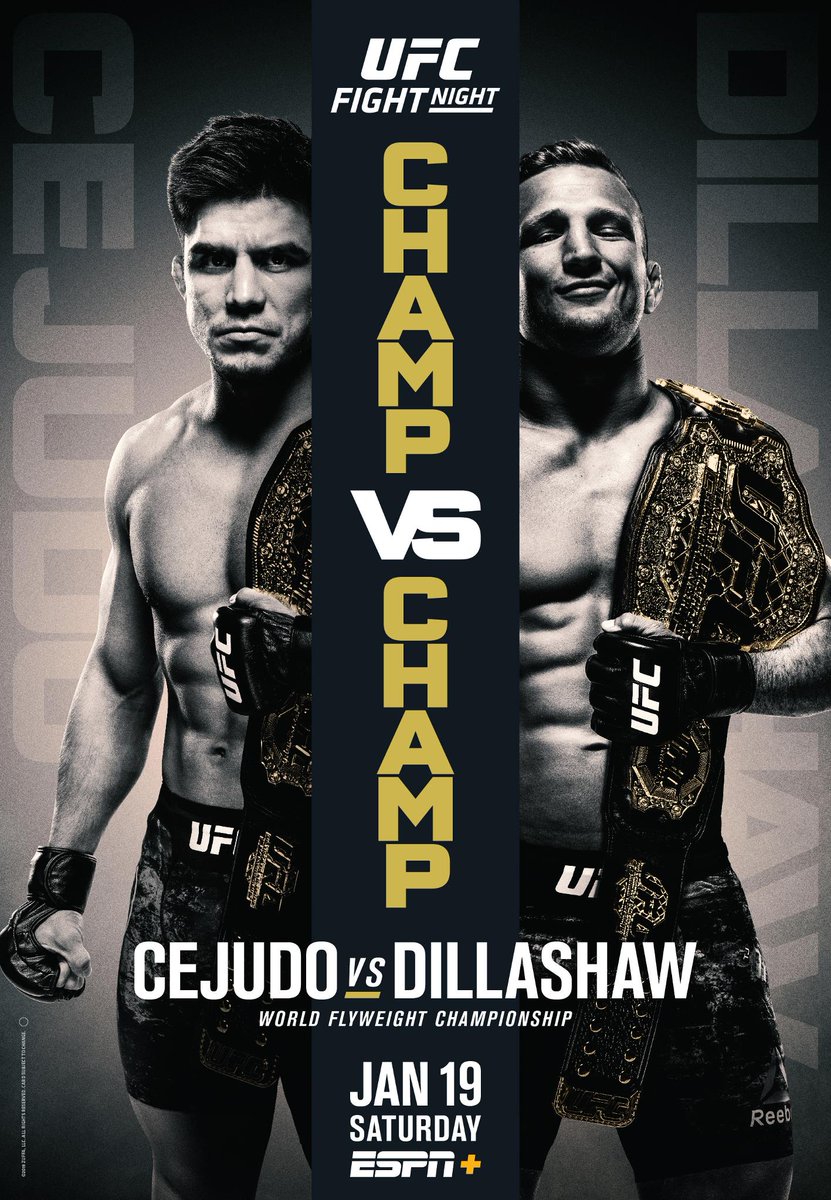 At UFC Brooklyn on the very first card to kick off the ESPN era, we'll be treated to a big champion vs champion fight. Flyweight champion Henry Cejudo will be looking to defend his title for the first time as well as his division against the bantamweight champion TJ Dillashaw.
With multiple implications on the line in this one other than just titles being involved, the fight itself is an incredibly interesting stylistic matchup.
It will be Dillashaw's flyweight debut, which creates for an interesting factor in its own right. As a striker, Dillashaw is one of the best in the world and he has very solid wrestling to back it up.
However, Cejudo happens to be one of the very best wrestlers in the world. Period.
As the youngest Olympic gold medalist in wrestling ever, Cejudo has come quite a long way since earning that accolade. After being embarrassed by Demetrious Johnson in 2016 in his first career title shot, Cejudo rebounded looking like a whole new fighter with some new and improved striking of his own.
In August, Cejudo and Johnson would rematch and Cejudo would get the upset win over the all-time great. Thus prompting him to request a fight with Dillashaw.
Each has a very strong and solid mix in their striking and grappling abilities, but their strengths over the other are evident as Cejudo has the wrestling advantage and Dillashaw has the advantage on the feet.
The most interesting part about the fight will be seeing what the difference, if any, is in the speed and size of each.
Regardless, it's a pretty damn good main event to kick off the first card airing on ESPN programming.
This article first appeared on BJPenn.com on 1/1/2019
This article appeared first on
BJPENN.COM