https://www.youtube.com/watch?v=OsO88Wf8PLA
The past month has treated Bellator featherweight, Cris 'Sunshine' Lencioni pretty kindly when it comes to the world of combat that he finds himself entrenched in.
The 24-year old seven-fight veteran entered the cage for the first time in 2019 at Bellator 221 in Chicago, Illinois on May 11 where he would snap a two-fight losing streak. Just like in his promotional debut in December 2017, Sunshine would once again score a first-round triangle choke victory, this time at the expense of Adil Benjilany.
Keeping busy as best as he can, the PSU graduate got himself back into action as just this past Friday night he competed at Fight 2 Win 114 in a purple belt grappling match against Chad McKinney of Brazilian Top Team.
Sunshine would hit an early body lock takedown that led to him controlling McKinney for the majority of the match's duration. With about a minute left before the bell sounded, McKinney would find a sweep from guard after getting his adversary off his back, but it was too little too late.
Cris Sunshine would earn the unanimous decision nod.
"Dude, I'm tired," he told BJPenn.com after the match. "I had a lot of stuff going on – medical stuff was going on with my wife so I was a little nervous. Turns out it was minor but you know, when you're with someone who's like your best friend, you get really invested. So I was stressed all day and this thing was at like 8:00 PM but then I got here and this thing is super cool, dude. The show is huge.
"Unless it's fighting, I don't do [research on the opponent]. He was tough, I already know his gym, they're a great gym so I didn't take him lightly. I just came in there to handle business like I would do a fight. 'Alright, get serious, get serious… Do your sprints, go out there and win your match.' And yeah, it was good.
"I didn't know how long my limbs are until that last fight I had in Bellator. I was watching my fight 50,000 times and I was like, 'Sweet, bro. Right on.'" Sunshine said with a laugh as he slapped his leg.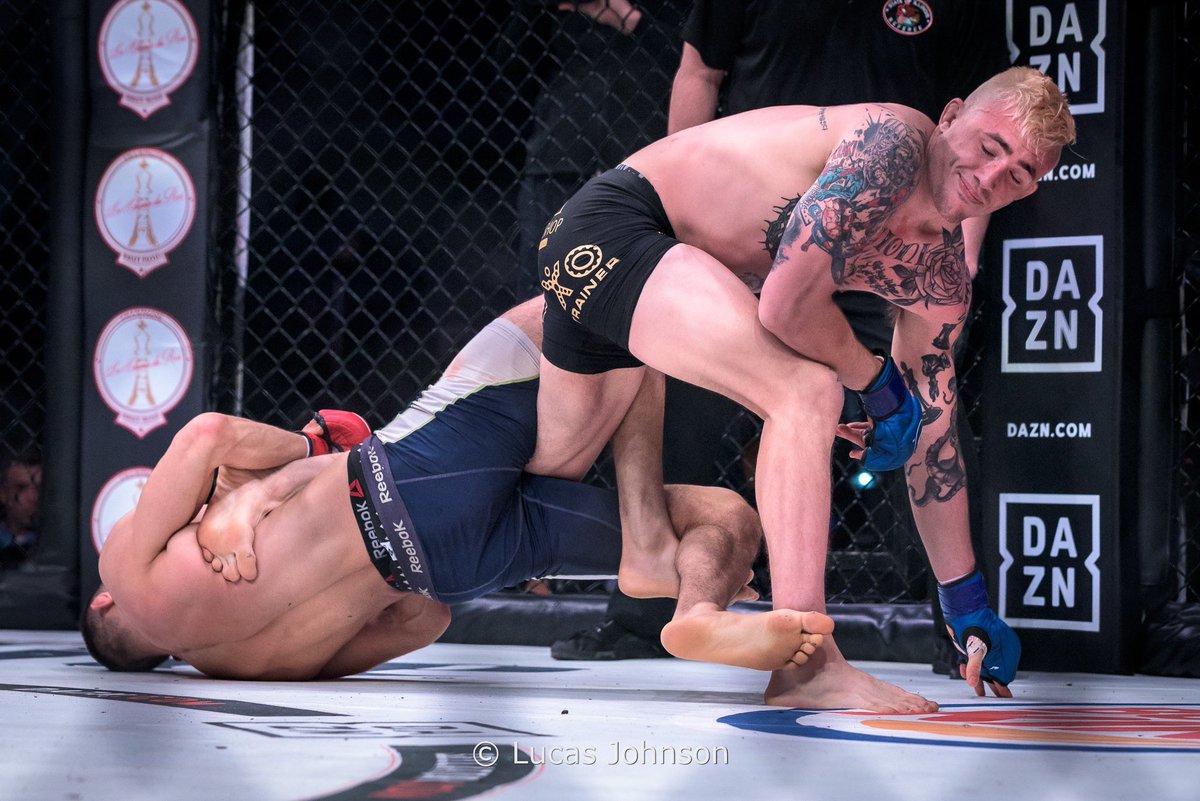 Now 5-2 (2-2 in Bellator) in his professional career with four of those wins coming by submission, Cris Sunshine is ready to stay active as he generally likes to do whenever possible. And he's especially hopeful after such big rebound wins with the one in MMA being in a featured spot like he had as part of Bellator 221's preliminary card.
"I want to fight again in August, I don't know what's going on," Sunshine said. "No one's reached out to me. We'll see what goes on with that, I just signed a new contract with a management company. We're looking to make some pretty big moves on that end and my own business is growing really well, Fabiano Scherner Jiu-Jitsu, Sunshine Athletics in my town in Canby. I'm looking to just keep growing my business, keep spreading Jiu-Jitsu with everybody and then fight whenever. I want to fight soon. I hate waiting."
As for what exactly that next opportunity may be, the American Top Team Portland product has been very vocal about wanting to get his hands on Irish star, James Gallagher. Along with that, there's also the upcoming 16-man featherweight Grand Prix tournament. Both of which could come hand in hand, of course.
However, options aren't all that limited.
"I'd like to [fight in the tournament] but I get that there's a lot of featherweights in Bellator right now so I can see how it's hard to like divvy up, 'Alright who do you put in a 16-man tournament?' plus you got guys at [1]35 [pounds] and [1]55 that want to jump in on the tournament," Cris Sunshine explained. "I'm just like you know what, dude send me to Japan or something. I'll fill up some Japan cards, I'll just fight. If you don't want me to fight in the tournament right now, cool. But keep me busy. I want to keep fighting. I get bored waiting around."
The referencing of Japan comes into allusion of the partnership between Bellator and RIZIN FF as the pair have begun to work together more and more extensively over the recent months.
In fact, the next Bellator event, Bellator 222 this Friday, will feature this cooperative effort in a high capacity as RIZIN is sending over two of their biggest stars in Rena Kubota and their bantamweight champion, Kyoji Horiguchi. The latter of which will look to once again defeat current Bellator bantamweight titleholder, Darrion 'The Wolf' Caldwell.
With more and more fighters partaking in the cross-promotional bouts, Bellator President Scott Coker has openly said that he's always happy to let his fighters go and compete in Japan if they would like to do so.
So if Cris Sunshine can't get a quick fight on an upcoming Bellator card, why not a trip overseas for the next RIZIN event?
"[Bellator does] deals and Coker has talked about it a bunch of times, I'm all for it," Sunshine expressed. "I'm like, dude send me to Japan, send me wherever. I just like traveling, you know? My wife and I are super besties so we want to travel the world together and take advantage of that with fighting. Double whammy.
"I just want to soccer kick the sh*t out of somebody and like maybe get soccer kicked, whatever. I just want to see if I can take it, you know. I think I can. I just want to know. I got kicked in the face by this guy, Hamza Salim, one of my first few months ever training, when Rose City was still around… And I'm like a brand new amateur and they put me against him and I'm 150 pounds and I just dove into this head kick. I was like, 'Oh sh*t! I can take like seven more of those. At least… today! And then no more – ever again…' That's how I knew I was never gonna get knocked out."
No matter where it is that Sunshine finds his presence radiating next, he's sure to deliver the entertainment as per usual.
The results from Fight 2 Win 114 can be seen in their entirety below.
Black Belt Results:
(C) – Gabi Garcia defeats Hillary VanOrnum via Collar Choke
(C) – Catherine Fuhro Perret defeats Ffion Davies Guilotene via guillotine (Fight of the Night)
Cláudia Fernanda Onofre Valim Do Val defeats Thamara Ferreira via split Decision
Amanda Loewen defeats Elizabeth Mitrovic via submission
James Puopolo defeats Mauro Olivera via omaplata (Submission of the Night)
Phill Schwartz defeats Robert Wolfe via decision
Bryan Marugg defeats Gustavo Banzai Bessa via decision
Alex Le defeats Juan Bernardo via decision
Ben Dyson Defeats John Diggins via d'arce choke
Hiago George defeats Baret Yoshida via decision
Jay Shellhammer defats Don Stoner via decision
Eddie Ziegler defeats Andrew Marshall via armbar
Ericson Abalos defeats Micah Caputo via decision
Brown Belt Results:
Bryan Nuro defeats Derek Castro via armbar
Michael Currier defeats Anthony Ramirez via ankle lock
Preston Bauder defeats Ryan Hart via decision
Sam Hardy defeats John Shaw via armbar (Submission of the Night)
Dan Dykeman defeats Kevin Hughes via decision
Vanessa Mariscal defeats Jessica Vann via decision (Fight of the Night)
Aaron Neuman defeats Jose Rodriguez via decision
Dan Walsh defeats Dylan Loriaux via decision
Purple Belt Results:
Jacoby Marshall defeats Joey Meador via split decision
Chandar Pass defeats Gil-Eva Mendiola via choke
Cris Lencioni defeats Chad McKinney via decision
Charlie Gilpin defeats Dillon DuVall via flying armbar (Submission of the Night)
Alan Barthold defeats Casey Vann via decision (Fight of the Night)
Ben Sutz defeats Anthony Tilman via rear-naked choke
Tracy Danielson defeats Hiroaki Sato via decision
Chance Stamps defeats Giancarlo Lo Russo via decision
Chris Cabe defeats Tyler Bostock via decision
Jaylon Powell defeats Joey Elsmore via triangle choke
Phelan Carron defats Pierce Pappas via front choke
Karla Shellhammer defeats Haley Mitchell via kimura
Tyler Rivera defeats Josiah Iwamizu via armbar
Blue Belt Results:
Haley Vann defeats Ella Prevost via guillotine
Kids results:
Colleen Glassman defeats Stryder Walls via cross choke
This article first appeared on BJPenn.com on 6/9/2019
This article appeared first on
BJPENN.COM