It's not very often that you hear of an elevator accident being the reason for someone having to pull out of a fight… But this was the case for 'the Doberman' CB Dollaway at UFC 203. Dollaway was supposed to be taking on Francimar Barroso that night in Cleveland, Ohio but disaster struck the day of the event when Dollaway stepped into his hotel's elevator and a malfunction occurred.
Dollaway was able to walk away from the accident but not without cost. He suffered a back injury serious enough to force him from the fight and as he told MMAFighting, bad enough that he may never fully recover.
"There's permanent damage. There's no way to…it's irreversible, essentially. I could go try to do a surgery or something, but my doctors have been like, 'Yeah, I wouldn't recommend it,' because they don't know how that's going to turn out. So it just is what it is, you know? It just depends if I put the size back on, which, I imagine I will. It's just going to take a little time. Putting on ten or fifteen pounds of muscle, it's hard, especially with high cardio and everything we do. But yeah, I fought that fight there [in July] and I just didn't feel the same as I did before. Like, when I had originally moved up, I felt big, strong, I feel good. Then this time when I went in there, I didn't feel like myself at that weight, so I was like it's probably better to go back down to middleweight.

I just want to make sure I'm healthy. At the end of the day, I'm not going to walk away from this sport with millions and millions of dollars, most likely, so you've got to make sure your body's good when you leave the sport. I'm not going to rush back in and get permanently injured even more, so I've got to look out for myself a little bit. When you walk away [from MMA], are you going to be able to function? At the end of the day, I want to make sure I can still live a decent life when I'm done with it."
The thirty-four-year-old, Dollaway said he can't get into specifics due to his lawsuit but he is currently in litigation over the incident which resulted in a lack of a payday at UFC 203 as well as what would end up being at least a year on the sidelines.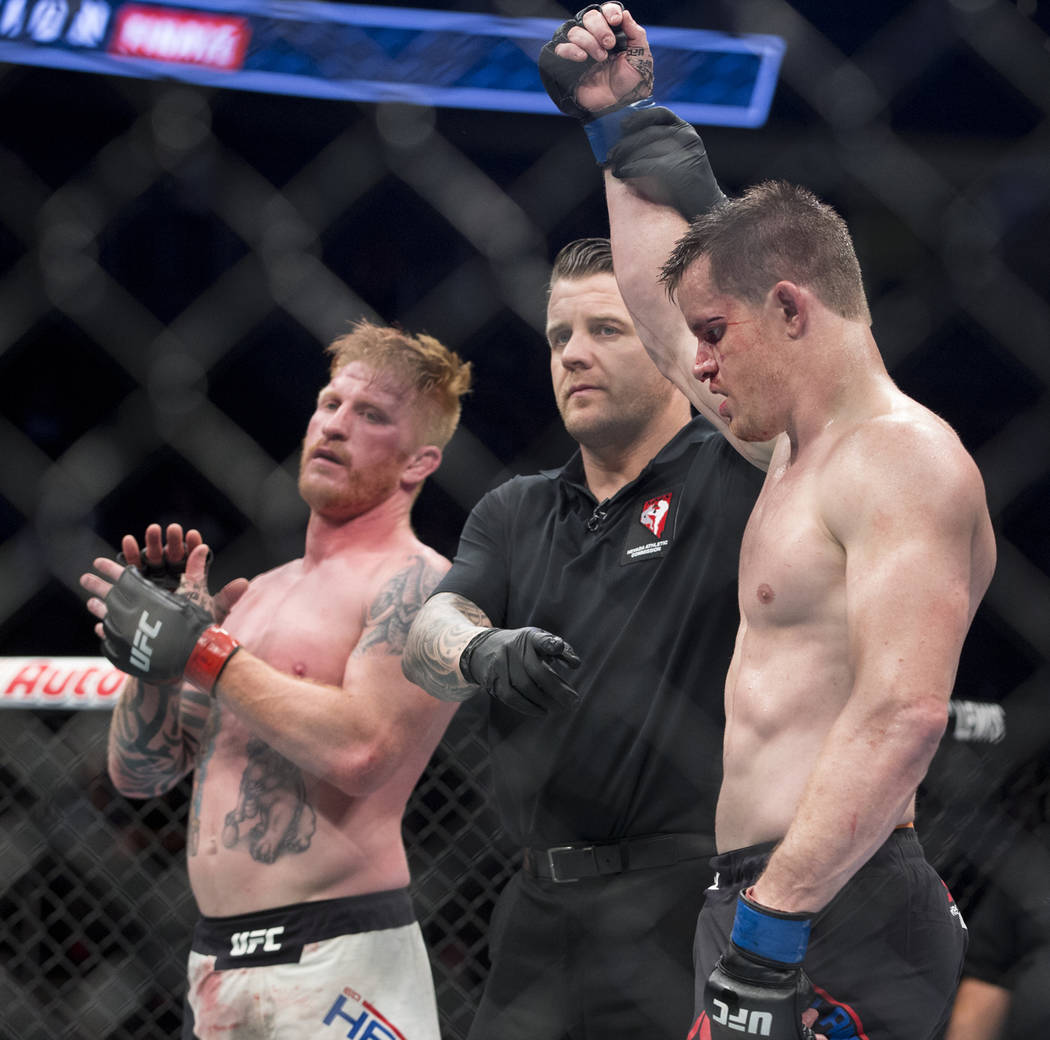 2008 was the year that Dollaway entered the UFC as a member of season 7 of The Ultimate Fighter. He made his debut in the finale when filling in for Jesse Taylor against Amir Sadollah. Dollaway has gone 10-8 in his eighteen fight UFC career and has competed in both the middle and light heavyweight divisions. Most recently at light heavyweight(which was his divisional debut) when he defeated fellow veteran, Ed Herman by unanimous decision.
advertisement - continue reading below
advertisement - continue reading below
For his next fight, as mentioned, he will be heading back down to 185-pounds as he will take on the former Bellator middleweight king, Hector Lombard at UFC 222 next Saturday.
"He's a buzz saw," Dollaway said of Lombard "When you go out there, you know the first round, you better be ready to get it, because he's coming. I feel like he's a guy who knows he doesn't have a big gas tank, he's not looking to go into deep waters, and he's going to come out and try to get you out of there in the first round. So it's kinda one of those things, you're going to have to survive the storm. Hopefully get through that and then take over.

There's one thing they always say, the last thing to go is your power, maybe his speed isn't there, maybe his reflexes aren't there, but he's still got power if he catches you. And he's a southpaw, which makes him awkward. If he catches you, he'll turn your lights out, so you better be on your toes, you better be ready, and you better respect him."
It's horrible to hear that Dollaway still suffers from his accident but all he can do is what he does best: fight through it.
This article first appeared on BJPenn.com on 2/21/2018.
advertisement - continue reading below
advertisement - continue reading below
This article appeared first on
BJPENN.COM