Being the first to do something is always a special and memorable feat no matter the endeavor. There is an uncountable number of things that someone or something could be first at or first to do. As that's the case when literally racing someone, it can turn everything else into metaphorical versions of it too.
After a goal or objective is completed for the very first time, history more often than not will end up repeating itself at some point down the line. It just depends on how much. Perhaps it could even do so multiple times before the other beginnings can unfold in their own right.
In MMA, there have been numerous world titleholders that have hailed from locations like the United States of America and Brazil. For the most part, those two countries have completely dominated the sport in terms of having its best and most accomplished combatants. And that's not to say that there haven't been champions from elsewhere, because that simply would not be true.
But to take the top of the MMA mountain that most consider the UFC to be, for example, there have been 82 total champions overall in the promotion's history, that's including interims and the superfight title from 1995 to 1996. Only 12 of those have been natives from locations that weren't either the USA or Brazil.
advertisement - continue reading below
advertisement - continue reading below
Still being the very young sport compared to others around the world that MMA is, it's not a big surprise to see two nations being the primary powerhouses for the initial 25 years. And as seen in recent years, more and more fighters from around the world are starting to establish themselves as legitimate contenders to be the inaugural major MMA titleholders in their country's history.
Just this past weekend, the world of boxing saw history be made in fantastic upset fashion as the heavy betting favorite in reigning British heavyweight champion, Anthony Joshua was toppled for the only time in his 23-fight career. Sending him packing in the seventh-round of their bout was Andy Ruiz Jr. who is now the first of his kind as a Mexican American heavyweight boxing champion.
The MMA world has indeed seen several titlists with a Mexican heritage just like Ruiz reach the pinnacle of their sport. Whether it was former champions like Cain Velasquez, Dominick Cruz, and Gilbert Melendez or current UFC flyweight champion, Henry Cejudo… However, there's never been a champion in the UFC that represents the country to its absolute fullest. But that might not be the case for much longer.
Currently riding a three-fight winning streak and approaching the biggest fight of her career, Irene Aldana is closer than ever to claiming that fundamental label.
advertisement - continue reading below
advertisement - continue reading below
Getting off to a very quick start in her career, Aldana debuted in October 2012, picked up a 15-second knockout by knees and punches, returned a year later and wasted no time again. Her second and third bouts would last only a combined 63 seconds as she dispatched of two opponents in a single night. It wouldn't be until her fourth fight that she got tested in enemy territory.
Taking on a future UFC veteran in Larissa Pacheco, Aldana took her talents to Brazil to hopefully leave with the Jungle Fight championship. A task that is much easier said than done especially considering the hostile environment that the Brazilian crowds are known to provide for those coming in from the outside.
It would be here that the now 31-year old UFC contender would suffer her first career defeat. Fast forward six years later, and things recently came full circle.
"It was very different," Aldana told BJPenn.com as she compared her two fights in Brazil. "I had a bad experience last time when I was in Belem. I was early starting MMA and I wasn't familiar with the Brazilian crowd and I was very intimidated by them but now it was a change and I'm happy. I felt a lot of support also from the Brazilians. But I'm glad I had this mission, I have the win. So yeah, it was very different than last time."
advertisement - continue reading below
advertisement - continue reading below
History repeated itself for Irene Aldana in the way that she did wind up going back to Brazil, but she altered this second visit's outcome.
After being set to throw down with former title challenger, Bethe Correia on two previous separate occasions that would fall through, the fight would finally happen on Correia's turf.
Colliding at UFC 237 in Rio de Janeiro in early May, Mexico's Aldana would put on her typical fluid yet gritty performance. The battle extended roughly two and a half rounds before she was able to capitalize on a takedown attempt from her opponent to force a tap out with an armbar.
"It was [great to finally fight her], I was supposed to fight her [at] two events before," she recollected. "In Los Angeles and then an event before that. So that was an opponent that I had in my mind for a long time. And I'm happy that we finally made that happen and now I can erase that name from my book and move on.
advertisement - continue reading below
advertisement - continue reading below
"I'm glad that I could show that I am a more complete athlete now. I have two rear-naked chokes, before in Invicta, and I'm glad that I could finally get a finish in UFC and a submission in Brazil I think is awesome. So I'm glad that I'm in the finish column now."
Although Irene Aldana created new and improved memories in her return visit to Brazil, there were still obstacles that set her back along the way.
Following the aforementioned Pacheco encounter, the Guadalajara resident would head to the US and Invicta FC where she set the world on fire with two phenomenal victories over Peggy Morgan and Colleen Schneider to earn her second career crack at gold.
Once again, this would be too much too soon for Aldana as she was halted in the fourth round by the unbreakable champion at the time, Tonya Evinger. However, she returned to form immediately after with two more highlight reel victories that now earned her a spot in the ultimate proving ground.
advertisement - continue reading below
advertisement - continue reading below
Continuing to mature over time is natural and learning lessons are required. Getting them beaten into oneself has proven surprisingly therapeutic for some. Aldana might not exactly word it that way herself… but dropping her first two bouts in the UFC definitely continued to teach her new things.
"It was a hard start in the UFC," she admitted. "It wasn't the debut that I had on my mind, definitely, but I'm glad that I gave good fights even if I lost. The Leslie Smith fight was a great fight. I think people loved the fight and it was Fight of the Night. So I'm glad that I could perform well and my next fight with [Katlyn] Chookagian I honestly think I won that fight, but any way, it was a close fight. So yeah, those things can happen in MMA so I know that, I'm aware of that. And it was a hard thing for me. Obviously, I was sad but I couldn't let that limit me and make me sad all the time. So I said, 'No, I need to change this and I need to go back to the gym and train harder and change things in my career.' So that's what I did. I trained harder, I changed my mind and I started thinking more positive and so here we are and I'm glad I can finally get into the win column."
And get into the win column she has with three straight exhilarating showings.
Athletes from Mexico are very often credited for their incredible durability and toughness. Even in her wins, Aldana has continued proving that age-old adage to be very accurate.
advertisement - continue reading below
advertisement - continue reading below
In the fight before her last, one that she argues was her most satisfying career win, Aldana went to war with Lucie Pudilova in what wound up being a Fight of the Year candidate. Pulling out the W, unsurprisingly, wasn't easy as she shared that she broke her hand in the very first round and had lost complete vision in her right eye during the third. Losses be damned, the growth process still rages on heavily for Aldana even when her hand is raised.
"I learned a lot about myself in that fight as a fighter," Aldana said. "And about how I deal with adversity and what I can do with my body and how I can take my body to that kind of limit.
"I think things happen for a reason, you know? I didn't have that much experience when I got into the UFC. My previous fights were like, I finished them in seconds or in minutes, so I didn't have that experience in the cage until I got into the UFC. I think I learned a lot of that and I'm learning a lot off of this [recent] fight. If it's a decision, if it's a submission, if it's a knockout, I think everything is going in a good way now."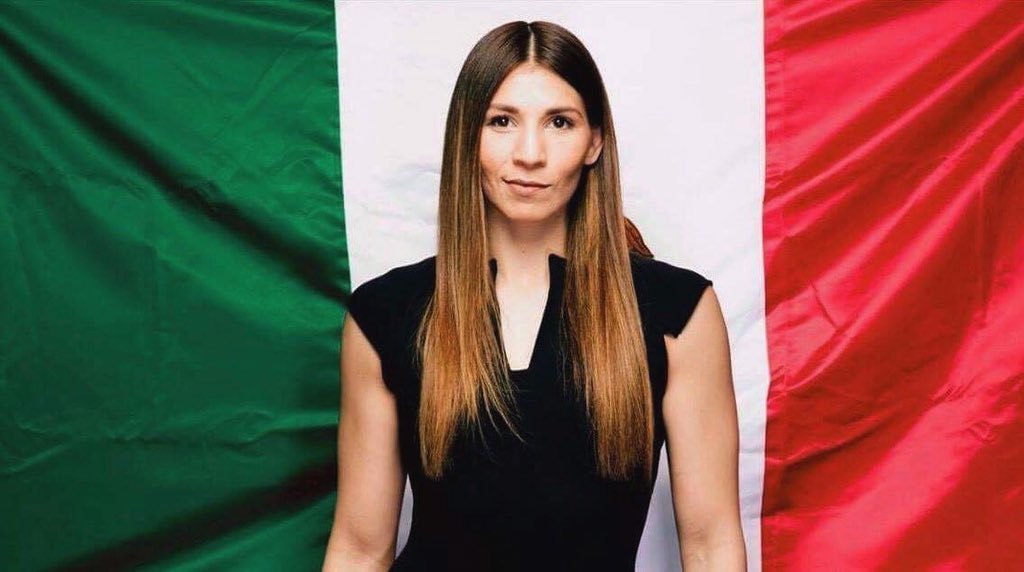 It goes without saying that fighters fight, but we'll repeat it aloud anyway. For Irene Aldana, it's onto the future and the escalation up the bantamweight ladder. Awaiting at the top being that ever historic moment that all long for.
advertisement - continue reading below
advertisement - continue reading below
As was the theme early on in her career, the matchmakers wasted absolutely no time offering Aldana her next step forward following her arm-snatching in Rio.
"I received the fight offer the same day I got into Mexico after my flight from Brazil," she revealed. "I got a message from [UFC Matchmaker] Mick Maynard, 'Hey, what do you think about July 20 with Raquel Pennington?' I was like, 'Oh my god, let me talk to my coaches and my doctors,' And I talked to them and in an hour I was giving him an answer. So I think, I need to take this fight. I need to take this opportunity. I'm good, I'm healthy, I don't have any medical restriction so I need to take this fight and I'm glad that UFC came with that offer and I think this is going to be great for my career and Raquel is a great opponent, she's in the top five and I think this is going to be a great fight."
In San Antonio, Texas on the 20th of July, Aldana will trade the eight points of contact with former UFC title challenger, Raquel Pennington. Stylistically, the fireworks should be imminent and the excitement in Aldana's voice when speaking about the match-up was rather apparent.
After getting to perform on her first UFC main card and pull off her biggest success, it was a perfect motivational boost that was inevitably leading to moments like the upcoming.
advertisement - continue reading below
advertisement - continue reading below
"It was very motivating. I was so glad that I could share a main card with such great athletes like Jose Aldo, like Anderson Silva," Aldana said of UFC 237. "I think it was an awesome thing for my career and I can grow now more as an athlete in the UFC. I can now start to look forward and keep climbing and get more top-five opponents. I know it's going to get harder, but the belt is closer now than before.
"[Pennington] already fought for the belt. She's an aggressive fighter. She's a complete fighter and she's in the top five for a reason so she's a great challenge for me and this is going to be great.
"I think it's going to be a fun fight, you know, styles make my fights," she continued. "So the fact that she is a complete fighter and I'm evolving as a fighter too, I'm thinking this is going to be interesting."
Because fighters fight, the time for rest can come few and far between. Every little opportunity can be so critical to a career's trajectory. There's no time to waste – whether that's with activity or literal time in action.
advertisement - continue reading below
advertisement - continue reading below
When it comes to Irene Aldana's homeland of Mexico where she proudly represents, she's a shining star that's just getting brighter. But ever since leaving for that first trip to Belem, Brazil where she lost to Larissa Pacheco, the sharp boxing-based bantamweight hasn't fought on home soil. And with the title aspirations still firmly locked into her mind, a jaunt back home looks like it could very well be on that golden brick road.
"Maynard told me when he asked for the July fight, he also told me, 'and maybe also for September, likely after July.' And I was like, 'Oh my god this is three training camps in a row!' So it's going to be hard physically and mentally. It's going to be hard, but okay, let's do this. And I don't have an opponent for September. I need to see what happens in Raquel's fight. If I'm healthy, if I'm good to fight, I'll take the fight in September too.
"It's awesome because I haven't fought in Mexico since 2013 so it's a long time and I'm always fighting in other countries and I think this is good for me. And I'm excited to fight in Mexico, with my people, in my land, with my family, with my friends and I think it's going to be so exciting and motivating."
Obviously, it would be a travesty for Aldana to not compete at the UFC's recently announced return to Mexico City on September 21, but none the less, everything hinges on the immediate future which is indeed the clash with Pennington next month.
advertisement - continue reading below
advertisement - continue reading below
In regards to the UFC, there have been very few fighters from Mexico overall that have even made it to the promotion let alone left prominent marks. In a short amount of time, the 14-fight vet is doing just that and the position that she's in is evident; a leading athlete for the fighters – as well as the people of her fighting nation.
"I think I'm the first 100 percent Mexican that went outside of Mexico to fight – just outside of Mexico to fight [in general] and then to fight for a belt," Aldana said. "I'm happy to give a good example for all the athletes and people in Mexico. I don't care what their profession is I just wanna give them a good example that if you want it, if you work for it, and if you have discipline and you love what you do, you can do great things. It doesn't matter if you're an athlete or whatever you are doing, I think this is what I want to try to give to people."
As incredibly thrilling as being the 'first to ever do it' is, it can understandably be a bit overwhelming for those trying to achieve it and make it a reality. Everyone is chasing that same goal but who will be the one that doesn't crack under pressure? Well, it surely helps if that imaginary weight is left out of sight and out of mind.
It's no secret that the sport of MMA is as taxing as any… on the mind maybe even more so than the body. Arguments can be made and answers will vary from person to person on that but either way, in the end, all that can be controlled is what is under one's control to begin with.
advertisement - continue reading below
advertisement - continue reading below
"I think people are always going to have opinions if you do good things or just doing it good or bad," Aldana expressed. "I don't feel pressure. The only pressure I feel is to do good in the Octagon – to show how good my technique is, all of what I learned or what I've worked in the gym. I want to show it good, as good as I learned. No pressure about people. Of course, I know that people are supporting me, they love me and they respect my career. They're going to be with me If I win or if I lose and everywhere you're going to have two kinds of people."
Despite Mexico still rising its way to the surface of MMA supremacy, it would be a lie to say Irene Aldana has been aiding in this process entirely by herself. Whether it be Yair Rodriguez or Brandon Moreno, there are others. In fact, there's one that's been on the journey directly by her side the whole time.
Jessica Aguilar undeniably set the standard for female Mexican fighters in MMA during her heyday, now the balance of power has shifted as it always will during different periods, and Aldana along with her longtime teammate, UFC strawweight, Alexa Grasso have been steadily pulling the spotlight to them and their country in the recent years.
As fun as racing can be, this one will stay figurative as they're the ones competing together, not against.
advertisement - continue reading below
advertisement - continue reading below
"We have a pretty good friendship, we are like sisters," Aldana said of her and Grasso's relationship. "We started together in the same years of when we were debuting in MMA in general. And we are climbing together, we worked here in Invicta, now we are together in UFC and we're always supporting each other and I help her with her training. She helps me and we help each other to stay motivated and we just – we're like a family. We understand perfectly what happens in this sport as girls, we have the same problems that the girls do. And it's important to have each other there and to have someone that understands you. And she motivates herself by seeing me and I motivate myself by seeing her. I can't wait to see us both with the UFC belt."
Every new opportunity is a new opportunity to get the chance to create something that's never been done before – to fulfill a lifelong dream, to leave that lasting legacy.
For Mexico's Irene Aldana, if everything goes according to plan she will next overcome a top talent in her division, cause some chaos at home after a six-year hiatus, and then get the ultimate moment to potentially become the very first UFC champion from her country.
And as far as grasping that gold goes… third time's the charm, right?
advertisement - continue reading below
advertisement - continue reading below
This article first appeared on BJPenn.com on 6/6/2019
This article appeared first on
BJPENN.COM