UFC 236 is the UFC's next big event that has… Well, literally nothing known about it yet! With the exception of when it's happening, that is.
The event will go down on April 13. Live from where? We do not know yet. Who will be fighting? Outside of the bantamweight bout between Boston Salmon and Khalid Taha, that also remains a mystery.
With this being the pay-per-view that will follow the next, which is UFC 235 on March 2, it seems odd that so little is known as of right now. Which leaves us to speculate before more details surely begin to surface.
To be clear before we get started, it is possible that two of these fights could both happen at UFC 236. We're just saying that these are the big ones that could.
Along with that, there will be no mention of the current UFC featherweight and bantamweight champion Amanda Nunes as it would be utterly shocking if she doesn't headline UFC 237 on May 11 in her home country of Brazil.
Fun fact: Every single UFC event in Brazil has been headlined by a Brazilian (with the exception of UFC Brazil: Ultimate Brazil, so 32 out of 33 events).
With Nunes being the only Brazilian champion right now, it makes too much sense for her to headline that event. And as she now holds two titles, there are plenty of options.
So without further ado, here are eight potential fights that we could see happen at UFC 236 (in order from least likely to most likely).
8. (C)Valentina Shevchenko vs Jessica Eye
Imagining the current flyweight champion Valentina Shevchenko making her first title defense at UFC 236 isn't at all a crazy thought. It's just the thought of it coming against her likely next challenger, Jessica Eye.
According to Shevchenko's manager, the UFC wanted this fight for as early as UFC Prague which takes place next Saturday. Eye had to decline however, due to some issues with her teeth.
The challenger has since been vocal about wanting the fight to happen at UFC 238 on June 8, while the champion wants to fight sooner than that. Thus making a simple situation all the bit more complicated.
7. (C)Henry Cejudo vs Joseph Benavidez 2
Henry Cejudo is on top of the world since he ultra impressively defended his flyweight crown against the bantamweight champion TJ Dillashaw at UFC Brooklyn.
Someone who also scored a big victory that night was the last man to defeat Cejudo, Joseph Benavidez.
In the quickly vanishing UFC 125-pound weight class, no other title fight makes sense next except for the rematch between Cejudo and Benavidez. That is unless the UFC wants to see how things play out between Jussier "Formiga" Da Silva and Deiveson Figueiredo at UFC Nashville.
Otherwise, this is the fight to make for both men next… Assuming the UFC surprisingly doesn't want to make that rematch with Dillashaw at 135-pounds.
6. (C)TJ Dillashaw vs Marlon Moraes
As is the case with flyweight, it's the same with bantamweight.
There is only one logical fight to make, and that's the champion TJ Dillashaw defending against the blazing hot top contender and former World Series of Fighting king, "Magic" Marlon Moraes.
However, due to the fact that it makes all the sense in the world, that means that it's less likely for the UFC to actually make it happen.
Dillashaw's quick loss to Cejudo just creates too much potential for a big selling rematch at bantamweight for Dillashaw's title. But if Dillashaw or Cejudo are going to fight someone else or each other again, UFC 236 makes for a reasonable date.
5. (C)TJ Dillashaw vs (C)Henry Cejudo 2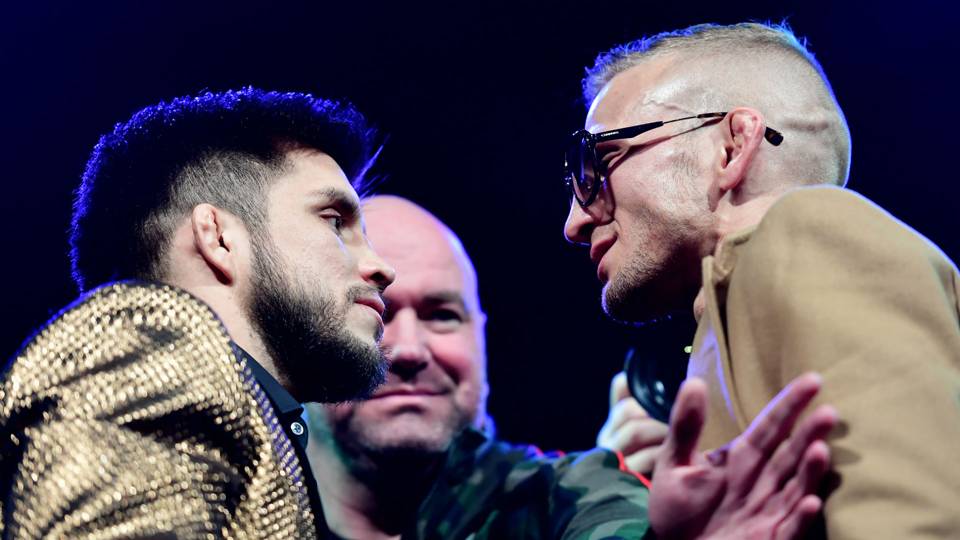 As eluded to already, the UFC looks for the fights with the most "sell potential". That accompanied by the fact that they're seemingly doing away with flyweight, and it's the fight we will probably see next for both men.
The timing may seem somewhat quick for it though. Especially when considering that Dillashaw remains adamant that he wants to do it again at 125-pounds. Which would require him starting his groundbreaking weight cut early as he did for their first fight.
So it may be too soon for everyone to agree on the finer details.
4. (C)Daniel Cormier vs Stipe Miocic 2
Former UFC heavyweight champion Stipe Miocic hasn't fought since he lost his title to the then light heavyweight champion Daniel Cormier in July 2018. He also has made it extremely clear that all he wants is to run it back with Cormier.
For Cormier, however, he hasn't been all to inclined to give Miocic his rematch… For his next fight, anyway.
Cormier recently shared that he is open to fighting Miocic again, but Brock Lesnar is the fight that's on his mind along with a Jon Jones trilogy bout. However, Lesnar will not be an option for Cormier's next fight barring a change in his schedule or if Cormier wants to just wait it out while he keeps recovering from some lingering injuries.
Lesnar will be performing at the WWE's Wrestlemania 35 event which takes place on April 7. So unless there's that big change, he will not be available for UFC 236 or any time shortly after that.
With Jones competing at UFC 235, there would a month gap between his fights if he were to fight on UFC 236 but the fight would have to be at light heavyweight since Jones continues to show no interest in moving up. Currently, Cormier says he's walking around at about 255-pounds which would mean he'll need to start making that cut soon if that was the plan.
Regardless, Cormier is a company man and if the UFC needs him to do something like saving a card, they'll shell out the cash and do it… Like they did with UFC 230. Miocic is the only guy who would be willing and able to stand across from him at the proper weight.
3. Conor McGregor vs Donald Cerrone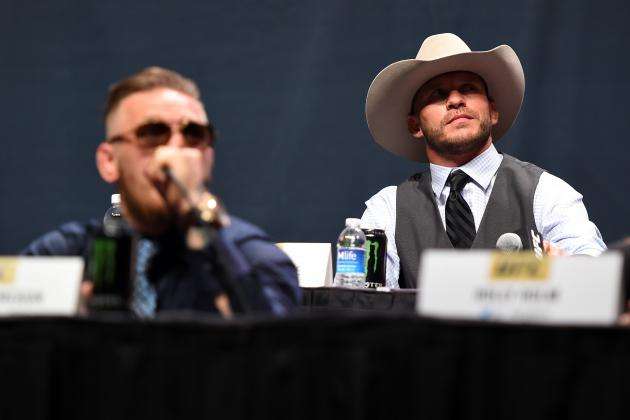 One of the reasons that there's so much mystery about UFC 236 could be because of the fact that the UFC is having to work out deals with Donald "Cowboy" Cerrone and more likely, Conor McGregor (which seems to be the case for all of his fights these days).
Cerrone is willing to fight where ever and whenever. This is common knowledge by now. McGregor, on the other hand, has shown plenty of interest in being active in 2019 and perfectly enough, his current suspension ends just days before UFC 236 takes place…
It seems to be the fight that the fans want, the two men involved seem to want it, UFC President Dana White is cool with it… Now it just comes down to making it.
The fact that the current lightweight champion Khabib Nurmagomedov is suspended as well creates for an even better chance that this fight is made. And we can never leave out the possibility of it being for an interim belt… Something that Cerrone has already teased.
2. Tony Ferguson vs Dustin Poirier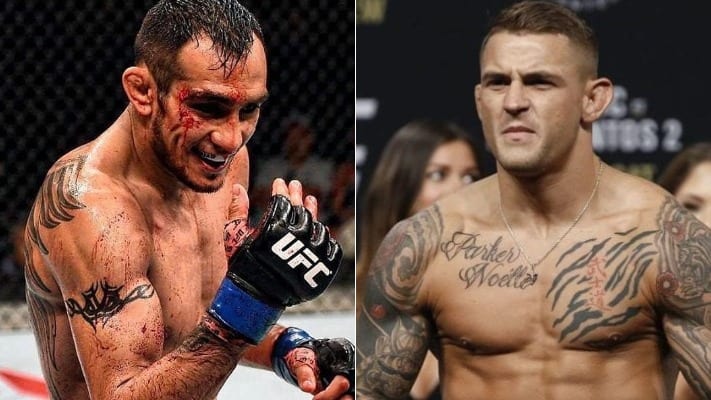 Getting the notch above McGregor vs Cerrone simply due to the latter involving the always unpredictable McGregor, it's hard to imagine that anyone would disagree that it's been too long since we've seen Dustin "The Diamond" Poirier step into the Octagon.
Almost doing so against Nate Diaz at UFC 230, it wasn't meant to be.
Poirier's last fight came in July 2018 when he defeated Eddie Alvarez in their rematch at UFC on Fox 30. Now, he's positioned for the biggest fight of his career.
And if Nurmagomedov or McGregor aren't options, then the only logical choice is Tony Ferguson who is also looking for a fight.
Similar to the McGregor vs Cerrone match-up, this fight could be a main product of Nurmagomedov being out of action as Ferguson is seemingly next in line for the champion. But fighters need to stay active, and whether it's for an interim title or not, this fight is the one to make in the midst of all the madness.
1. (C)Max Holloway vs Frankie Edgar
Whether it's the main event or the co-main event, featherweight champion Max Holloway vs the former lightweight champion Frankie Edgar is the fight that we should definitely see happen at UFC 236.
For "The Answer", he actually hasn't fought since April 2018. That wasn't the plan though as he was scheduled to face Chan Sung Jung at UFC Denver before a torn tricep forced him out of the bout.
Holloway and Edgar have been scheduled to fight on two separate occasions… Third time's the charm.
With no other super logical contenders at 145-pounds for the champion at the moment, Edgar stands alone as the one with the best case and being the other half of a fight that's long overdue.
This article first appeared on BJPenn.com on 2/14/2019
This article appeared first on
BJPENN.COM