From top to bottom, this past weekend's UFC Wichita card was a pretty fun one that provided us with some thrilling knockout wins and new contenders emerging.
However, mixed in between were a pair of decisions that caused some outrage from most of the community.
Returning after a three-year layoff, former heavyweight contender Ben Rothwell was welcomed back to the Octagon by the former World Series of Fighting king, Blagoy Ivanov.
Prior to that fight, another former champion in the one-time Invicta FC bantamweight titleholder, Yana Kunitskaya would take on and defeat Marion Reneau.
Both Ivanov and Kunitskaya would earn unanimous decisions that saw their scorecards read 29-28 across the boards. Both of which were by definition of the new unified rules of MMA, the correct or reasonable results despite the community's disagreements.
Because of this, it has essentially taught us two things and today we'll try and provide some clarity.
Clouded judgments
It is incredibly easy to focus on one thing in a fight. Especially when it's so 'in your face' and hard not to look at… Such as was the case with Kunitskaya's broken nose in the third-round of her fight with Reneau.
Visible damage is an easy distraction in a fight of all things and something we've seen several times in the past. Especially with close or controversial fights. Distraction from what exactly? Well, this is a sport, meaning there are rules.
Damage dealt is indeed the most important aspect of fighting, sport or not. But in MMA today, rounds are scored round-by-round rather than as a 'whole' like they were in PRIDE FC and occasionally are in RIZIN FF. If that was the case for this fight, the result could have indeed differed. Or would it have?
Sticking with the third round in particular of this bout, it was clearly Reneau's as she was the more effective fighter out of the two in a round that took place entirely on the feet.
Due to Reneau's damage done to Kunitskaya, the argument is there for a 10-8 round, especially under the new rules where they're to be handed out more liberally.
Ultimately, Reneau would not end up being rewarded with a 10-8 round three by any of the judges. However, Kunitskaya was never close to being finished and continued to fight back throughout. So much so that she actually even ended up out-landing Reneau 29 to 28 in total strikes. Either way, a clear round for the American as damage outweighs volume… To a certain extent.
"A 10-8 will be rewarded when a fighter clearly wins a round," Veteran referee John McCarthy explained to Vice in 2016 when the new rules were introduced, "Fights will be judged on the 'Three Ds' – damage, domination, duration. If a fighter has been damaged and dominated in a round, the round should be scored a 10-8. If the domination element does not exist, judges are urged to look at how long the duration of the damage lasted and how much of an impact it had on the fight before determining the round a 10-8. If there is no damage, judges need to look at the duration of the domination that occurred in the round."
As for the prior two rounds, it was the opposite. Kunitskaya was in firm control. Perhaps not as effectively as Reneau was in the final frame, but she still clearly secured the rounds which both, strangely enough, saw Kunitskaya out strike Reneau 42 to 18. This is without mentioning grappling exchanges and control time which also favored the Russian.
The best case to really be made for Reneau in the bout is a draw by giving her a 10-8 score in round three.
Regardless, many still think Reneau should have gotten the nod. Thus showing that maybe fans and fighters would prefer another change in these rules we've become so accustomed to? If anything shows that to be incoherently true, it would be the fight that came after it.
A false sense of value
Since the dawn of time in MMA, Octagon control has seemingly been swaying judgments the wrong way in fights. Well, that's actually not entirely true because prior to the new rules coming into play, the old had Octagon control as a much more important scoring criterion. Something that it is not with the case with the latter.
The entirety of the Ivanov vs Rothwell fight at UFC Wichita saw Rothwell as the aggressor. Which to the naked eye gives him the Octagon control as he's advancing. In this fight though, it did not shut down Ivanov as he was still able to find success and land successfully on Rothwell throughout.
This fight was surrounded with the most controversy of the night but let's just get it out of the way now by saying that it was a close fight and not a 'robbery' no matter who it was seen for. The fight could have been scored against Ivanov but not strictly because of Rothwell's non-stop coming forward.
"The new scoring system will be determined with more emphasis on striking and grappling," McCarthy said. "In the past, fights have been determined by who has been pressing forward the most, with the old criteria stressing the importance of Octagon control.
"Striking and grappling are the two elements that make up a fight. If we don't have two fighters that are either striking or grappling… That's dancing. It's not fighting.
"We want you to judge the effectiveness of who is the better at either one of those two elements," McCarthy continued. "Obviously, if 90 percent of the round is striking we want you to go with a heavy emphasis on striking. If 90 percent of the round is grappling, the stronger emphasis will be on grappling. Who is doing the most to impact a fight and bring a fight to an end?"
In the case with this fight and while circling back to Reneau vs Kunitskaya and judging based off the looks of each fighters' faces, both men were doing their damage fairly equally. And the numbers reflect that.
In their striking-heavy affair, Ivanov would out-land Rothwell 19 to 9 in the opening round before a razor-thin second round which was really the round that things came down to. Ivanov would out-land Rothwell again but just by a single strike, 29 to 28. And lastly, Rothwell found his best success as he out-landed Ivanov 33 to 25. 69 percent of Ivanov's strikes would land to Rothwell's head with 26 percent to the body while Rothwell landed 67 percent to Ivanov's head and 24 percent to the legs.
The effectiveness of the strike location as we go down the body can be debated all day but the boiling point remains with the Octagon control issue and this isn't the first time it's been stressed that it's a non-factor under the new rules either.
Yet it seems easily forgettable for many. Or perhaps, it's that the vast majority still want it to count the way that it used to. But the counter to that is why should it count if the aggressor is coming forward only to be on the losing end of exchanges or at the very best, make things even?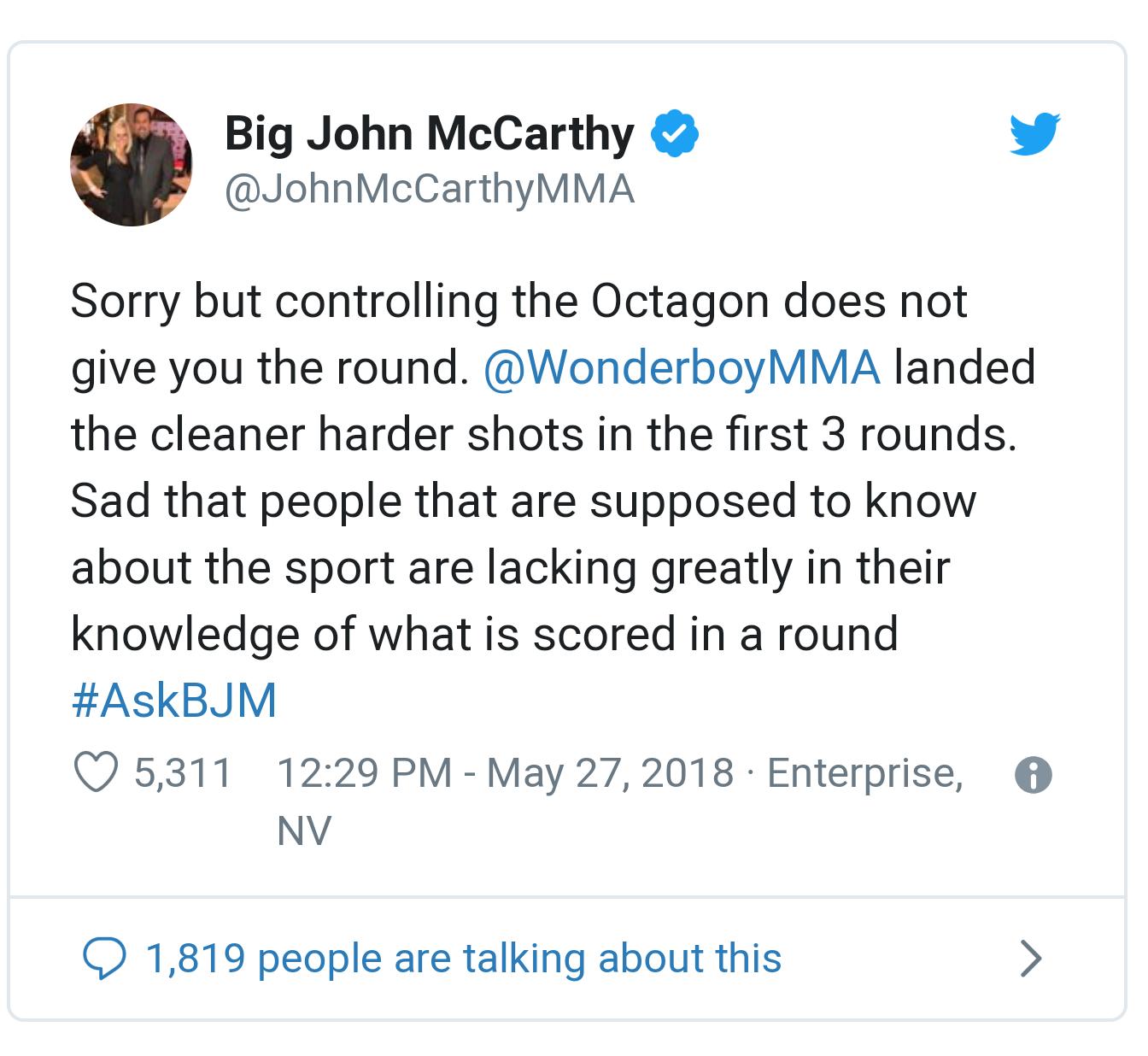 "Effective aggressiveness: Aggressively making attempts to finish the fight," McCarthy said. "The key term is 'effective'. Chasing after an opponent with no effective result or impact should not render in the judges' assessments. Effective aggressiveness is only to be assessed if effective striking/grappling is 100 percent equal for both competitors."
It just goes to show that work continually needs to be done on the rules and scoring criteria in MMA. Although, as the old saying goes, you can't please everyone and UFC Wichita reiterated that.
This article first appeared on BJPenn.com on 3/14/2019
This article appeared first on
BJPENN.COM