Becoming a champion is never an easy thing to achieve no matter the sport. In MMA however, it may be even harder than most as the fighters are simply relying on themselves to get their jobs done.
Sure, they have the teams that help them get to the dance. That's in a different sense though as the team doesn't follow them directly into battle as on fight night, they're literally alone in a cage looking to leave as the last one standing.
For the Arkansas born Jinh Yu Frey, she began her professional MMA career as a champion and she finds herself as one now too.
After finally putting her recent rivalry with Minna Grusander to bed at Invicta FC 33, she has solidified her spot as the atomweight champion.
"I feel a lot of relief. There was a lot of stress coming into [this last] fight," Frey told BJPenn.com. "I felt a lot of pressure. There were a lot of naysayers from the first [fight] and I just had a lot of stuff going on in my personal life.
"It definitely took a lot of perseverance to get through it but I made it, I did what I needed to do. Now [it's] just kind of relaxing a little bit trying to take in the moment and take a load off."
Frey began her pro career in April 2013 when she fought for and won the Sugar Creek Showdown atomweight title with a first-round submission (rear-naked-choke) over Meghan Wright.
One title defense later, and Frey was off to the world's biggest and best all-female MMA promotion, Invicta Fighting Championship.
Making her debut at Invicta FC 8 in September 2014, this would be the beginning of a history-making run for the current atomweight queen as Frey has gone on to tie the promotional record for wins inside the organization with Tonya Evinger at eight. Her six wins are second behind Evinger's seven.
"I don't know if that's good or bad," Frey said with a laugh when discussing how long she's been with Invicta. "I don't know if that means I'm the only one not moving on to bigger and better things or if it's good that I've been around and on top of the hill and kept my place for so long. Part of the old guard."
Evinger, the former bantamweight ruler, has since gone onto the UFC where she has now fought twice.
But despite climbing her way to the top of the mountain, it wasn't at all easy for Jinh Yu Frey.
The current champion would lose her Invicta debut by split decision to Jodie Esquibel before going on to put together a three-fight winning streak to earn herself her first crack at the promotion's 105-pound title.
Once at the championship level, Frey didn't disappoint as she showcased her skills wonderfully by clearly outpointing the then champion Ayaka Hamasaki over the course of a round and a half. That was until she was deemed unable to continue.
A big shot from Hamasaki towards the end of the second round would open a bad cut alongside Frey's left eye. The cut was bad enough that the doctors would stop the fight thus giving the win to Hamasaki by TKO.
Following the loss, Frey rebounded with a dominant win over Ashley Cummins before heading overseas for her first and only fight outside of North America.
It would be here where she would look to become a champion once again as she challenged the ROAD FC atomweight titleholder, former UFC strawweight, Seo Hee Ham. Unfortunately, Frey would be halted again as Ham scored the TKO in the opening round.
Perseverance is a massive part of every sport and having the ability to do so and still find success is what makes true champions, whether they have an object to prove it or not. And for the 33-year old Jinh Yu Frey, she wasn't even close to done having to battle through adversity to reach her goal.
In the Texas resident's return to the Invicta cage, her second title shot with the company awaited her as she would face the recently impressive Fin, Minna Grusander.
This would officially be Frey's crowning moment in Invicta. As the shining moment that it was supposed to be for Frey, it wasn't.
"I do still think I did enough to win the first [fight] but it kind of left like a dark cloud over it," Frey said. "You know, with there being so much controversy. I had plenty of people telling me they thought that I won and then I had plenty of people telling me that they didn't think I won. And so it really kind of cast like I said, a shadow over the win. It didn't feel like that great of a win."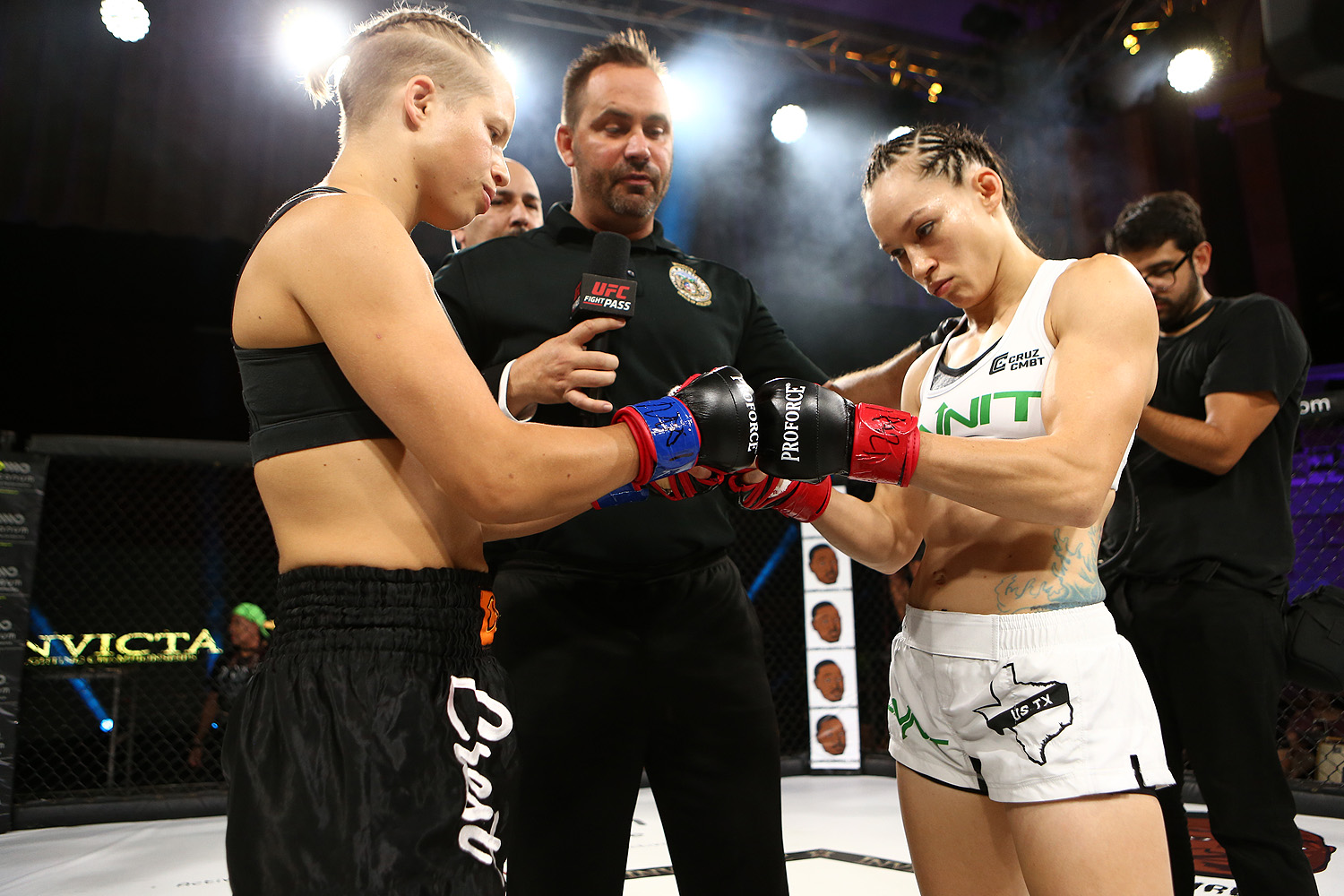 As Invicta FC 30's main event between Jinh Yu Frey and Minna Grusander concluded, the thoughts from the commentary crew and the crowd were that Grusander was likely going to be the winner. However, all three of the judges scored it for Frey which made it one of the most controversial decisions of the year.
"We didn't change just a lot of things [for the rematch]… For whatever reason, last time like, I don't even really have a good excuse," Frey said. "I had a great camp, I felt really ready but for whatever reason, once I got out there I was just having trouble getting going and pulling the trigger.
"Sometimes you have off nights. And so it wasn't really a matter of being ill-prepared. I had all the tools in my toolbox I just for whatever reason, I just didn't perform as well as I could have."
Heading into the highly anticipated rematch that would settle the score, Frey's focus was more about just being as "brutal and mean as possible". Especially after the heat between the two really built up after the first fight.
Although that nastiness or sorts was a trait that was out of character for the soft-spoken 105-pounder, it worked out as she made her status as champion undeniable with the second victory.
"I felt a lot better about this one. Honestly, normally I'm pretty cool headed when I go into a fight," Frey explained. "It's not my intention like, 'Oh, I'm gonna hurt this person,' I just kind of feel cool as a cucumber. But this time there was just a lot of emotions. I was hurting inside, I was upset, I was angry at some of the things that she had been saying online or where ever.
"I heard her say she thought I didn't even want to be in there with her [the first time] and so this time I was like, 'I'm gonna f*ckin' hurt that bitch,' I'm going in there and I'm gonna f*cking put my hands on somebody and I'm hurtin' somebody. And I've never actually gone in angry or emotional, this time I did. And you know, it's okay, it worked out.
"A lot of people were like, 'I've never seen you that aggressive before,' and I was like, 'because I was angry,' So yeah, maybe that's the silver lining in the whole situation is that it [helped] tap into a different part of myself."
Often times, the toughest fights don't come inside the cage and for Jinh Yu Frey, heading into the biggest fight of her life, that was exactly the case prior to.
With everything that comes along with the art of fighting, the mental aspects and hurdles are often the biggest ones to overcome.
After losing her best friend of 15 years roughly a month before the fight and being able to get through it and do so with a win is something that Frey thinks only makes her stronger and the win that much sweeter.
"Looking back…it was probably one of the hardest things I've ever had to deal with, you know, putting my dog to sleep…" Frey shared. "And being able to fight through that and muster the energy to get through and stay focused, and take care of my business is probably one of my biggest accomplishments thus far. Just because I know how deeply it hurt and the loss affected me."
As the 'old guard' yet still the face of her division and Invicta, it's onto the future for one of the best atomweights the sport has ever known.
With new challengers always emerging, Frey really doesn't care who she defends her title against next. But that's assuming that she stays with Invicta as the recent bout with Grusander was the last on her contract.
Over time, the 105-pound atomweight division has grown to develop a lot of talent worldwide as has definitely been showcased in Asia this past year. Meaning that Frey's biggest fight options might not be in Invicta anyway.
And being the competitor that she is, she is definitely willing to try and get back her losses to her fellow divisional elites.
"There's not a single loss that I wouldn't like the opportunity to get back," Frey said. "Especially the fight with [Hamasaki]…there was so much left undone. I was up in the fight, you know, that's just how fights go sometimes. All it takes is a split second to change that. But yeah, I would love the opportunity to get that one back."
As one of Invicta's most successful athletes in the promotion's history, her questioning of whether or not she should have moved on by now is reasonable. But at the same time, the current only other place to go would be to Asia.
It's been seen countless times with Invicta FC champions where a belt plus a defense or two equal the ticket to the big stage that is the UFC. Unfortunately for Frey and her 105-pound division, the UFC doesn't have a division of their own for her to 'come up' to…yet.
According to the champ, however, that doesn't mean it may not be in the discussion. She herself though isn't sold on its likelihood.
"I've heard from two people who work pretty closely with the UFC," Frey shared. "Both sides. One says it's not happening any time soon. The other person says, 'I'm pretty sure it's gonna happen pretty quickly,'
"They're pretty close to the UFC and they have opposing ideas. I almost kind of feel like with them shutting down the men's flyweight division…it's not a good sign for women's atomweight. It seems like they've never really been that appreciative of men's flyweight so I'm almost like, 'Why would they add atomweight when they already don't like men's flyweight?'
"I don't know. We'll see what happens. But I just feel like it's not a good sign for women's atomweight."
When there's smoke, there's fire. With clear star qualities in her talent and personality, it would come as somewhat of a surprise if the UFC didn't think Jinh Yu Frey could be built around as one of their new champions in a new division.
Of course, that doesn't at all mean that they will make it happen despite the recent advocating from others in the division as well as even fighters in the UFC.
In the end, there are endless possibilities for the current Invicta FC atomweight champion…some that may not even involve fighting at atomweight.
"I wouldn't be opposed to [a champion vs champion fight with a strawweight champion]. If the money is right, we can make that happen." Frey said.
No matter what ends up being next for her, Jinh Yu Frey will be fine with whatever it is that the future holds as she keeps on paving her way into the history books as one of the best 105ers to ever do it.
This article first appeared on BJPenn.com on 12/21/2018