Bellator's Heavyweight Grand Prix tournament is nearing closer. Kicking things off will be Chael Sonnen, who makes his Heavyweight division debut by taking on former UFC Light Heavyweight champion, Quinton "Rampage" Jackson on January 20. The second fight of the tournament's opening round will be a rematch between favorites to win it all as Matt Mitrione looks to get back the loss that Roy "Big Country" Nelson handed him in 2012. That will take place on February 16. Following that big fight will be another big one to kick off the opening round as two bonafide legends collide when two-time UFC Heavyweight champion, Frank Mir makes his Bellator debut to take on one of the greatest to ever do it across all divisions, Fedor Emelianenko in April. And closing out the opening round is a fight that was very well expected to be current Bellator Light Heavyweight champion, Ryan Bader's second title defense but I suppose it still could be at some point. Bader will take on former Strikeforce Light Heavyweight champion, Muhammad "King Mo" Lawal in May. Like Sonnen, this will be Bader's first fight at Heavyweight.
The winner of the Grand Prix will walk away with the Bellator Heavyweight championship.
Betting odds have recently been released for who is expected to win it all. Matt Mitrione leads the way. Who do you have taking it?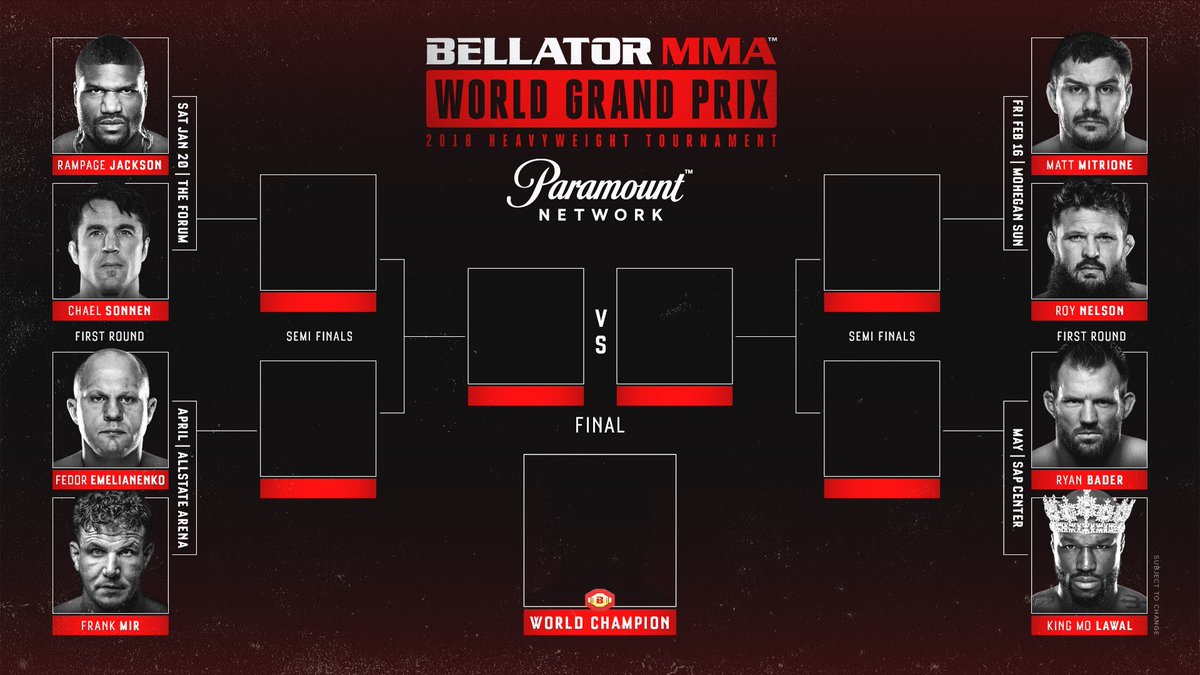 This article first appeared on BJPenn.com on 12/20/2017
This article appeared first on
BJPENN.COM