What do fighters do? The simple answer: they fight.
Though the deeper you dig, it's much more than that and everything that leads up to the moment they've been working their whole lives for, is not so simple.
Take away the literal sense and fighters are fighting before they get to the actual fight itself. Many of times, some of the most real struggles beyond the fight aren't documented and never heard about. This lifelong "sport" of hand to hand combat is something that is played physically but the battle comes almost always more within the mind.
Fighters are built. They have to be shaped, molded and led down the path they wind up walking. The stories to how each has come to be are all endless and unique in their very own ways. For UFC strawweight, Randa Markos, it took surviving and escaping the Iran-Iraq war to get her to Canada where her MMA journey would begin.
A combatant for the UFC since 2014, Markos recently earned her fourth victory under the organization and it came in dominant fashion against Juliana Lima at UFC on Fox 27 on January 27th.
To the surprise of most, after Bruce Buffer announced the "Quiet Storm" the winner by unanimous decision, she got on the microphone with John Anik and shared that she had entered the fight injured with a partially torn MCL and a fully torn patellar in her left knee. But there was even more on top of that, Markos told BJPenn.com. And it still wasn't enough to keep the Windsor, Ontario native down.
"I found out after the fight that the second MRI showed a fracture too. Crazy, but I was determined. I've been training on it since a week after the fight. I held back a lot but I think It worked out."
The pressure that mixed martial artists can be under is unimaginable to someone who has never gone through the process. There is always the need to win, the mind needs to achieve the goal that is victory.
Like Randa, all fighters have the burning desire and will to do everything they can to the best of their abilities to complete the task at hand and overcome whatever obstacle stands in their way. Whether the body will fully allow it to or not.
"It was in the back of my mind(the injury) but I played a safe game." Markos recollected, "I was leading with my bad leg. If she would have thrown an inside leg kick I would of went down but I knew my instincts would kick in. It was scary for sure. I was freaking out about going through with it that morning but quickly got that out of my head.

If I lost I wouldn't have been able to talk about it. People don't understand what we go through. If I didn't take the fight I would have had to wait forever and started the camp all over."
Markos had all the reasons you could for pulling out of a fight. From the injury alone to her whole camp trying to talk her out of the fight because of it. But she also had all the reasons not to pull out as she mentions. Showing everyone what you can truly be capable of is a pretty sweet cherry on top too.
The average amount of fights per year for a UFC athlete is two, so opportunities can be few and far between in the fight world and they need to be capitalized on when best possible. This is how they make their livings after all and training camps are not cheap. And when one goes through all of it just to end up not fighting, the time, money and hard work spent go right out the window.
If Markos had abandoned the fight, she could have very likely been looking at just one fight in all of 2018.
These types of pre-fight struggles and injuries occur so much more often than we hear about which is why these warriors deserve appreciation just for getting out there and trying their hands at being modern day gladiators. What's going on behind the scenes is often times the hardest part.
"I trained with Jessica Eye to help her out exactly four weeks before my fight." Markos said, "She took me down and my knee turned the wrong way. I tried to act like it wasn't a big deal but the pain was too bad to ignore but I trained too hard to puLL out of that fight. I just did physio [therapy] every morning and strengthened around the knee.

I don't think anyone is 100% for a fight."
To get to 100%, fighters have to work for it in their training and preparation in turn costing them their 100%. It's a double-edged sword that must be swung to compete in the world's oldest competition.
For Markos, this chapter of many more to come has closed and it's time to turn the page on to the next as she's back to being able to do most of her regular training regiments and is hopeful for a return in May or June.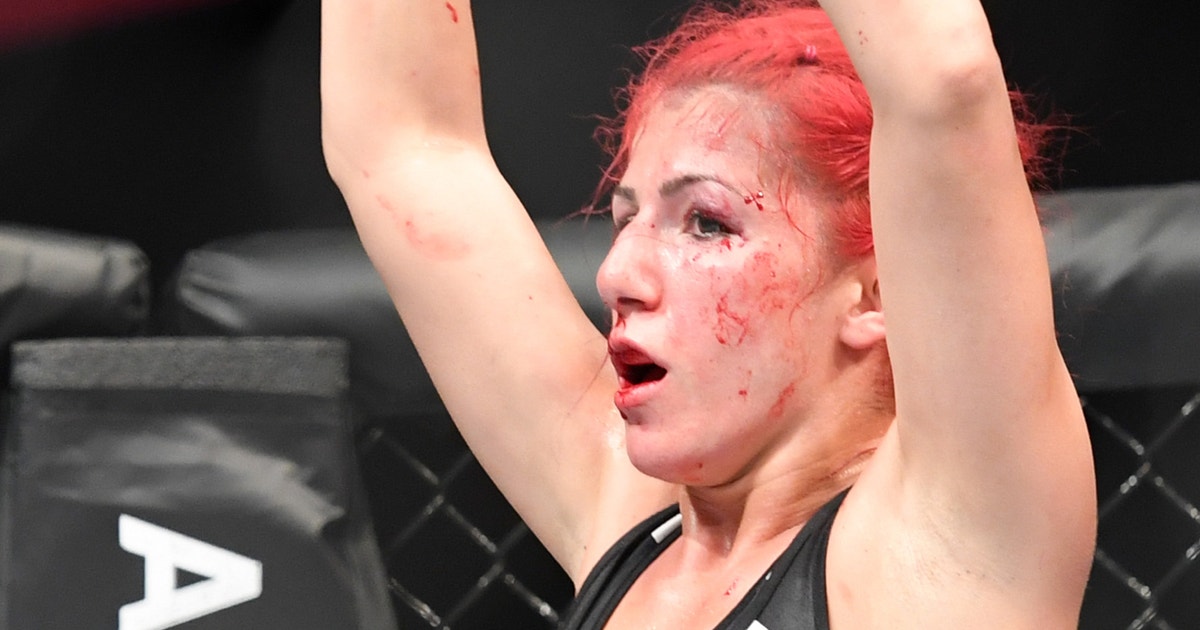 Getting through all the battles before the inevitable war only strengthens the warrior within. Just because the entire day-by-day camp isn't documented for the world's eyes to see, doesn't mean that they're working any less hard than the stars at the top who are granted more exposure.
The warrior spirit is strong, and it shines it's brightest when no one is there to see it.
This article first appeared on BJPenn.com on 3/12/2018.
This article appeared first on
BJPENN.COM