Many lists have been made over the years revolving around the best fighters outside the UFC. Atop or at the very least, always on those lists is none other than the Polish middleweight icon, Mamed Khalidov.
Khalidov has pretty much been the KSW version of Tito Ortiz throughout his career as he's been with the promotion from the beginning and continues to be their biggest star by far.
Opportunities to head on over to the ultimate proving ground have been presented to Khalidov on multiple occasions, most recent as last year when their were rumors in the air that he may be debuting against Lyoto Machida in Machida's return after suspension. However, that obviously didn't come to fruition and the reigning 185-pound KSW champ, Khalidov was scheduled to take on the light heavyweight champ, Tomasz Narkun in a 203-pound catchweight super fight(which takes place tomorrow as KSW 42's main event).
Khalidov isn't opposed to fighting in the UFC, but he feels he's given far too much to KSW to leave them now as he told MMAJunkie:
"I really respect UFC, but as of right now, I feel like my home is KSW, and I'm not planning on changing it in the near future. Poland is my home. KSW is my home. I obviously can't talk for other fighters who chose a similar way, but for me, I also built KSW. I was a part of it from the beginning. That's why I plan to stay for now. I feel good here."
The fourteen year, forty fight veteran, Khalidov has made quite a name for himself over in Europe. Having not lost since 2010 and currently riding a sixteen fight win streak that consists of eleven finishes(seven submissions, four knockouts), he is 34-4-2 overall and has only gone to seven decisions in his forty fights(seventeen submission wins and thirteen knockouts).
His resume doesn't include a bunch of slouches either… Just some of the names "the Cannibal" has beaten include the likes of multiple Bellator and UFC veterans such as Brett Cooper, Maquiel Falcao, James Irvin, Jesse Taylor, Rodney Wallace, Matt Lindland, Jorge Santiago, Melvin Manhoef, Igor Pokrajac, Kendall Grove, Tor Troeng, Like Barnatt, Ryuta Sakurai and most recently, KSW's welterweight champion, Borys Mankowski.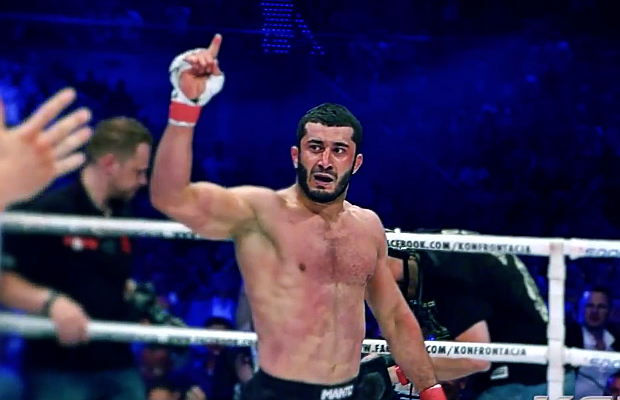 How big of a star is he in Europe? Well…for that last champion vs champion fight with Mankowski at KSW 39, the crowd inside Warsaw's National Stadium was reportedly as full as nearly 58,000 which made it one of the most attended events in MMA history…
Just an example of how big that is: UFC 193 in 2015 was the UFC's largest event of all time population wise. The Melbourne, Australia event gathered 56,000 people to witness Holly Holm's massive defeat over the then champion, Ronda Rousey.
Seeing what Europe can do for some fighters like Khalidov presents an interesting competitor for the UFC. Interesting in the way that you wouldn't really even know about that scene unless you were a pretty hardcore follower of the sport.
KSW matchmaker, Wojslaw Rysiewski also spoke with MMAJunkie recently and said he believes that having this European scene is very beneficial to the fighters who can't get into the UFC for one reason or another or are conflicted with both options of KSW or UFC.
"I think there are some European fighters now who, if they are presented with an offer which is comparable to the UFC, they might prefer to stay here rather than going the standard route of creating a good record and going to the UFC. I think KSW is something different. It's a big organization, and we can pay our fighters really well. Our champions, they don't go to the UFC. They stay with KSW because the platform here is big, we pay very well, and we sell out the big arenas."
The proof is right in front of our eyes in Rysiewski's words as can be seen with Khalidov. But he actually isn't the only notable name to have weighed his options in the past.
A more recent and closer transition almost belonged to middleweight, Michal Materla who was so close that many outlets had reported he would be taking on and headlining against Thiago Santos at UFC Gdansk back in October.
Materla spoke to MMAFighting when he declined the UFC's offer:
"I rejected the UFC's offer to fight in Gdansk because it just didn't make sense for me long-term. It was a great offer but what happens to me after this event? KSW came in with something which made financial sense for me to stay. They have always looked after me and I am happy to stay with them."
Along with Khalidov, Materla too will be competing tomorrow night at KSW 42 when he takes on UFC vet, Scott Askham.
Options are always necessary and as the sport continues to grow, only more and more possibilities will open up for fighters across the world.
This article first appeared on BJPenn.com on 3/2/2018.