'The greatest of all time' is a label reserved strictly for only one specific component. Of course, when breaking down the category overall that the subject pertains to, there can be multiple different variants that make up the classification of a G.O.A.T.
In the general sports world, this often can come in the forms of a team's best player historically. However, in a singular athletic endeavor like a combat sport such as mixed martial arts, the closest comparison to a team's G.O.A.T. would be that of a weight division's.
Looking through the histories of every class in MMA, each has their own fighter that stands out over the others as the one that most can agree upon as the best to ever do it. When it comes to the one that is least appreciated, that is undeniably Japan's Ayaka Hamasaki.
As a member of the 105-pound atomweight division, it's not much of a surprise that Hamasaki's story hasn't been properly spread as the entirety of the division's hasn't been either. And the two go hand in hand.
17-2 in her professional career, Hamasaki's lone losses have come at 115-pounds to the likes of a perennial top contender at strawweight in Claudia Gadelha with the other to the former Invicta FC strawweight champion, Livia Renata Souza who now resides in the UFC as well.
The 37-year old's journey has broken barriers and paved the way for the next generation of atomweights as well as fighters from her country. After obtaining the inaugural RIZIN title this past New Year's Eve, Hamasaki firmly established herself as her division's all-time best. Every organization she has fought in, she's wound up hoisting its title high.
Entering into the sport 10 years ago, the Yamaguchi-Prefecture native would start building her career at home in Japan as she went 7-0 before deciding to test herself over in the West.
Her North American debut took place for Invicta FC in what was only their second event and Hamasaki would go on to submit the always game Lacey Schuckman with a third-round armbar. Thus showing a whole new audience what was in store for the future.
When Ayaka Hamasaki took on Schuckman in July 2012, it would be a whole year before she suffered her first career defeat to the aforementioned Gadelha. With a win in between against Emi Fujino in Japan, the now 9-0 Hamasaki would look to really take a big leap forward in her career. And even though she would suffer a loss, that progress was still made.
"If I have to choose one fight that I learned the most from then it would have to be the fight against Claudia Gadelha," Hamasaki told BJPenn.com. "Back then I really didn't train any striking so I only fought that fight with my judo skills. But when I lost that fight I decided to emphasize more on striking training and also strength training."
As someone trained by who many may argue is one of – if not the greatest female fighter of all time in her fellow countrywoman, Megumi Fujii, it's no surprise that Hamasaki's grappling abilities were her strengths. And they continue to be a prominent part of her game to this day.
However, the forced learning lesson led to a quick evolution for the undersized former Deep Jewels titleholder as immediately following the loss, Hamasaki would go back to Japan, debut at atomweight and punch her way to victory against Naho Sugiyama in a fight that didn't escape the opening frame. Consider the striking emphasized.
Before returning to Invicta, another win would be gained as Mei Yamaguchi fell victim to the future RIZIN champion. It was time to try and capture a second world title.
For Ayaka Hamasaki, July 9, 2015, would be a historic day not just for herself but for the country of Japan. In her third Invicta bout, she would vanquish the young rising superstar that was the champion at the time, Herica Tiburcio in a hard-fought battle to become the first ever Japanese champion in any major MMA promotion in North America.
As humble as can be, the trailblazer modestly doesn't feel like she's quite earned a status worthy of G.O.A.T. consideration. But this one moment is indeed one she realizes the significance of.
"When I became a champion in Invicta FC," Hamasaki said in response to being asked what moment she's most proud of in her career. "Until then there were no other Japanese fighters that won a world title in North America so I think I proved to everyone that the Japanese fighters could compete at the world level. I actually don't feel that I have achieved so much but when I won the Invicta FC title it was a big boost to my confidence and also the experience of winning the title in North America became a great asset for myself.
"I'd like to see more young Japanese fighters doing MMA then the overall level of fighters would increase. And I want to be a fighter that can be the goal for these young fighters."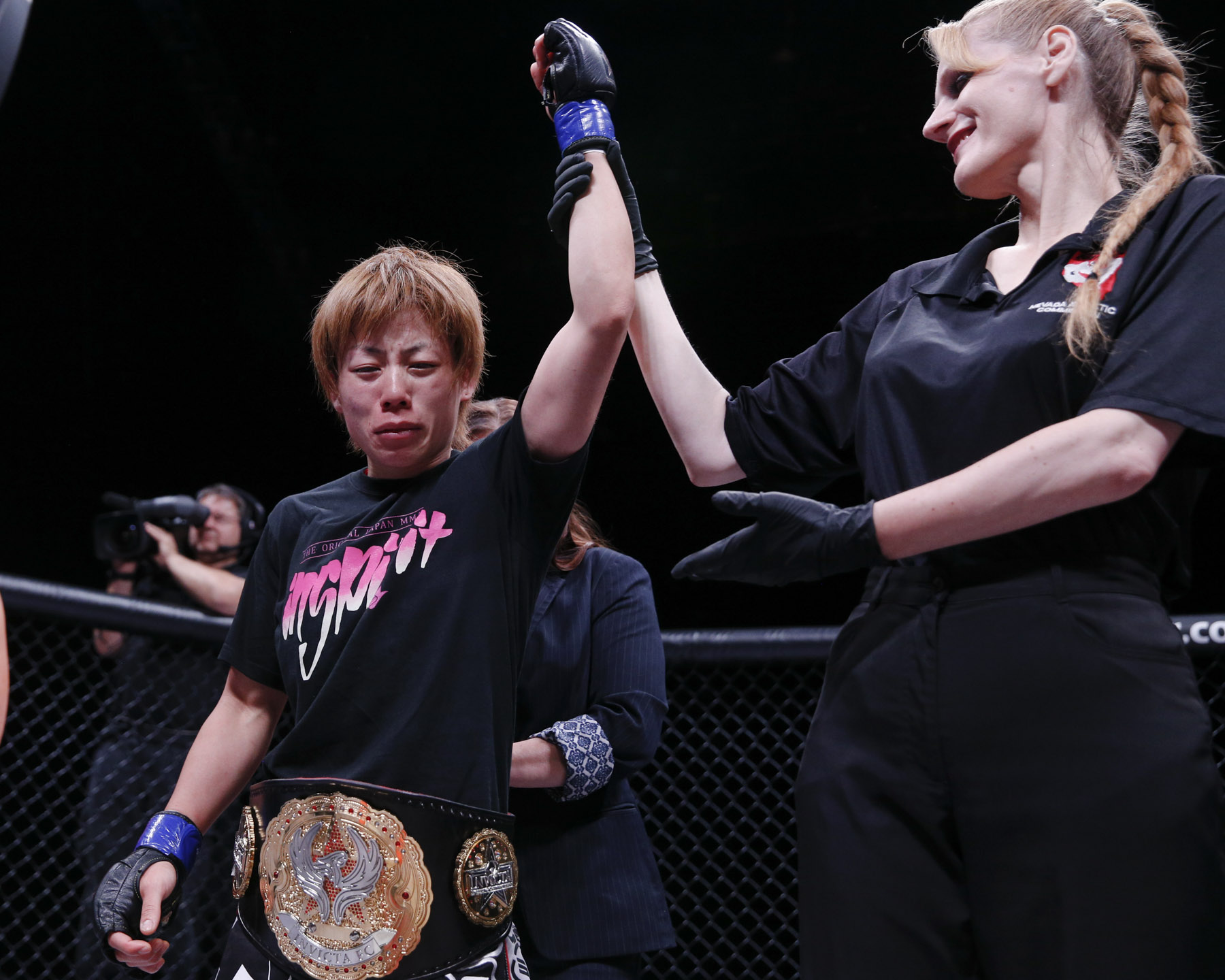 Now back in Japan and looking better than ever, Hamasaki's recent success is just a testament to her greatness. And with greatness comes responsibility.
The atomweight division is one that's seen its talent pool grow exponentially over the recent years. It just might not look like it from a glancing view due to how widespread the fighters are across the globe.
While Invicta continues to hold down the fort in North America as the premier spot for the 105-pounders, several locations in Asia are housing some of the world's best as well. Thus showing that the acceptance of the lightest division in the sport is greater in the East.
In 2019, the Ayaka Hamasaki-led division is about as primed as it's ever been for a big spotlighting though. It just depends on who may pull the trigger on shining it… whether it's somewhere like the UFC or Bellator.
Either way, the divisional staple in Hamasaki isn't too concerned about that as her focus is on her roots. As she's evolved as a fighter over the years, she's also evolved into a great mentor as seen in her relationship with Japanese atomweight superstar, Rena Kubota.
"I don't know much about that and I am actually not so interested," Hamasaki said in regards to North America's atomweight development. "Right now, in Japan, atomweight is very hot and I want to be a part of Japanese MMA gaining more popularity.
"Rena is getting stronger every day so I always go through a good training with her. She also inspires me too so I want to see both of us getting stronger together."
With the mention of Bellator, it's now Kubota's time to make her debut stateside as she'll compete at Bellator 222 in three weeks. But before that, her mentor will compete in unquestionably the biggest fight in the history of the atomweight division.
Ayaka Hamasaki's last Invicta title defense came against the now champion, Jinh Yu Frey in what was her toughest fight to date at atomweight. Having left the promotion without losing the title and then performing incredibly against divisional elites like Mina Kurobe, and Kanna Asakura to win the RIZIN title on New Year's Eve 2018, Hamasaki and Frey will now run it back in a champion vs champion rematch at RIZIN 16 on June 2 in Kobe, Japan.
In the pair's first encounter, the Invicta staple in Frey would rise to the occasion that she had been long waiting for. Over the course of the fight, the challenger turned future champion seemed in firm control but all it took was one big punch from the constantly improving Hamasaki.
A flush overhand right to the side of Frey's left eye would slice open a gnarly gash that called a stop to the action. Two years later and the face of Invicta and the organization's atomweight division that was Frey had reached the top of the mountain and now looks to conquer her first conqueror and the only one standing in her way from her one day being able to make the claim as the best ever at 105.
"I've been checking most of Frey's fights," Hamasaki shared. "Its been two and a half years since we fought so both Frey and myself are stronger fighters now. In that fight, I won with a doctor stoppage and I was in a bit of danger in the first round. So I think Frey is a very strong fighter. I don't really have a specific gameplan but I am going to approach this fight as a challenger and give everything I have."
Whether she'll admit it or not, Ayaka Hamasaki has already crafted a lasting legacy for herself, her country of Japan, and every atomweight fighter that goes on to step foot inside a fighting enclosure around the world. A second win over Frey just further cements it.
But for how much longer can she keep it up? Well, as they say, if you're even thinking about the end at all then maybe you're at the end. In this case, there's plenty more story to be written and shared for one of the greatest fighters of all time.
"I don't really think about my goal," Hamasaki expressed. "I might just quit abruptly or I might even be fighting for the next few years. If I can see the goal, then it's not fun, right?"
This article first appeared on BJPenn.com on 5/28/2019
This article appeared first on
BJPENN.COM