Remembering the greatest card in UFC history
By Drake Riggs
- June 4, 2018
On June 4th two years ago, the greatest event in UFC history unfolded before MMA fans' very eyes.
In a chain of events that led up to the granddaddy of them all in UFC 200, UFC 199 was looked at as just the calm before the storm to the UFC's biggest event ever. In terms of the results, the two couldn't have been more opposite with their in cage delivery.
On the heels of the iconic Muhammad Ali's passing the day before, the UFC's first event held in the legendary Los Angeles Forum had a different vibe to it than any other fight night that preceded it. And the fighters felt it too as evidenced by the unbelievable performances.
Right out of the gate, UFC 199 kicked things off with the hidden gem of hidden gems in what Joe Rogan claimed as one of the most ridiculous fights he's ever seen. "It's like a scene from a movie," Rogan said on commentary.
The two men who competed in the night's opener were lightweights, Marco Polo Reyes and 'Maestro' Dong Hyun Kim. From the start of round one to the final blows landed in round three, the action was wild and fighting defensively was a non-existent. The amount of punishment both fighters were willing and able to endure in this fight of the year candidate was rare to see and set the tone for the entire night.
The three fights that followed Reyes vs Kim on the Fight Pass portion of UFC 199 were technical and tight displays from prospects such as Tom Breese, Sean Strickland, and Henrique da Silva.
As the televised prelims began, Alex 'Bruce LeeRoy' Caceres put on the most impressive performance of his career when he double superman punched and slammed Cole Miller to a unanimous decision. After this fight, the action between future stars only kept coming.
Current top strawweight contender, Jessica Andrade made her divisional debut at UFC 199 after fighting her whole career as a 135er. She took on the Alliance MMA product, Jessica Penne in Penne's first fight after suffering defeat in her title fight with Joanna Jedrzejczyk.
Andrade kicked off her unrelenting streak with this win over Penne as she walked down the TUF 20 contestant and unloaded bomb after bomb until the referee was forced to stop the action in the second round. The strawweight division had found it's next contender.
A lightweight showdown between Beneil Dariush and James Vick took center stage after Andrade's showcase and Dariush came out with a vengeance as well.
After having his five-fight win streak snapped via submission to Michael Chiesa, Dariush felt like he had his back against the wall and fought like it when he knocked out Vick in the very first round with some nasty overhand lefts. This is Vick's lone career loss and he has won four straight since then.
Have you heard of Brian Ortega? Well in case you have missed his incredible ascent to superstardom, UFC 199 was a big part of his legacy in the making.
Ortega was looking for his third straight victory in the UFC when he was matched with seasoned veteran and longtime fan favorite, Clay Guida. 'The Carpenter' would give Ortega all he could handle in what was one of the best performances of his 48 fight career at the time. Just thirty seconds away from a big win and Ortega did what Ortega does.
In clutch fashion, Ortega pressed forward backing Guida up to the cage where he would land a flush knee to the chin that disconnected Guida from his senses and stunning the crowd in the process as he would steal the win.
This win for Ortega was really the first to show that he is dangerous during every single second of every fight that he's in.
All of this chaos had already ensued and the main card hadn't even started yet.
First to make the walk on pay-per-view was Bobby 'King' Green who took on the always exciting, Dustin Poirier. This was Poirier's fourth bout back at 155 pounds and he was looking to really make a statement to launch himself into contendership. I would be lying if I said he didn't.
Never one to shy away from a little trash talking and showboating mid-fight, Green kept to his usual antics vs Poirier and it didn't quite help. The two had a couple of nice exchanges early on but it would be Poirier who had the last laugh as he ended Green's night in just two minutes and 53 seconds into the opening round.
Here's some more history for you. UFC 199 played host to Dan Henderson's last victory. That being his insane headkick-elbow knockout combo against former Bellator middleweight king, Hector Lombard.
After dropping and stunning each other in the first round, it looked like Henderson was facing a familiar trouble during this time with his faded chin durability. But you might not really know about Dan 'Hendo' if you counted him out that easily.
Just over a minute and 20 seconds into the second round, now recovered, Henderson threw what very well could have been the first head kick of his entire career. The kick landed but his leg was caught by Lombard on the way down.
With Lombard's short stature, his head was positioned just low enough while holding the leg that the legend instinctively threw a destroyer of a 3-6 elbow and was able to land and put Lombard out cold.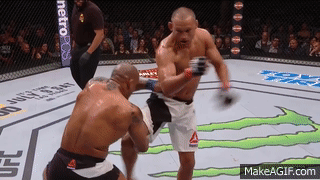 With ten fights down, there were still three incredible matchups left. And the crowd wasn't at all upset about it.
Ironically enough, as this card was also the spot for one of Ortega's most memorable moments, the same can be said about his next dance partner, the UFC featherweight champion, Max Holloway.
Holloway was riding an eight-fight win streak at this time and had become the first man to win eight straight without receiving a title shot. So he was just going to have to go and make it nine by dispatching of the perennial top contender, Ricardo Lamas.
Holloway vs Lamas was the perfect highlight to show that Holloway had truly arrived as the next big thing. Obviously, that sounds crazy considering his streak prior but the performance he put on was that of a warrior and a champion.
Technically breaking Lamas down and picking him apart throughout, it was a clinical showing from the Hawaiian and of course, an epic ending after a surgical effort.
With the fight in the bag, Holloway didn't mind throwing down and risking it all as he called Lamas to the center in the final ten seconds of the fight and each exchanged bombs until the horn sounded.
https://www.youtube.com/watch?v=tVP7QVRmMu0
Now it was time for some titles to be fought over and some beefs to be settled.
In the co-main event, the king of 135, Dominick Cruz was set to make his first title defense since winning back the belt he never lost from TJ Dillashaw. His opponent would be his rival of ten years, 'The California Kid' Urijah Faber.
Faber and Cruz were 1-1 heading into their trilogy bout with Faber taking the first contest by first-round submission in 2007 and Cruz winning the second by unanimous decision at UFC 132 in 2011.
With the rivalry being at an all-time high in terms of heat, the fight was one of the most highly anticipated on the card.
After a grappling-heavy first round by both men, the rest that followed was primarily an outclassing by the champion, Cruz. Having trouble finding any sort of success, Faber was dropped in the second and hurt several times after as Cruz used his signature footwork and well-timed timed takedowns to land painful leg kicks and laser-like jabs consistently throughout.
Despite all the injuries, the 'Dominator' showed that he hadn't missed a beat.
UFC 199 had a little bit of everything. Drama included.
Originally the main event was supposed to be a rematch between the former middleweight champion, Chris Weidman and the new champion, Luke Rockhold. However, Weidman suffered an injury just two weeks out and would be unable to challenge for the title he had recently lost.
Who would save the day? Michael 'The Count' Bisping.
Having lost to Rockhold a few years prior, Bisping would never have said no to such an opportunity to get back at a rival that had already defeated him. Especially with the gold that had eluded him his entire career to that point.
On short notice and having lost to Rockhold relatively recently, Bisping wasn't given much of a chance at all. People looked at the fight as just a "card saver". But of course, as is the theme of any article like this, that was not the case.
With little to nothing to lose, Bisping went out there with all the confidence in the world. But so did his opponent.
Rockhold treated Bisping like he would be nothing but a walk in the park as he had been there and done that and now at a championship level, there just wasn't any chance for the Brit.
After a few minutes of feeling each other out, Rockhold would land some solid body kicks that seemed to get Bisping's attention. Instead of sticking to them, Rockhold would jab his way inside on Bisping and pay for it as he was countered with ol' 'left hook Larry'.
As Rockhold dropped backward, Bisping chased him down before landing another shot while holding Rockhold up before he fell again. Visibly out of it now, Rockhold would eat a couple more shots up against the cage before the referee called off the action and Bisping had pulled off the incredible upset win.
It may not have sold the most pay-per-views or had every single superstar under the sun on it, but there's no denying that UFC 199 provided a little bit of something amazing with every fight from top to bottom. How often do cards open with the fight of the year and end with the upset of the year? Probably just this time.
And for that and everything in between, UFC 199 (until it eventually gets beaten) should be remembered as the greatest UFC event to date.
This article first appeared on BJPenn.com on 6/4/2018.
This article appeared first on BJPENN.COM
---
Topics:
UFC 199