How does the popular quote go? 'It's not about the destination, it's about the journey'?
Those words read very applicable to the world of MMA.
Often times, the journey to where a fighter wants to go never reaches that destination they were hoping for when they got started. And if it does, it could take longer than they would have liked it too for perhaps solely one reason or a varying multitude of them. It may never even get to that point, whether it be in or out of their control.
For Gold Coast, Queensland, Australia's finest mixed martial artist, Megan Anderson, it has been 461 days since she last appeared in front of a crowd to compete. For about 283 of those days(and likely counting), it's safe to say that Megan Anderson has been one of if not the most unnecessarily hated on fighter by MMA fans.
All because she wants her privacy.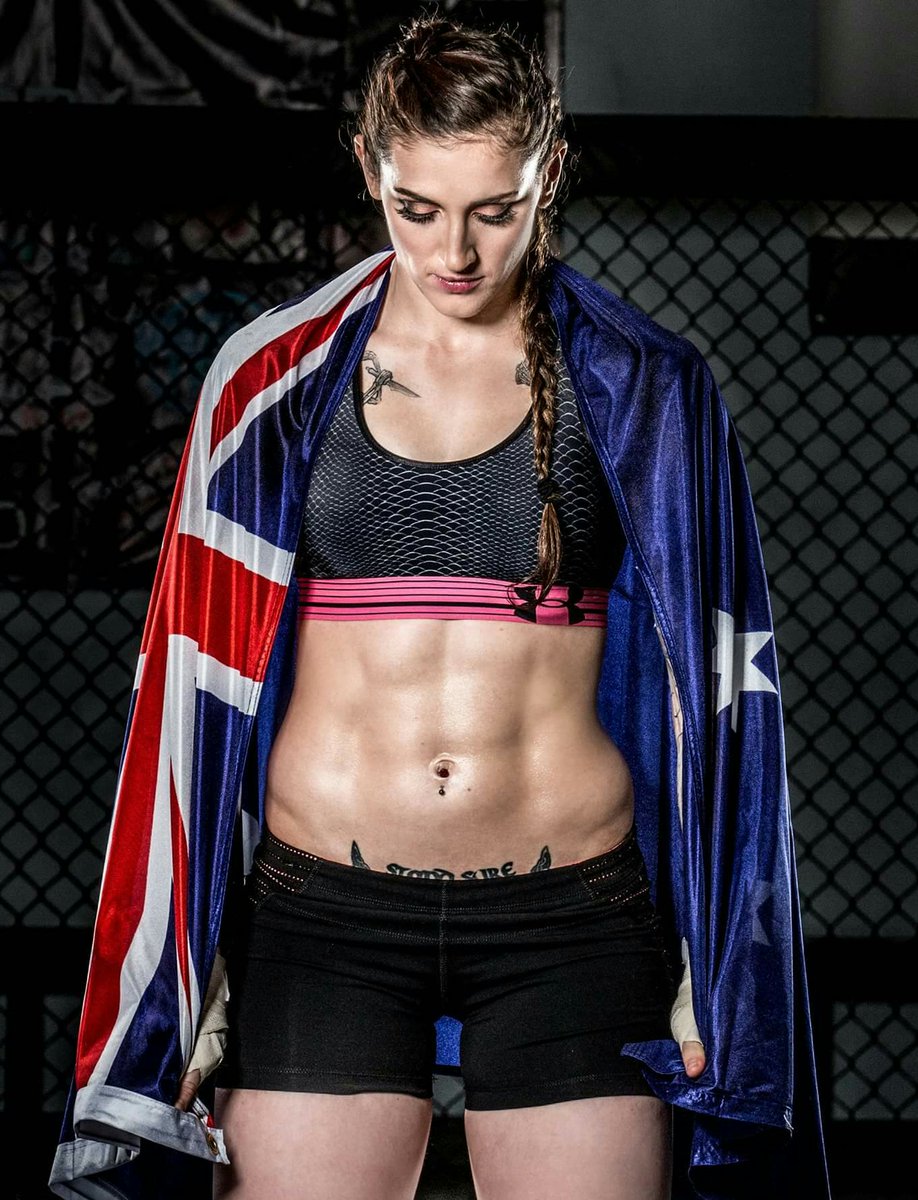 "The last however long it's been, it's definitely been difficult." Anderson told BJ Penn Radio, "I've definitely learned a lot about myself through this process and like you said it's a huge relief finally getting this fight and finally being able to get back in the cage."
Anderson's last loss on her 8-2 professional record came in her Invicta FC debut back in 2015. Since then, the Australian moved to America where she resides in Kansas City, Missouri and trains with Glory MMA and Fitness thus putting her on a path of destruction with four consecutive knockout victories(three of which earned performance bonuses).
Her last came against the perennial top contender and former Invicta featherweight title challenger, Charmaine Tweet as they fought over the interim 145-pound title.
Leading up to this battle, talk had already begun to stir about when we would see a clash between Anderson and the longtime queen of the division. As a female fighting in the 145-pound weight class that is featherweight, you have one very obvious light at the end of the tunnel. That light being personified by one of the all-time greats in Cris 'Cyborg' Justino. It just becomes natural to think ahead for a rising talent when looking at the featherweights and the case was no different here.
After capturing her first taste of gold by defeating Tweet, the jump to the UFC became inevitable for Anderson as the UFC had announced the creation of their own 145-pound division right around this time as well. Therefore many assumed that the meeting with Cyborg would soon follow for the Australian.
"Myself and my team believe that we have what it takes to beat her [Cyborg] but that fight will happen when it's supposed to happen." Anderson told Sherdog in 2016
The waiting game lasted six months until we finally got the announcement: Cyborg vs Anderson for the vacant featherweight title was on for UFC 214. But the good news wouldn't last…
Just a matter of days later, the news would break that the fight was off. Personal reasons outside of Megan's control would force her from the fight and she wouldn't have clearance to fight again until this month.
The reasons remain unknown and that's how they should be as it's no one's business but the person who it involves. Yet the spectators hadn't cared or thought to put themselves in the position. "She got pregnant, steroids, afraid of Cyborg, visa problems" the list goes on and on about what people speculated and slandered her for. Some fighters included.
The frustration and devastation for a fighter that comes with losing the opportunity at a title fight and a title fight in your UFC debut at that is massive. Losing a fight at all, really. That is the destination. All that hard work, suffering, climbing to get where you envisioned yourself…gone just like that.
"Despite what you all think, I did not duck Cris Cyborg. I signed the bout agreement. And we were ready to fight and that's the fight I want. Five days later, a very serious personal issue came up and they removed me from the card. I was devastated." Anderson stated on the Aussie and Fancy Breakdown leading up to UFC 219, "I cried for two days straight. You guys found out, eleven…fifteen days after that. So you all found out way after it actually happened.

I feel like this is where MMA fans…or I guess haters…can be the most brutal because despite what you all think, you have no idea what's going on behind the scenes. I was 'pregnant', I was on steroids, USADA, like everything.

I don't care who wins this fight [Holm vs Cyborg] because I want the winner. It's as simple as that. Unfortunately, I wasn't able to fight in this fight because I'm not cleared to fight. If you all knew everything about me, you would know that.

I feel like I deserve the winner. I deserve this fight more than Holly Holm does."
Any form of celebrity or personality lives under a microscope that the average person isn't used to. And the stress that can be created from that is something that one just won't understand until they've been under it themselves. Just imagine literally being unable to do the one thing it is that you love and are most passionate about then have thousands of people that you don't even know making things up about you and telling you you're this or that. It wouldn't be easy.
That will always be there for professional athletes and figures but now it all doesn't matter. Megan Anderson is good to go and returning to action when she makes her UFC debut against former UFC bantamweight champion, Holly Holm at UFC 225 in Chicago, Illinois, June 9th. It's been a humbling road and Anderson realizes that.
"I'm pretty grateful to be able to be given this opportunity." Anderson told BJ Penn Radio, "Not a lot of people get to debut on the main card of such an amazing pay-per-view. Obviously, I know that's because of Holly and the kind of star power that she brings. I'm just grateful to be on this journey and to be experiencing this and to finally get back in the cage.

I just want to go out there and fight a better fight than I did the last time. I want to be a better martial artist than the last time I entered the cage and have fun. I guess that's what it's really all about because unless you're not having fun then why are we doing this, you know?"
Every star needs to get it's chance to shine, and Megan Anderson will be getting her chance to do so on one of the most stacked cards of the Summer, UFC 225.
The former Invicta champion's skills speak for themselves. Since her first three career fights, she hasn't gone to the judge's scorecards and that's just how she likes it. Truly a physical presence at 145-pounds, Anderson is a very powerful striker who can inflict damage with all eight points of contact. Which makes sense when considering that she stands at 6'0″ with a 73″ reach. She's a legitimate featherweight and a talented, exciting fighter who's ready to present herself to the world's biggest MMA audience.
"I feel like at the end of the day MMA is a very, I guess you would call it like a selfish sport so I understand that a lot of people want to promote themselves and stuff like that but I feel like in the position that I'm in, in the division that I'm in, I feel like I could be a really good advocate to start helping to look at people to sign in the division. I feel like I have a lot of what the UFC likes. I'm marketable. I feel I could talk well, I might have a funny accent *laughs* and I feel like I've put on great performances."
For many fighters today, they have found ways to expand their brands within the fighting realm. With the growth in UFC's popularity has come the opportunities for fighters to be recognized in different ways than just being seen inside the cage.
In the 2018 world of TV and social media, people have unlimited resources when it comes to ways to give themselves exposure. The ability to let the people into the minds of their favorite athletes, actors, idols, etc. or even share their thoughts with a wide ranged audience.
As other fighters have done before her, Anderson has already dabbled in fight analyzation with her good friend and UFC, Invicta commentator/interviewer, Laura Sanko on their YouTube series the Aussie and Fancy Breakdown. And "Aussie" isn't at all opposed to broadening her spectrum of notoriety within this side of the sport.
"I would love to get into analyst work down the line and I think it's a great way to practice learning a lot of these fighters and being able to break down people, analyze people and all that kind of stuff.

I've always been very analytical when I watch fights so I just verbalize it now *laughs*"
Despite already being one of the top 3 featherweights in the world with only five years of experience under her belt now, the MMA adventure is still just beginning in a way for the Gold Coast native.
It's safe to expect the best from Anderson in her return against Holly Holm as she's known to rise to the occasion and everything is set up for her to do just that in this fight. But don't think she isn't still thinking about that light either.
"I would love to fight Cris and you know like I said earlier, I didn't know who I was fighting. They were giving me a few dates, so we didn't know if they were going to come back with Cris. We were hoping it was Cris, we were prepared for them to come back with Cris but they came to us with Holly and you know, I'm not really in a position to demand who I fight. I'm not a superstar, I'm not at that level. I haven't even fought in the UFC, so I don't have that kind of power despite what people think but I feel like, depending on if the UFC wants to match a [Amanda] Nunes, Cris Cyborg, I feel like I should get the next shot.

I come to fight, I put on exciting fights and I have a cool accent."
On June 9th, Megan Anderson's journey will continue but the destination remains the same. If you don't know about her yet, you will.
This article first appeared on BJPenn.com on 4/20/2018.
This article appeared first on
BJPENN.COM